In the world of trading, we know that where there is a profit or reward, there shall be a risk that will tag along. This simple trading truth is one that so many inexperienced traders simply fail to grasp or understand: instead, they remain blinded by 200% returns month-on-month. It is hard to trade when you don't understand risk and reward and also due to time constraint such as lack of focus on trading because of other commitment such a full-time worker.
But u have to accept the truth that there are people out there who work their ass off in trading to achieve their goals which by trading smartly and systematically.
There is one account that catches my attention where the profit is gradually increased. The account name is @kraken which claim to be an Australian trader. Let's put aside on his personal on focus on his achievement.

He trades manually with a cool achievement of ROI : 111%. This account has started on 16/3/2020 with the initial outlay of $10,000. Now, the account equity had grown until $40k which equivalent to 4x times growth rate. How did it happen? According to my analysis, while gaining, he did deposit along with the profit and that's how his equity grown to a certain extend.

Anyhow if u observe the growth of the profit graph, you may witness a sharp straight line or in trading, we called it a bullish trend without a pullback or significant amount of loss. @kraken did well in maintaining the daily profit with a Profit and Loss ratio 1457:32. Let me stop it from there, isn't that insane to have that kind of P&L ratio? U need to work hard to achieve it. We might need to study more about his position.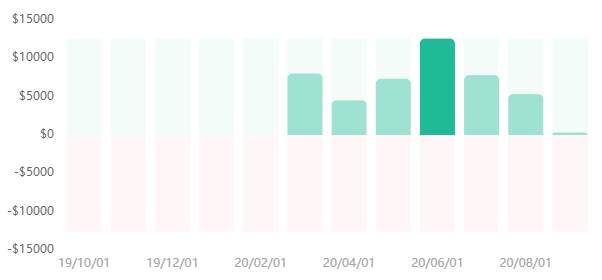 To end this, I highly recommend you guys to observe this fella performance and let's see how well his trading plan and achievement after this. Also, we hope to get something from @kraken. e.g. tips and trick or signal channel? Who knows he will be more generous after this post? For us, let's learn more and may we achieve our target . Thanks for reading ^^ and happy weekend!#analysis##copytradingvsselftrading##Profitshow##copytradingprofit#