FOLLOWInterview | @ OCEANCAPITAL 'Trading is Not Gambling'
Sunny Leow @OCEANCAPITAL is a professional currency & contract for differences (CFD) trader as well as a private Expert Advisor (EA) in the trading industry. With his knowledge and strong insight, @OCEANCAPITAL has some heartfelt advice for the traders out there.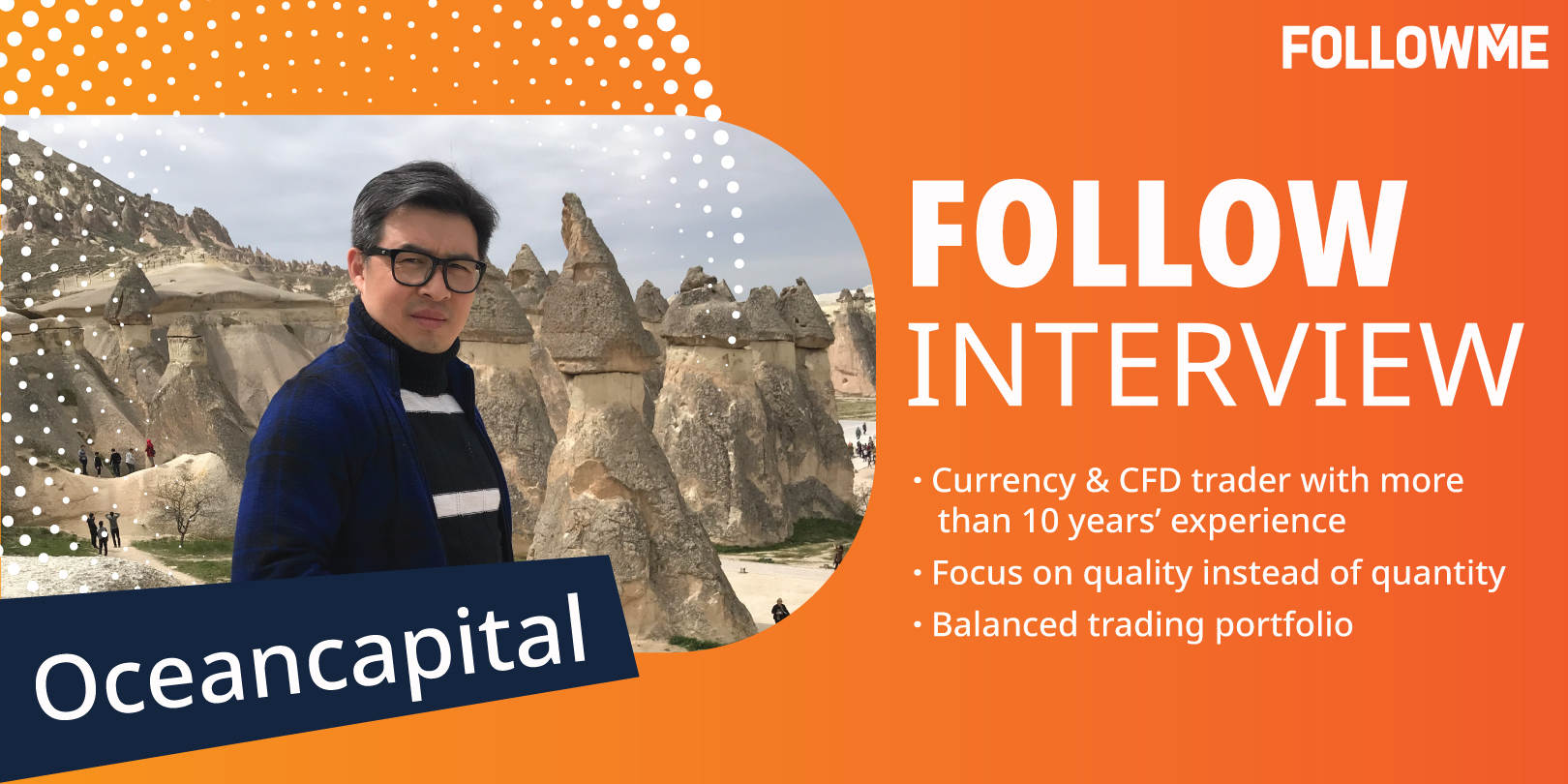 Q: Could you share an introduction of yourself?
My name is Sunny Leow from Malaysia. I started my own IT firm business in software development in the year 2000. Why did I venture into forex trading? It is all about diversifying my business income portfolio. I started exploring investment in 2005 on different assets such as equity, option, and currency. 
Eventually, I chose forex trading and started to explore self-trading, joining 1-to-1 personal training on forex trading and participating in various forex courses in Malaysia and Singapore.  Over time, I became active in the trading community as well. In 2008, I launched my full swing of forex trading and converted self-trading into a career.  
This mostly came from the support of some friends requesting me to invest their funds on their behalf.  
Q: What could you share with us about trading based on your experience? 
Trading is a long journey. We will need to be patient, disciplined, and emotionally stable as a trader to achieve long-term success. Treat trading as your business and you will put a substantial amount of commitment in it. 
Q: What would you like to say to or advise the new traders?
Trading is simple but not easy. The market always fluctuates. Many new traders are trapped in an area we often call "GREEDINESS". Many new traders get into the market clueless and just hit buy or sell hopefully this will garner them some profit by luck. 
However, I strongly advise new traders to take one step at a time to gain and sharpen your trading knowledge as well as your skill set. The market is always there for you to make a profit. Don't be in a hurry to enter the market as this type of trader is usually under the common category under failed traders.
Rule of thumb: Make a Trading plan & Treat Trading as Trading, Not Gambling.
Q: Which asset class is your favorite and why? 
Choosing an asset class is important so we can be specialised in it and understand the pairing behavior thoroughly.  My favorite metal pair is gold. Gold pairs are usually moving in bigger increments compared to currencies. It is also a challenging pair. Despite this, I personally think gold has a greater focus on long-term reliability. 
Q: Could you share about your risk control strategy? 
Money management is the most important element for successful trading.
The amount of risk is highly subjective for each trader. Some traders are risk-takers whereas the rest are more conservative depending on their tolerance level. With a proper risk management strategy, you can afford 10 trade losses in a row and still can avoid the situation of your trading account being wiped out completely. 
However, without a proper money management, you will find it difficult to be sustainable in the market.  
For example, I am taking a higher risk of 3% per trade. My acceptable drawdown rate is set at about 30%. Hence, this means my risk-reward ratio will be 1:1. I believe that the market needs space to breathe up and down so my stop loss is from 80-150 pips for swing trading. 
Q: Why were your trading position sizes vary in such a wide range? 
In my opinion, if we follow strict money management, different account balances, pairs, pip value, and base currency; we will need to use different lot sizes instead of using all fixed lot-sizing if we want to grow our account consistency.  
Q: How did you achieve an ROI of 16% in a year? 
Trading forex is about consistency, instead of the amount of trades you have made. The more positions we trade don't necessarily translate into a good profit. I would much rather trade less with higher accuracy compared to trading in quantity. Hence, this gives me the edge of trading at a higher winning probability rate. 
Trade with quality but not quantity if you wish for long-term success in trading. If you want to make real money in forex, I am not recommending a low capital account with a fund amount below $1,000, unless it is for testing purposes. 
To make real money in a real-live market, a capital of more than $1,000 is considered reasonable. A small capital amount is hard to achieve sustainable income.
Q: Could you share some future trading insight? 
In terms of future trading strategy, many asset classes today are relatively derived from the U.S. fundamental effect and entry decisions are done based on technical analysis as the U.S. is the backbone of the world economy. Many factors affect the value of the U.S. dollar and other currencies pair, such as geopolitics, market sentiment, technical factors, and supply-demand. 
Markets are still uncertain with all the on-going factors right now, so having a diversified portfolio by bringing in safe-haven instruments is a wise move as this type of asset is widely non-correlated with the on-going economic conditions. In fact,  their values tend to appreciate in the event of a market crash. Gold, Bond, Bitcoin are some of great assets to be used as a hedging instrument against the USD.  
We would like to extend a heartfelt thank you to @OCEANCAPITAL for shedding some light on what it's really like to start and continue trading forex. 
Kindly stay tuned and follow #FOLLOWINTERVIEW# for the exclusive inputs!
Disclaimer: The content above represents only the views of the author or guest. It does not represent any views or positions of FOLLOWME and does not mean that FOLLOWME agrees with its statement or description, nor does it constitute any investment advice. For all actions taken by visitors based on information provided by the FOLLOWME community, the community does not assume any form of liability unless otherwise expressly promised in writing.
FOLLOWME Trading Community Website: https://www.followme.com
If you like, reward to support.