Follow
Prices By FOLLOWME , in USD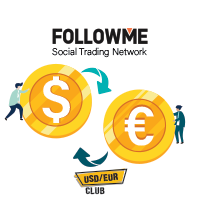 EUR/USD Club
RASEL94: Make your trading automatic, our IPCaptial robots allow for 97% accuracy on trades.  Earn between 45% per month with our easy to implement solution. Drawdown 0.95. Gain. +422.43 Login MT4 ID & Check 2 months old Mt4 account for Check performance IPC 👇👇👇IPCapital AIA BOTS Performance❗❗100% WIN. NO LOSS BrokerServer : intelligenceprime-live Password: oah88D MT4 ID: 2800260 contact whatsapp Number +17149871030
FOLLOWME Support: 1,500 USD cash reward has been given to winners and participants of the Opinion Leader Program. Do you think that's all? No! This year we will give away 600 USD each month for the opinion leader program. Want to be part of it, check the link to check how to join😊
FOLLOWME Support: TWO simple steps to get started: 1, share your trading idea 2, tag #OPINIONLEADER# and post
FOLLOWME Support: The Opinion Leader Program is a paid scheme to welcome good content. Whether you are an analyst, trader, broker, media journalist, as long as you have a pair of sharp eyes on the market with great analysis, forecast, or even exclusive tips in trading or copy trading, we want to hear from you and reward you for your valuable voice.
FOLLOWME Support: Every trader has a unique trading experience, the difference is it is tragedy or comedy. Obviously, the beginning of @Lebzajona's trading journey was a tragedy, luckily he soon got out of it and warned beginner traders not to trade a live account without experience and make a plan before trading. Do you have a different story? We'd love to reward you if you do! 
FOLLOWME Support: Community user @FxScotty has received a total of 272 USD. Do you want to be like him? Come and share your opinion now.
FOLLOWME Support: There are very few people who can maintain stable profitability with trading. If someone tells you he profits all the time in the trading business, he is either a genius or a liar. But there are always exceptions, like the Opinion Leader Program, which not only can bring you a stable income, but also without risk. TWO simple steps to earn a second income 1, share your trading idea 2, tag #OPINIONLEADER# and post This program is regarded as a source of second income by many of our users, so why not join them?
FOLLOWME Support: how may we be of assistance
FOLLOWME Support: hello
raihan7: hi
FOLLOWME Support: Congratulations to the winners of the second week!
FOLLOWME Support: Congratulations to the winners of the second week!
Enter the chat group


Please login to share your trading experiences!
Load Fail(Failed to request)