FOLLOWME Interview丨Sarbaz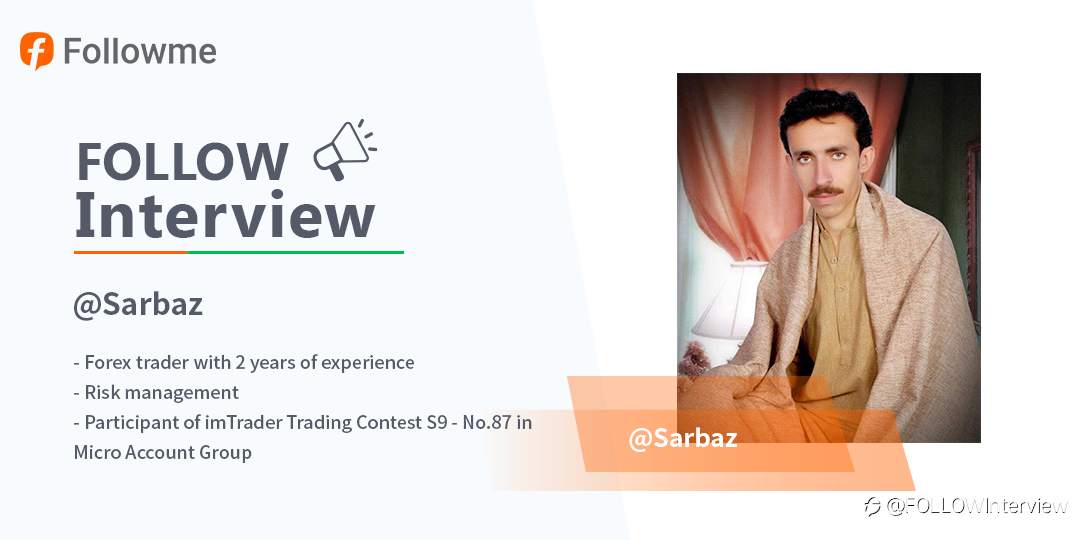 Quick access to the previous interview.
@Sarbaz is a forex trader with almost 2 years of experience. With his manual strategy based on purely technical analysis, he has been monthly profitable for 5 consecutive months from June 2021. His win rate is 86.81%.
In addition, he is also currently participating in imTrader Trading Contest S9 and ranks 87th place in the Micro Account Group of Global Division. We are delighted that he participated in this interview and shared his experience with you in the FOLLOWME community.
1. Thank you for accepting the interview and sharing your trading ideas. Can you tell us about yourself and your experience in forex trading?
Answer: Hi, thank you for inviting me for an interview. Well, before the pandemic I was working in the retail line business for a living. When the pandemic happens, everything changed for me like many people out there in the world. Because of it, I was removed from the job.
Fortunately, I am a screen lover person. I can spend hours in front of the laptop. And one day while scrolling on Facebook, I saw an advertisement about forex, I opened it to read it and excitedly said: "Oh man, this is actually what I've been looking for."
It's been almost two years in forex trading since that day. Although I am not a professional trader, yeah I can proudly say that I am profitable and I am satisfied with my strategies at this moment. 🙂
2. Do you remember when the first loss in forex trading was? Was it one of your memorable experiences?
Answer: Believe me, forex is so interesting, thrilled, and scary too (*laugh*).
My very first loss was in copy trading. I had invested some money by following a couple of traders. I thought that after my learning and practices I would earn some cash by following good traders but I had lost all that cash because those traders failed.
I myself didn't need to remove any accounts from the platform but yes I actually had lost many times. Even last week, I also closed the positions in loss, unfortunately. I still keep myself positive and try my best to get better in the next weeks ahead.
3. How is your trading method formed? Do you explore in practice gradually, summarize by yourself or learn from others?
Answer: Currently, I am trading with three different strategies in different accounts. In fact, I didn't create any strategy/methods myself. 
The ideas for those strategies come from YouTube and other platforms. I'm definitely on the way to making them better every single day, refining them according to my style, and becoming more profitable, safer. For your information, I also didn't learn from any mentor or any proper course to start trading forex.
4. Currently, which category of investment is the most suitable one for you? Is there any category of investment that stumbled you?
Answer: I think gold trading is not for me. I don't know the reason why I failed many times with this metal. I think it's a fundamental reason or trading psychology.
For now, currency trading is the most suitable for me.
5. How do you balance your trading and your life?
Answer: It's tough to balance between trading and life with me honestly. Before engaging in forex trading, my life was totally different. For now, I am almost a full-time trader, sticking to charts and focusing on demand more day by day. So you know, it's hard to balance, I just choose what is more important to spend much time at this moment.
6. You have registered for the imTrader Trading Contest S9, would you please tell us the reason why you decided to join this competition?
Answer: To be honest, I am not intended to win the competition. Because with my registered strategies here is that I can't make many trades to win. I am just participating to observe. Surely I can win with one of my strategies which is not ready yet but currently, I'm still testing it on the demo.
I think the contest idea is superb. I mean there are benefits for traders and the competition is also the place where they can make their trading better. Keep it up, guys!
7. Have you ever participated in a live trading competition? Is there any difference between the trading strategy used in the competition and the usual trading strategy?
Answer: Sorry, but I didn't participate in any live contest before.
8. What trading strategies do you usually use during competition?
Answer: I usually use the strategies of day trading, based on smaller time frames candles, 15 mins candles. In reference to daily candles.
9. How do you control the risk?
Answer: Although I am very sensitive regarding risk, the forex market nowadays seems more unpredictable. Usually, I don't use more than 0.01 lot with 500$. Without valid indications and solid support and resistance levels, I choose to not trade.
10. What do you think are the necessary conditions for the participants to be successful?
Answer: The advice from me is simply just sticking to his/her strategy and risk management. 
Thank you FOLLOWME team!
Want to be featured on our next FOLLOWME Interview? Contact us by sending an instant message to this official account - @FOLLOWME Support.
#FOLLOWINTERVIEW# #imTraderTradingContest#
Proofreading: Jelly & Rosie
Disclaimer: The content above represents only the views of the author or guest. It does not represent any views or positions of FOLLOWME and does not mean that FOLLOWME agrees with its statement or description, nor does it constitute any investment advice. For all actions taken by visitors based on information provided by the FOLLOWME community, the community does not assume any form of liability unless otherwise expressly promised in writing.
If you like, reward to support.