FOLLOWME Community Top Trading Report - Second Week of November 2020
2020/11/9-2020/11/13 Total Trading Order
406,213
Compared with the previous week's 340,886, the total trading order has grown by 19.1% or 65,327 for the latest week.
For the latest week, the Top 10 Traders has delivered an outstanding performance with a total profit of $263,000 from the previous week's $248,000. Among them, @N99 took the champion spot by using minimal capital and enjoy multiple folds of profit from a series of repeated orders. On Monday, he made a deposit of $5,000 and made a net profit of $37,000 on Friday, which is an incredible seven-fold profit in a single week! Here are the details of the latest week's ranking:
Here are the details of our latest weekly ranking: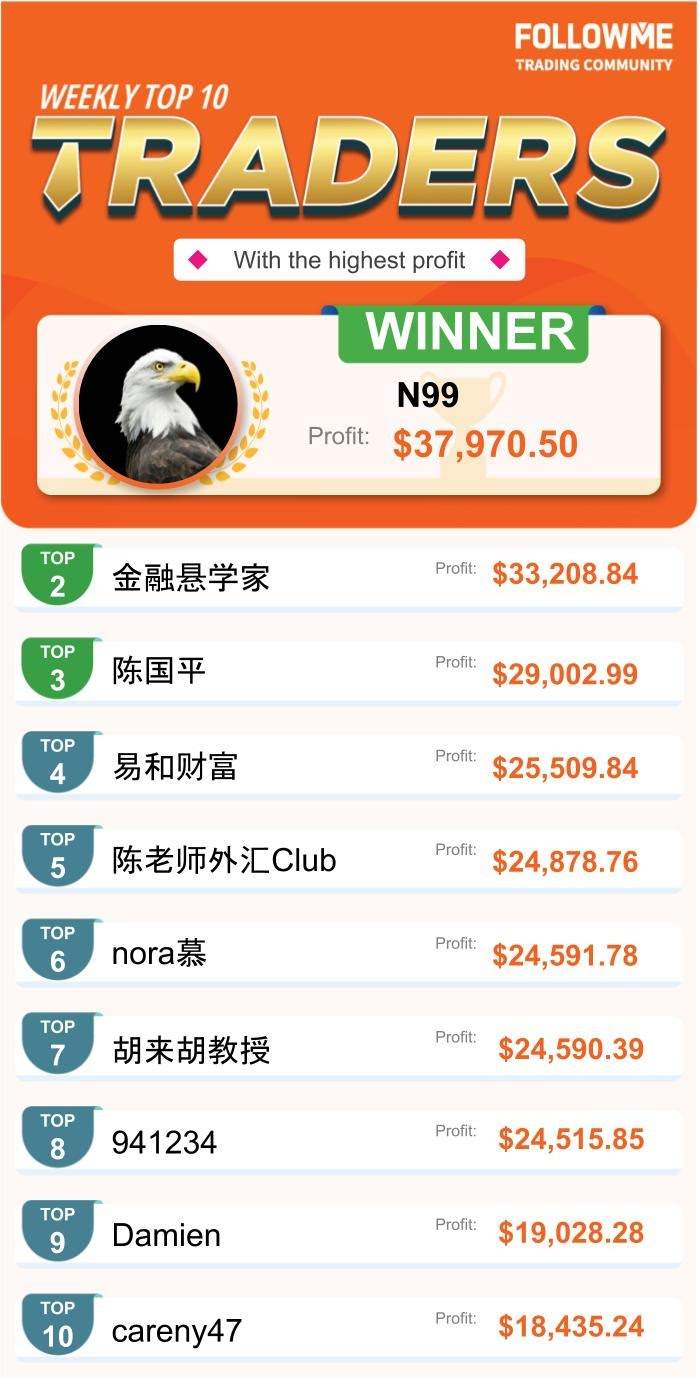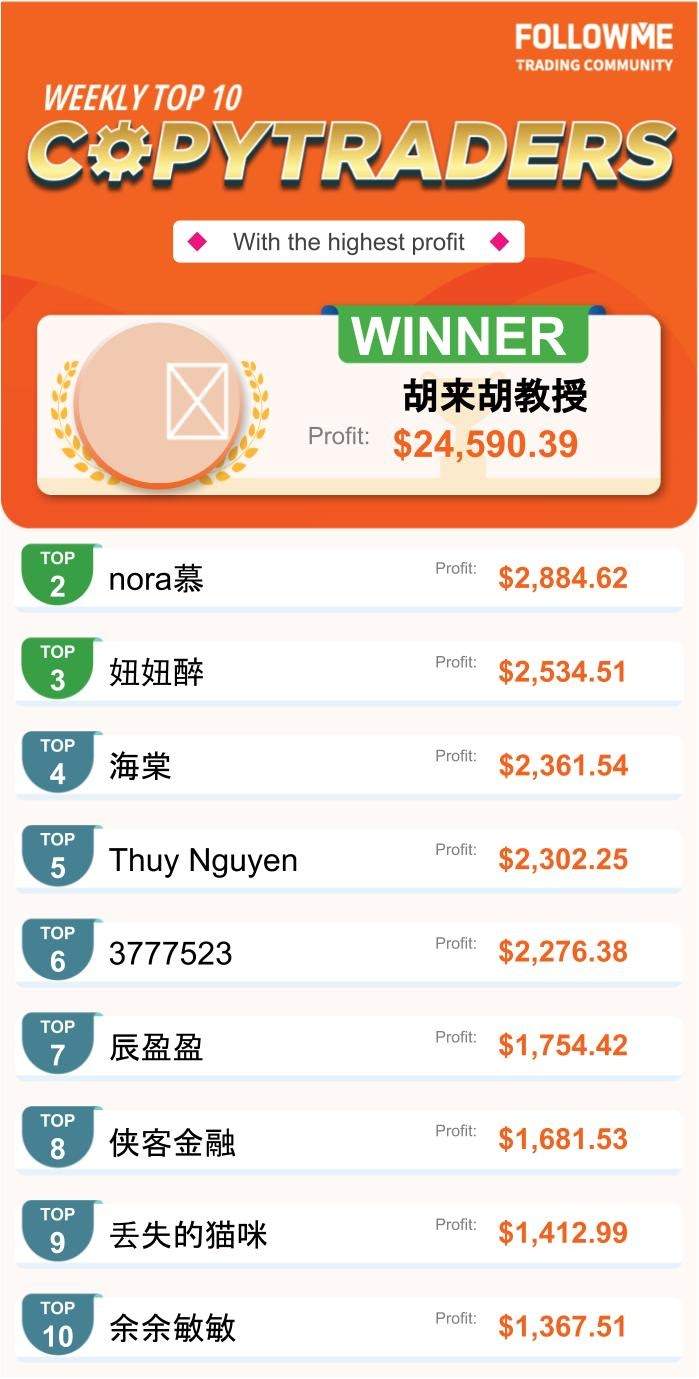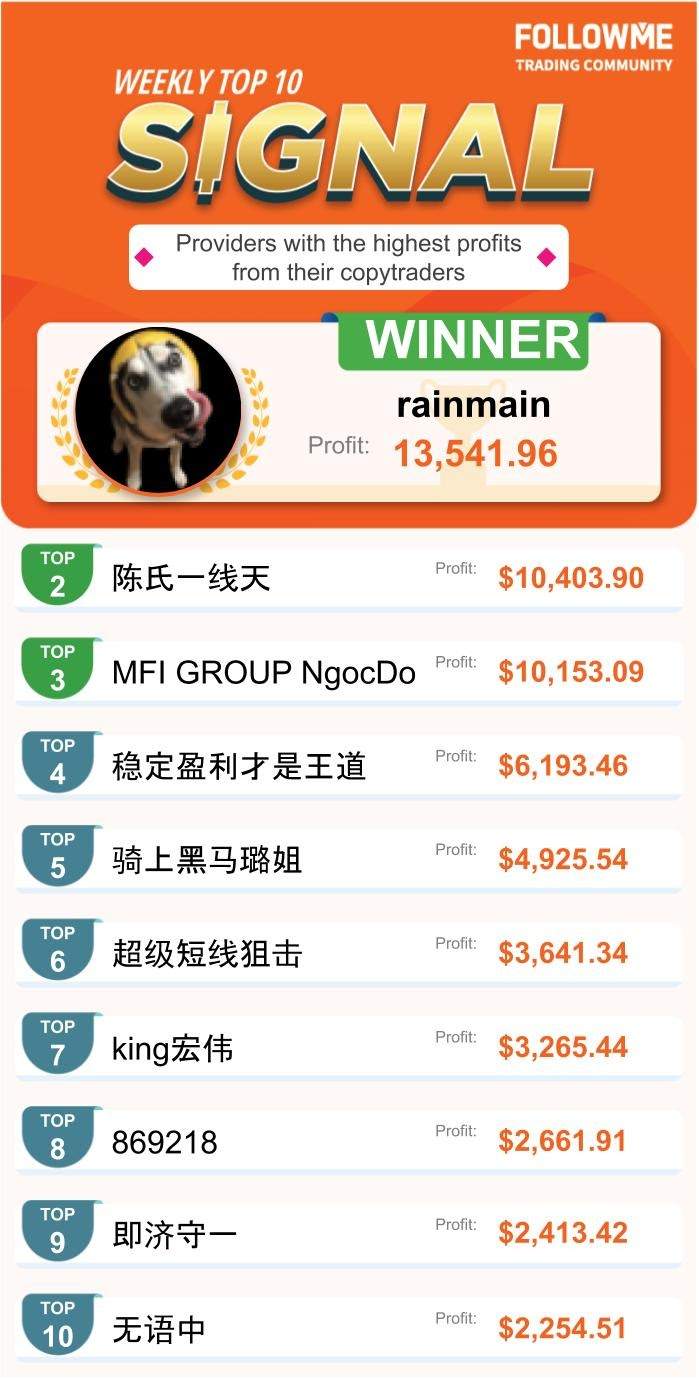 @rainmain #15 is the champion of the latest week's Top 10 Signal Providers, with a total followers' fund of $1.17 million. This trader was the second runner-up in the previous week's ranking and moved his way up to the top spot in the latest week with a significant lower floating loss. He traded against EA, deposited a total of $7,000, and a total net profit of $9,000 over the past six months. However, his maximum drawdown rate (DD) is as high as 52.69%. This is the perfect example to describe his once said words of wisdom: 'Just like Hedge Martin, you must have adequate fund to control risk, only under the circumstance of you being more conservative than me, I can only then consider my position to be secure.'
@陈氏一线天#9 took down the first runner-up spot on the latest week's ranking, a consecutive win. Whenever there is a major event in the market, this always put the traders in a jumpy mode. He traded five lots of gold trade on the 9th, even though this is not a substantial position for a trader with a $20,000 fund, yet the severe drop in the gold price has brought some real damage. We hope he can learn from this experience and find his way back to the top again.
@MFI GROUP NgocDo #7 is the second runner-up in the latest week's Top 10 Signal Providers ranking, with a followers' fund of $60,000. This user is new to the community since previous Friday and focuses solely on gold trading. This user deposited $5,000 and made a net profit of about $100 in a week. Despite the relatively low-profit amount, this user has a significant trust level among his followers and one of them even made a copy trade of 11 times and earned near to $8,000 in a week.
For the latest week, the updates on the Coronavirus vaccine has caused a significant drop in the gold price while the stock indexes have been going on a rally. At the same time, the growth percentage of the total orders w-o-w have registered a new high at 19.1%. This indicated that whenever there is a risky event affecting the market, the users' trading activity in the community will go up. Nonetheless, we advise all traders to set a proper risk control strategy in place and trade wisely as even though major events bring more opportunities, there are underlying risks as well.
Kindly stay tuned and follow #WeeklyReport# for our latest update!
Disclaimer: The data above should not be construed as investment advice. Any trades or hedges you make are taken at your own risk for your own account.
Disclaimer: The content above represents only the views of the author or guest. It does not represent any views or positions of FOLLOWME and does not mean that FOLLOWME agrees with its statement or description, nor does it constitute any investment advice. For all actions taken by visitors based on information provided by the FOLLOWME community, the community does not assume any form of liability unless otherwise expressly promised in writing.
If you like, reward to support.