FOLLOWME Community Top Trading Report - First Week of November 2020
2020/11/2 - 2020/11/6 Total Trading Order
340,886
Compared with the previous week's 333,047, the total trading order has grown by 2.4% or 7,839 for the latest week.
For this week, the total profit of the Top 10 Traders surged to $248,000 from the previous week's $170,000. Close to one-third of the traders ranked this week were the existing users and one of them, @黄金小散户 took the champion spot again after missing it out last week.
Here are the details of our latest weekly ranking: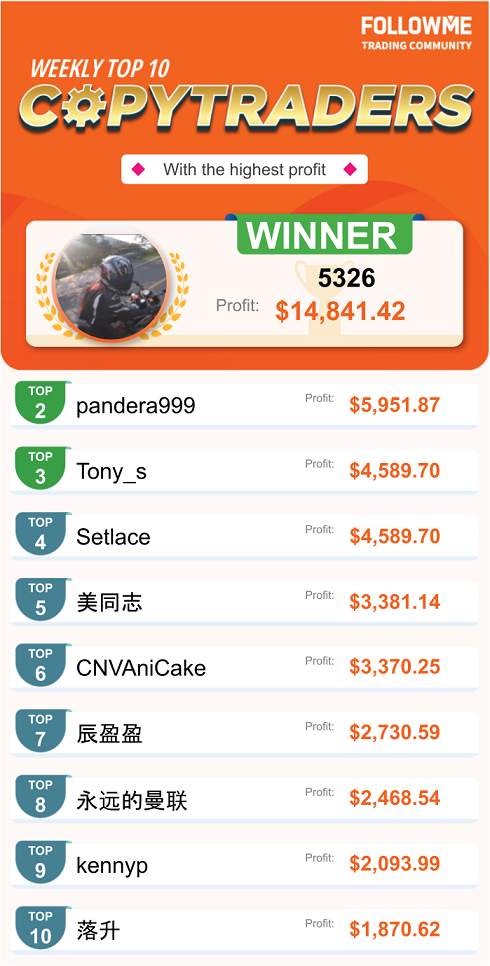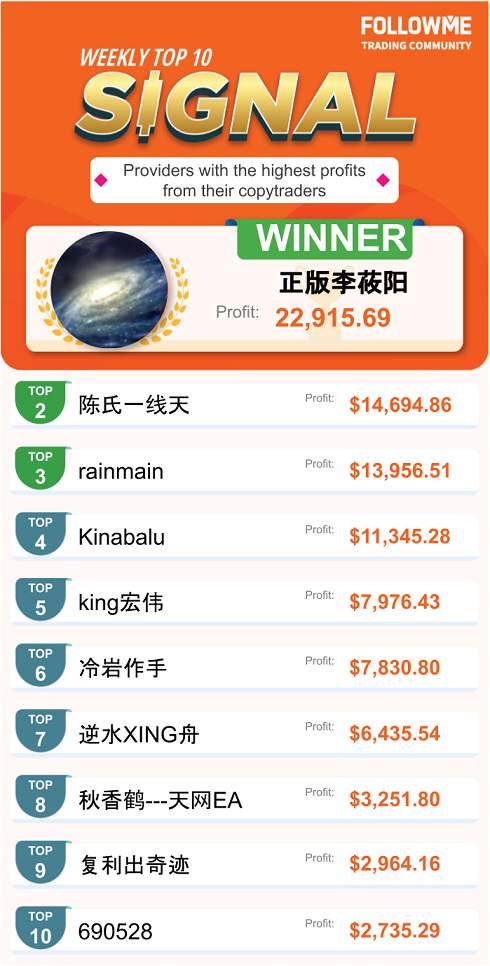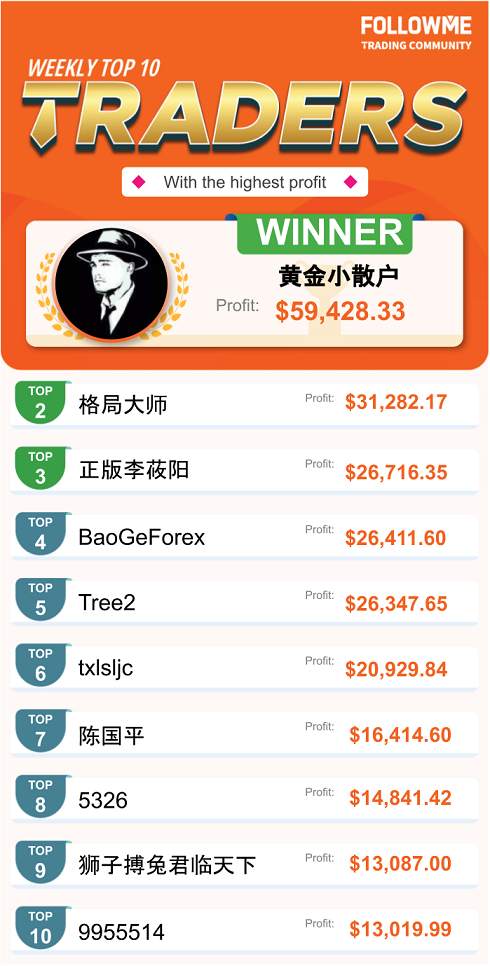 @正品李莜阳 #2 is the champion of the latest week's Top 10 Signal Providers, with a total followers' fund of $1.73 million, a net value of $1,183,418.88, and a winning rate of 56.44%. This trader mostly trades in intraday short-term on gold and Pound Sterling.
Based on his orders ranging between 0.1 and 0.3 lots of $10,000, they do resemble a professional trader's trading pattern. In terms of profit, the trader has acquired a profit of about 20% in the past one year, which is somewhat mediocre in the spot market. Regardless, sustainability is the key to long term trading. It is a rare quality to find a trader to be consistent and patient in such a volatile market.
@陈氏一线天#9 took down the first runner-up spot from the same week of Top 10 Signal Providers ranking, who is also the champion of the previous week with a followers' fund of $50,000. It is safe to assume that this trader tends to trade on-trend, with a yield curve widely varied of peaks and troughs.
With a net worth of US$21,000, he managed to achieve a single-day profit of US$8,000. Yet, he also suffered from a sharp drop in October which even sacrificed part of his capital. Now that he has been ranked for the past two weeks, it is very likely to be a comeback.
@rainmain #15 is the second runner-up in the latest week's Top 10 Signal Providers ranking, with a followers' fund of $1.05 million. This user is a hedging-based trade and his trades have been relatively aggressive, with a deposit of $8,000, back-testing for 15 years, traded on a demo account for three years with zero liquidation and his/her highest floating loss since joining is more than 1,000.
Starting in April, this signal provider has made a profit of $5,000 in six months from his/her trades. Despite so, the trader is currently at a somewhat eyecatching loss-making position and we hope he/she can turn things around soon.
Overall, the traders on the list in the first week of November delivered a beautiful performance, with an average weekly profit of more than $10,000. However, the October non-farm payroll data release has been overshadowed by the U.S. general election and this has somewhat dampened the market outlook for this week.
Therefore, it is very important to choose the right time to enter the market and have a risk management strategy, or else, you might just lose all those hard-earned profits away.
Kindly stay tuned and follow #WeeklyReport# for our latest update!
Disclaimer: The data above should not be construed as investment advice.
Any trades or hedges you make are taken at your own risk for your own account.
Edited 09 Nov 2020, 06:18
Disclaimer: The content above represents only the views of the author or guest. It does not represent any views or positions of FOLLOWME and does not mean that FOLLOWME agrees with its statement or description, nor does it constitute any investment advice. For all actions taken by visitors based on information provided by the FOLLOWME community, the community does not assume any form of liability unless otherwise expressly promised in writing.
If you like, reward to support.