FOLLOWME Community Top Trading Report - Second Week of October
2020/10/12-2020/10/16 Total Trading Order
289,805
Compared with the previous week's 268,314, the total trading order has grown by 8% or 21,491 for the latest week.
For this week, the total profit of the Top 10 Traders was $270,000. Among these traders, one of our community traders @愿者上钩 successfully captured the market opportunities at the right timing. In early May this year, the trader spotted the right time to enter the market, bought 0.48 lots in each order and placed ten consecutive long-position orders on BRENT. After experiencing the fluctuating market for five months, the brave trader was able to reap the benefit and garnered a profit of $57,000 and earned the top spot in our weekly top 10 traders ranking list.
Here are the details of our latest weekly ranking: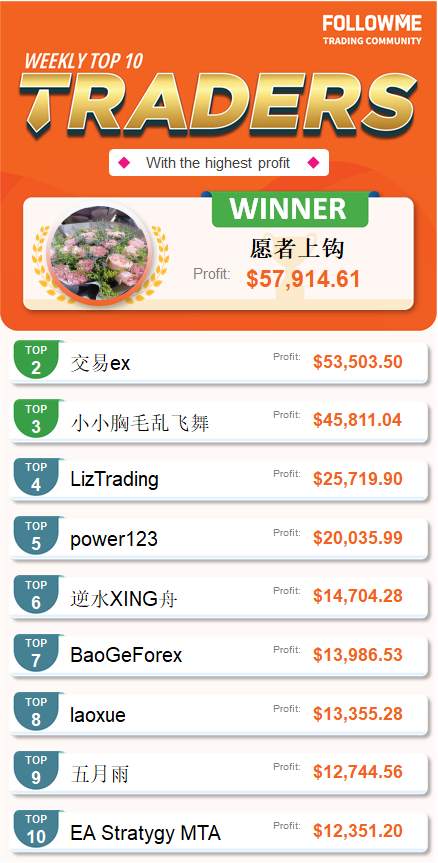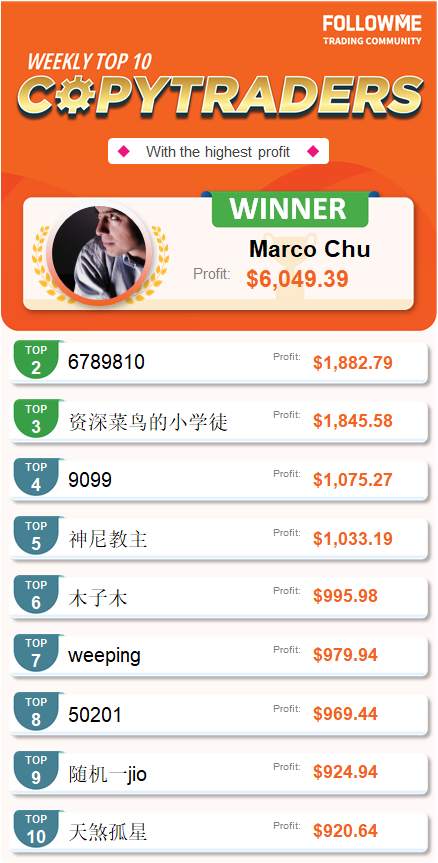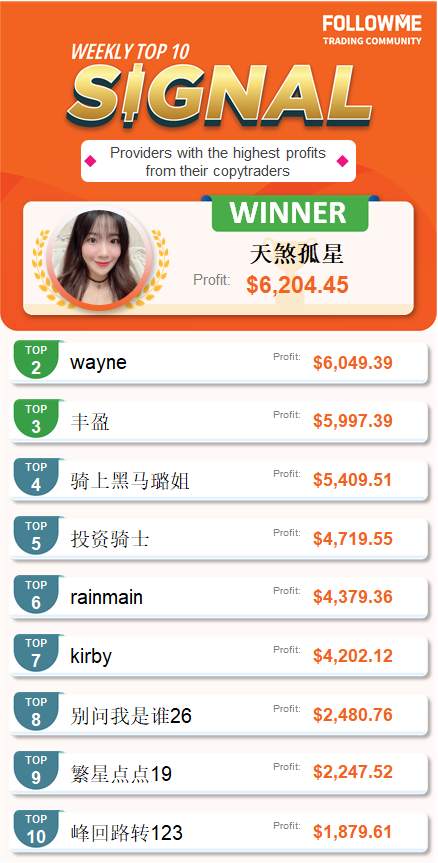 @天煞孤星 is the champion of the latest week's Top 10 Signal Providers with $44,000 in followers' funds, a net value of $2,045.11 and a winning rate of 60.01%. This trader is a specialist in intraday short-term trading across diversified trading varieties.  The trade's trading lot per order ranges between 0.01 - 0.03 lot. The trader adopts a stable trading strategy with light position spread across multiple orders based on the persistent approach of quick actions per minute (APM).
 @wayne is the first runner-up in our Top 10 Signal Providers with $160,000 in followers' funds, a deposit value of $100,000, a current income of $28,400 and a maximum drawdown rate of 18.11%. The winning rate is merely 25.79%, considerably low without factoring-in other elements. However, it is noticeable that the trader's average profit per order is $40.45 while the average loss per order is $12.86. The profit-loss ratio is about 4:1. In addition, the trader has a relatively flat downward curve in the loss-making trend while the slope of the upward curve is close to 90 degrees in the profit-making trend. One of his profitable trades has successfully generated a profit of $47,000 and this is a major signal for the gold traders!
@丰盈 took the second runner-up spot in the Top 10 Signal Providers with $52,000 in followers' funds, a net value of $4,091.40, a winning rate of 60.60%, and a maximum drawdown rate of 18.90%. The trader applied a combination of consolidation and trend trading strategies. Their yield curve indicated a long-term profit cycle and a short-term loss cycle. This indicates that the trader is knowledgeable in maximising profit and cutting loss at the right time.
Despite the different trading styles from our latest weekly top traders, they have displayed a good performance. However, as Buffett has pointed out the market has been unlucky this year, so we want to remind traders that trading is a long-run game. It is always good to have a risk-control strategy to protect our profit.
Kindly stay tuned and follow #WeeklyReport# for our latest update!
Disclaimer: The data above should not be construed as investment advice.
Any trades or hedges you make are taken at your own risk for your own account.
Disclaimer: The content above represents only the views of the author or guest. It does not represent any views or positions of FOLLOWME and does not mean that FOLLOWME agrees with its statement or description, nor does it constitute any investment advice. For all actions taken by visitors based on information provided by the FOLLOWME community, the community does not assume any form of liability unless otherwise expressly promised in writing.
If you like, reward to support.