FOLLOWME Community Top Trading Report - First Week of October
2020/10/05-2020/10/09 Total Trading Orders
268,314
Compared with the previous week's 309,362, the amount has decreased by 13.3% or 49,429 orders for the latest week.
For this week, the total profit of the Top 10 Traders was $259,000. Among these traders, one of our community traders @狂野的猪 achieved the first spot for the first time with a weekly profit of $72,454.39. On last Tuesday at 2 a.m., the trader bought 10 lots in each order and placed seven consecutive long positions on US30. In the next 24 hours, the US30 quote dropped about 4,000 points and this garnered a profit of more than $70,000 during the closing of the order, striking a joyful bell! Could midnight be the best trading time now? You tell us!
Here are the details of our latest weekly ranking: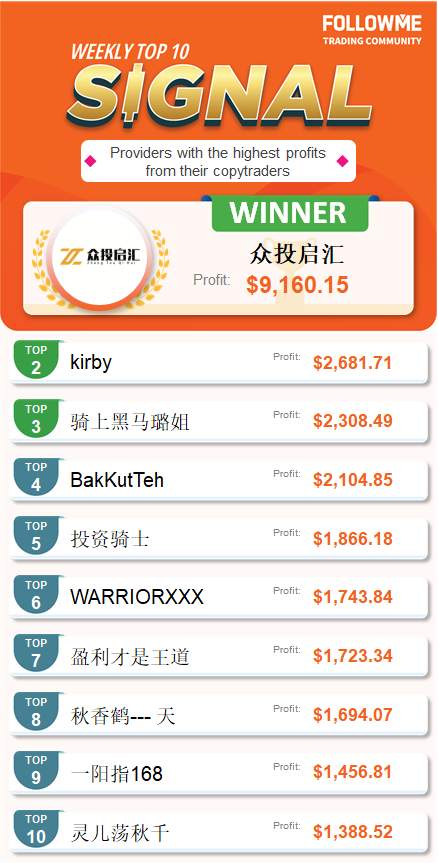 @众投启汇 is the champion of the latest week's Top 10 Signal Providers with 16 followers. This is the second win for the trader in the same category. This trader prefers short-term trading and intraday trading, specialised in diversified trading varieties especially in XAU/USD. The trader's current funds stand at $170,000, and the trading lot per order is mostly capped between one to six lots. The trader's current trading profitable rate is 68.59% with a total profit amount of more than $300,000 for two years or so. This makes him a valuable trader with substantial fund and profit.
@kirby earned the first runner-up in the Top 10 Signal Providers with 17 followers. This trader is also a fan of intraday short-term trading, mainly focusing on  XAU/USD with relatively high trading frequency. The fund amount is average, at $4,975.74, whereby the trading lot per order is between 0.01 - 0.03 lot. Nonetheless, he has a trading profitable rate of 77.82%, a maximum drawdown rate of 17.39%, and an upward return yield curve at 30°. It is safe to assure that he is practicing the trading approach of  "safe and stable transactions for long-term and sustainable returns".
@骑上黑马璐姐 took the second runner-up spot in the Top 10 Signal Providers with 18 followers. This trader prefers short-term trading style with the main product focused on gold. Her current net value is about $2,000 and a trading lot per order between 0.05 and 0.8 lot. However, her return yield curve has been declining and the retracement has been increasing since this August. We hope this will encourage her to restructure her investing mentality and continues to improve her risk tolerance moving forward. 
During the holiday in China, most traders would take a break from trading and have a good time with their family and friends. However, the decline in the number of transactions did not affect the profit of the week at all. The total profit of the latest week's TOP 10 was still standing at the level of more than $200,000. Now that we are moving into the final quarter of the year 2020, let's give it your best shot in optimising your return yield and profitable rate!
Kindly stay tuned and follow #WeeklyReport# for our latest update!
Disclaimer: The data above should not be construed as investment advice.
Any trades or hedges you make are taken at your own risk for your own account.
Disclaimer: The content above represents only the views of the author or guest. It does not represent any views or positions of FOLLOWME and does not mean that FOLLOWME agrees with its statement or description, nor does it constitute any investment advice. For all actions taken by visitors based on information provided by the FOLLOWME community, the community does not assume any form of liability unless otherwise expressly promised in writing.
If you like, reward to support.