2020/09/21-2020/09/25 Total Trading Orders
309,362
Compared with 259,933 orders last week, increased 49,429 orders, and the increase rate is 19%
For this week, the total profit of top 10 traders with the highest profit has reached 368K dollars. Among traders,  this is the first time for @careny47 become the TOP1 with the profit $122,411.01 dollars. Its was amazed that the trader observed the trend just last week and took a short position with 1.65 lots of NAS100. After the up and down of the market, he closed his position and earned a profit $100,000 dollars. He earned a lot!
Here are the details of the ranking: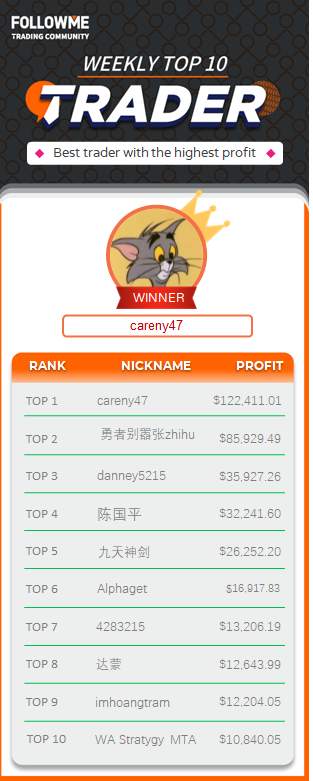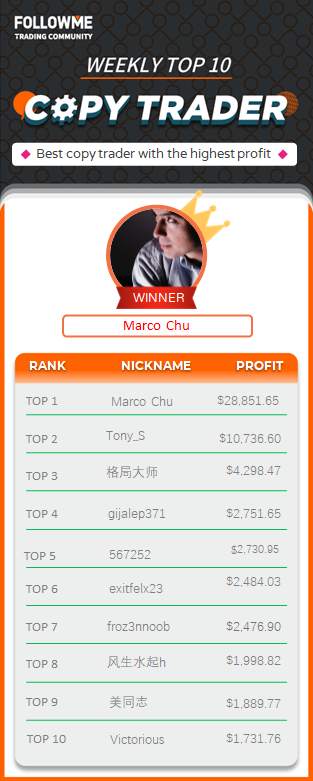 @wayne Top 1 in the ranking of Top 10 Signals with 1 account following. The trader uses XAU strategy generated and automatically executed by FOLLOWQuant. The fund is large, $100,000 dollars, and the trading lots is small, between 0.01 to 0.05 lots. The number of transactions is frequent and able to catch up with the trends and strongly increase the positions. However, when the market fluctuates, it keeps losing. The current close income is $31,934.34 dollars.
@天煞孤星 2nd place in the ranking Top 10 Signals with 52 accounts following. He prefers intra-day short-term trading, diverse varieties, and mainly trades on GBP/USD. The amount of fund is $2,151 dollars, the trading lots per order are between 0.01 and 0.03 lot. The win ratio is 60.15%.
@冷岩作手  3rd place in the ranking Top 10 Signals with 19 accounts following. He also acts as a live broadcast guest of the community last week. He is an experienced trader in the community, only do manual trading, mainly trade gold and mainstream currency pairs, some time trade crude oil, and bitcoin. The trading lots per order are between 0.03 and 0.1 lots. He has strict risk management, keep low position trading, single trade maximum draw-down (floating loss) <3%, three consecutive losses suspended for three days, he is a stable trader.
Compared to last week, it can be seen that all trader's profits are stable this week, and the total amount of profit has increased. However the market always volatile, hence please be reminded to all traders always manage your risk control, in order to stay better and longer in the market!
Kindly stay tuned and follow #WeeklyReport# for our latest update!
Disclaimer: The data above should not be construed as investment advice.
Any trades or hedges you make are taken at your own risk for your own account.