2020/09/14-2020/09/18 Total Trading Orders
259,933
Compared with 278,957 orders last week, decreased 15,581 orders, and the decrease rate is 7.32%
In this week, the total profit of top 10 traders with the highest profit has reached 124K dollars. Among traders, this is the first time for @power123 become TOP1 with profit $23,356.56 dollars. The trader has been at a loss since September last year. However, has reached profit now and seems like it giving a signal that going to reverse the loss? Let's wait and see for coming weeks!
Here are the details of the ranking: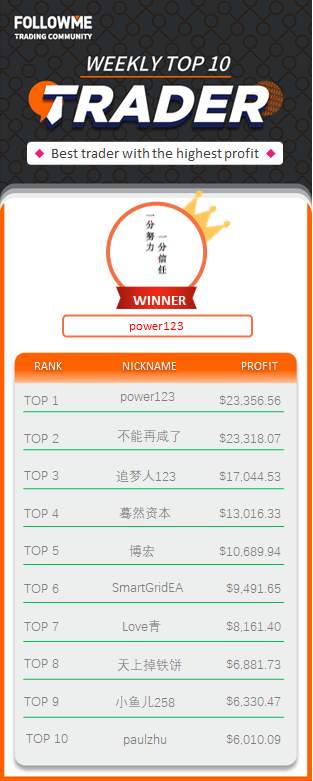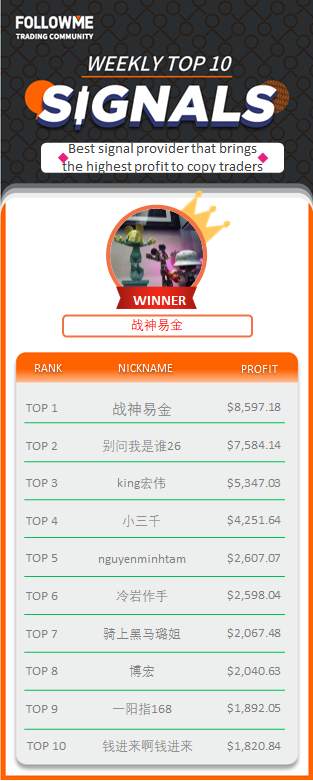 @战神易金 Top 1 in the ranking of Top 10 Signals with 7 accounts following.  He prefers scalping and mainly trades on XAU/USD.  The single transaction span is relatively large, ranging from 0.05 to 20 lots. The number of transactions consider frequent, sometimes try to grab the profit by high capital. The win ratio is 75.83%, has taken out all the capital and profit.
@别问我是谁26 2nd place in the ranking Top 10 Signals with 7 accounts following.  He prefers scalping and mainly focus on Gold's hybrid strategy. The trading lots per order are between 0.08 and 1 lot. Doing high risk and high yield way of short-term trading, with small fund. He invests 800 dollars currently win ratio is 216.94%, targeting 10,000 dollars.
@king宏伟 3rd place in the ranking Top 10 Signals with 12 accounts following. He prefers scalping trading and good at trades XAG/USD. The trading lots are small, per order are always between 0.01 and 0.25 lots. He has strong sense of risk control, open positions ranging from 2 to 5 times a day according to the market, and close positions at the same days, without making overnight order. Below 1000 dollars, 0.1 lot is placed each time, and 0.2 lot is 2000 dollars.
It can be seen from the list that everyone prefers follow traders who doing scalping with high capital. Although short term trading has the possibility of wining with small capital, the profit is beyond imagination. However, high returns always come with high risks. If you want to make long term profit, you must regularly manage your fund!
Kindly stay tuned and follow #WeeklyReport# for our latest update!
Disclaimer: The data above should not be construed as investment advice.
Any trades or hedges you make are taken at your own risk for your own account.