FOLLOWME Interview丨Dr Billiant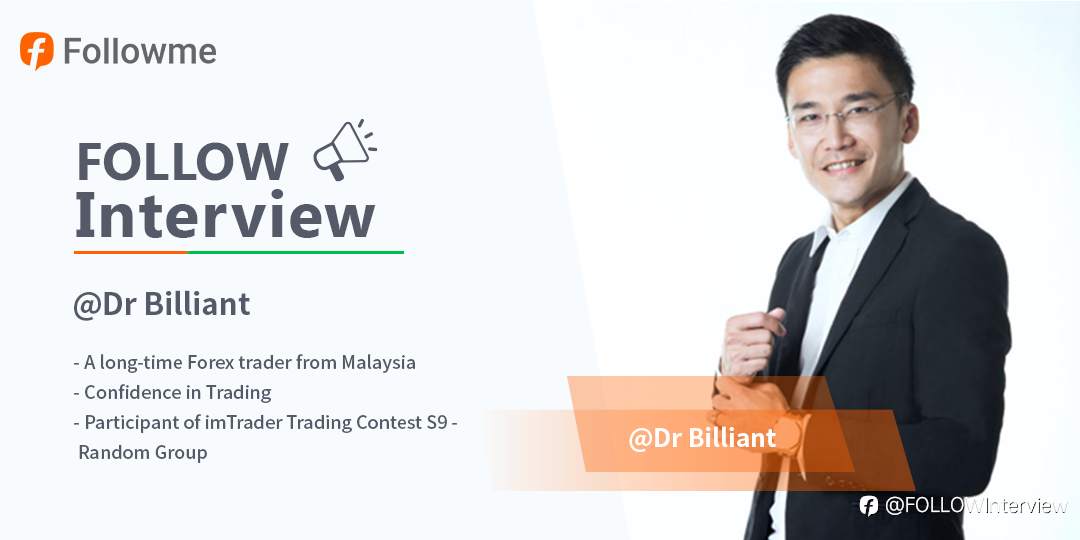 Quick access to last interview
@Dr Billiant is a long-time forex trader from Malaysia. In his opinion, as a forex trader, he can work anytime every time. It is the sign of FREEDOM.
Also, he participated in the S9 imTrader Trading Contest and was in the Random Group. We are delighted that he participated in this interview and shared his experience with you in the FOLLOWME community.
1. Thank you for accepting the interview and sharing your trading ideas. Can you tell us about yourself and your experience in forex trading? 
Thanks for allowing me to share my experience of trading with all the great forex lovers. My name is Billiant and I am from Malaysia. I started my forex trading in 2010. Along the 11 years of trading, I had burst my trading accounts many times and I did have a short period of time to stop trading forex like 2-3 years. Then, after a period of struggling, I decided to come back to the forex industry, this is because there is nothing better than forex trading in the financial industry. Forex is the easiest and shortest path that allows you to travel around the world without stopping you to make money. All the tourist spot in the world is your outstation, mobile phone is your tool to make money, while as long as you are connected to the internet, that is your working time. I never choose to work as a part-time or full-time worker for any job, but as a full-time forex trader, you work anytime every time. It is the sign of FREEDOM. 
2. What do you think about the fear and greed in trading? 
The inside of this question is actually questioning the level of your confidence. Winning and losing have to be everyday things. NO perfect trade that only turns blue color in your result. If you have full confidence in your trade no matter technically or fundamentally, you shall trade according to your strategies (this is referring to the level of risk management, lot size management, profit factor, and trading formula). While, if you have less confidence before you trade, please DON'T trade it. This is because the next chance of entry is infinity and always awaits you in the next hour.
3. How is your trading method formed? Do you explore in practice gradually, summarize by yourself or learn from others?
I am a technical trader, I have formed my method of trading from reading the chart every day, 5 days a week. All my lessons are fully paid with real money, which means they are from the lesson of losing my money in forex trading. I have gained most of my trading experiences from self-trading and reviewing; just 20% of it I gained from others. My perspective is if books, online materials, or any free videos can make you become a great trader, there will have no poor people in the world. You have to have a mentor and also independently trade in your own and form your own trading skills. The money to can earn from forex is much much more than the money to pay for learning forex from any guru. I have witnessed so much of students and friends of mine make money right after a good forex class. The word EARN is inside the word LEARN.
4. Which indices will you analyze for the method analysis in forex trading? 
This is very much different from all the traders, because every trader may have different trading habits and different products of trading. I am having two skills; one is without EA and one is with EA. The one without EA, I am only referring to the US index, this is because I am only trading USD-related pairs like GOLD, EURUSD, GBPUSD, and USDJPY. While the EA trading one I just sit back and relax, I don't even have to spend much time analyzing the market movement. After so many years of trading, finally, we have managed to synergy all the best trading formulas into one and what we want is just to make money, because forex trading is not like a business that you need to focus on service or quality of goods. Your only goal is making money no matter what indices, as long as it helps you or gains you the confidence in trading, then just use it.
5. Do you think it is important to manage the capital in trading? 
Definitely! But managing capital is still a very general question. I shall narrow down the question into what are the things that we have to pay attention to when managing the capital. There are trading lot size, products (currencies pairs or commodities), the different spread from different brokers' houses, trading time zone as well as your trading formula. If you are a scalper, trading time zone and spread are very important, on the other hand, if you are an EA trader, the formula is everything, win or lose depends on the formula you have set on it. Any mistake can easily margin call on your account. Lastly, the mentality is very important for a trader, never ever try to gamble your forex account!
6. Are you a full-time trader? How do you balance your trading and your life? 
YES! I am not a full-time or part-time trader, I just trade it anytime and every time. As I have mentioned above, forex is the best industry that can help us achieve freedom of life. You just need to gain one very useful skill and manage your emotion or you got a profit-making EA, then just sit back and relax. Enjoying your life like the time you spend on forex, Anytime and Every Time.
7. You had registered for the imTrader Trading Contest S9, would you please tell us the reason why you decided to join this competition? 
YES, I had participated in the contest. I think this was a good contest that everyone shall participate in. The reason I joined this contest was that this was like a checkpoint for all the community. Winning or losing is not the most important one, the most important is we can make a lot of friends and can get to know great traders from this community.
8. In the competition, what did you think is the most important one? Method, capital management, or trading mindset? 
The trading mindset is the most important one because when there is a competition, many of them will forget the winning consistency. It is like a sport when on the daily training time, you will have a very relax and enjoy all the moment on it, but when there is a competition, some may have outperform and some are not. The outperform is just stay at a very short period of time. Therefore, mindset is the most important one. If I have the chance to follow the great trader, I will choose those who can perform a consistent result for a long period of time.
9. What trading strategies did you usually use during competition? Was there any difference between the trading strategy used in the competition and the usual trading strategy? 
For me, I have never changed any trading skill, I will remain the same strategies and EA that I am using all the time no matter it is a competition or not.
10. What kind of ranking did you get in this competition?
Every participant hopes they could win the champion, right? I didn't win the championship but I am confident that I could stay at the rank of making money consistently.
________________________________________
Want to be featured on our next FOLLOWME Interview? Contact us by sending an instant message to this official account FOLLOWME Support.
Proofreading: Jelly & Rosie
Disclaimer: The content above represents only the views of the author or guest. It does not represent any views or positions of FOLLOWME and does not mean that FOLLOWME agrees with its statement or description, nor does it constitute any investment advice. For all actions taken by visitors based on information provided by the FOLLOWME community, the community does not assume any form of liability unless otherwise expressly promised in writing.
If you like, reward to support.