FOLLOWInterview | @ProEA - I Feel Passionate and Want to Conquer This Forex Market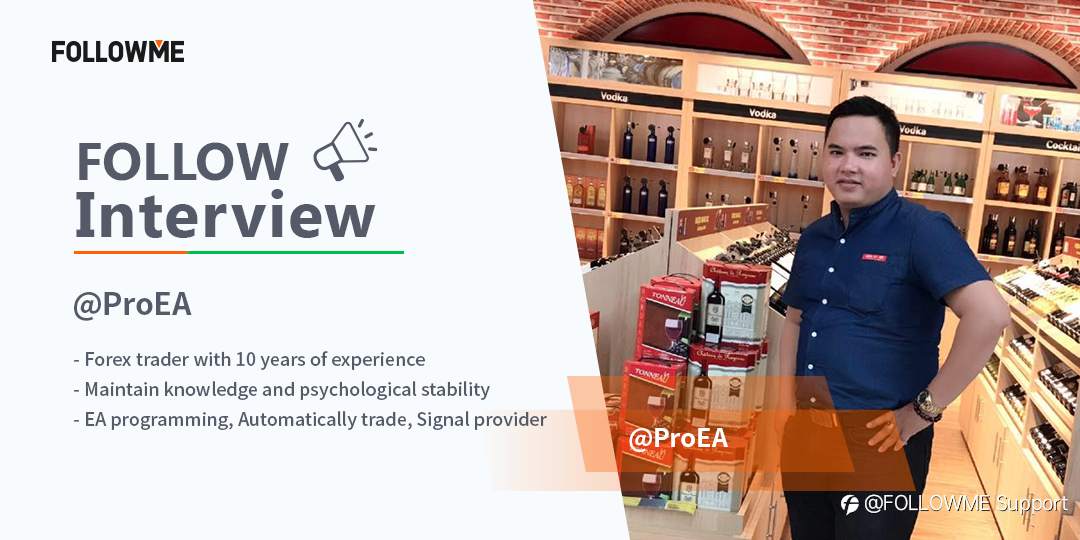 Quick Access to the Previous Interview
"I Feel Passionate and Want to Conquer This Forex Market" That's what @ProEA said in this interview. Are you overwhelmed by his ambition? He used to be a very popular trader in FOLLOWME, with nearly 2,000 followers, and up to 200 users who copied his signals, making profits and losses. While gaining fame, his trading strategy has also been controversial. Want to know more about his story? Check out our interview session with @ProEA :
Can you tell us about yourself and your experience in forex trading?
My name is Duc, I have been in the forex market for 10 years now. From the beginning until now, I have researched and taught myself all about the foreign exchange market, the main sources I refer to are mostly foreign documents.
Do you remember when the first loss in forex trading was? Was it one of your memorable experiences?
The first loss is an investment of $1,000 to trade gold. I was introduced to FxPro by a friend to open an account, through the verification procedure at that time was very time-consuming, the account was also loaded. The first order I entered was 1 lot of gold and I immediately profited 200$. At that time, I thought forex trading was too simple, then I continued to place orders based on emotions and that day was nonfarm. After the 2nd command, my account evaporated
What prompted you to continue trading forex after that loss?
I feel passionate and want to conquer this forex market. After the first loss, I continued to deposit money and began to learn methodically trading methods, after understanding the methods, I traded quite well. But then I had a mental problem. Although my technical analysis is quite standard, every time I see an order that has a little gain, I will take early profit. At another time, some orders had not yet touched the SL, but I cut it anyway, so my account slowly burned out. After the first 5 years, I learned that in addition to good technique, psychology also plays an equally important role in the trading process. So then I switched to EA programming to automatically trade and not be affected by any psychological effects anymore. I programmed to load EA with all the forex technical knowledge that I learned! When you use EA, the profit will of course be lower than trading by yourself, but it helps to reduce risks, stabilize traders' psychology, so it is much safer.
What was the biggest lesson from that experience and how do you continue to improve?
The biggest lesson I have learned when losing is that to participate in this huge forex trading market, you must determine if you have researched and learned enough, understand this market well. If you rush to start doing something without investing enough knowledge, it is like throwing money out the window. At that time you should not trade by yourself because it will not end well.
What are the strategies you follow when trading forex? Can you elaborate more on the benefits of each method?
The first and most important rule in forex trading is to manage your capital, when entering an order you must determine the size of the order, which only accounts for 0.5-1% of your account.
The second rule is that it is necessary to clearly define the take profit and stop-loss points in order. If an order is gaining profit, the stop loss point must be changed to the entry point to save the account.
Do you have any advice for new traders?
Those who are new to the forex market should find signal providers with good coefficients to copy, and then you also have to add your own knowledge to be able to understand the technique and self-assess future transactions.
Is forex trading as volatile or dangerous as the public portrays it? Is there a gap between reality and perception?
The above statement will be true for those of you who lack knowledge and do not spend time and effort to explore and learn. And if you really love and want to trade forex, you will find ways to master trading knowledge. If so, then the gap between reality and perception will not matter anymore, the point is in yourself!
Are you a Signals provider on FOLLOWME? Do you intend to help others trade forex?
Yes, I am a signal provider on FOLLOWME. After many years of participating in the market, I have built my own experience into the automated trading system. This system helps me not to be psychologically affected when trading, in addition, I can capture the market 24/5, enter orders when the market is favorable! New entrants to the market can follow your strategy, it minimizes many risks and is very safe!
Want to be featured on our next FOLLOWInterview? Reach out to us by sending an instant message to the official account, FOLLOWME Support!
Edited 16 Jul 2021, 15:56
Disclaimer: The content above represents only the views of the author or guest. It does not represent any views or positions of FOLLOWME and does not mean that FOLLOWME agrees with its statement or description, nor does it constitute any investment advice. For all actions taken by visitors based on information provided by the FOLLOWME community, the community does not assume any form of liability unless otherwise expressly promised in writing.
If you like, reward to support.