TRADER OF THE WEEK | @MFI GROUP NgocDo
If you are looking for a suitable trader to learn from or simply a right signal to copy trade from, this is definitely the place you should keep an eye on every week starting today!
We are going to highlight ONE fantastic trader every week based on their trading performance, ranking and you know the drill. So, let's get started!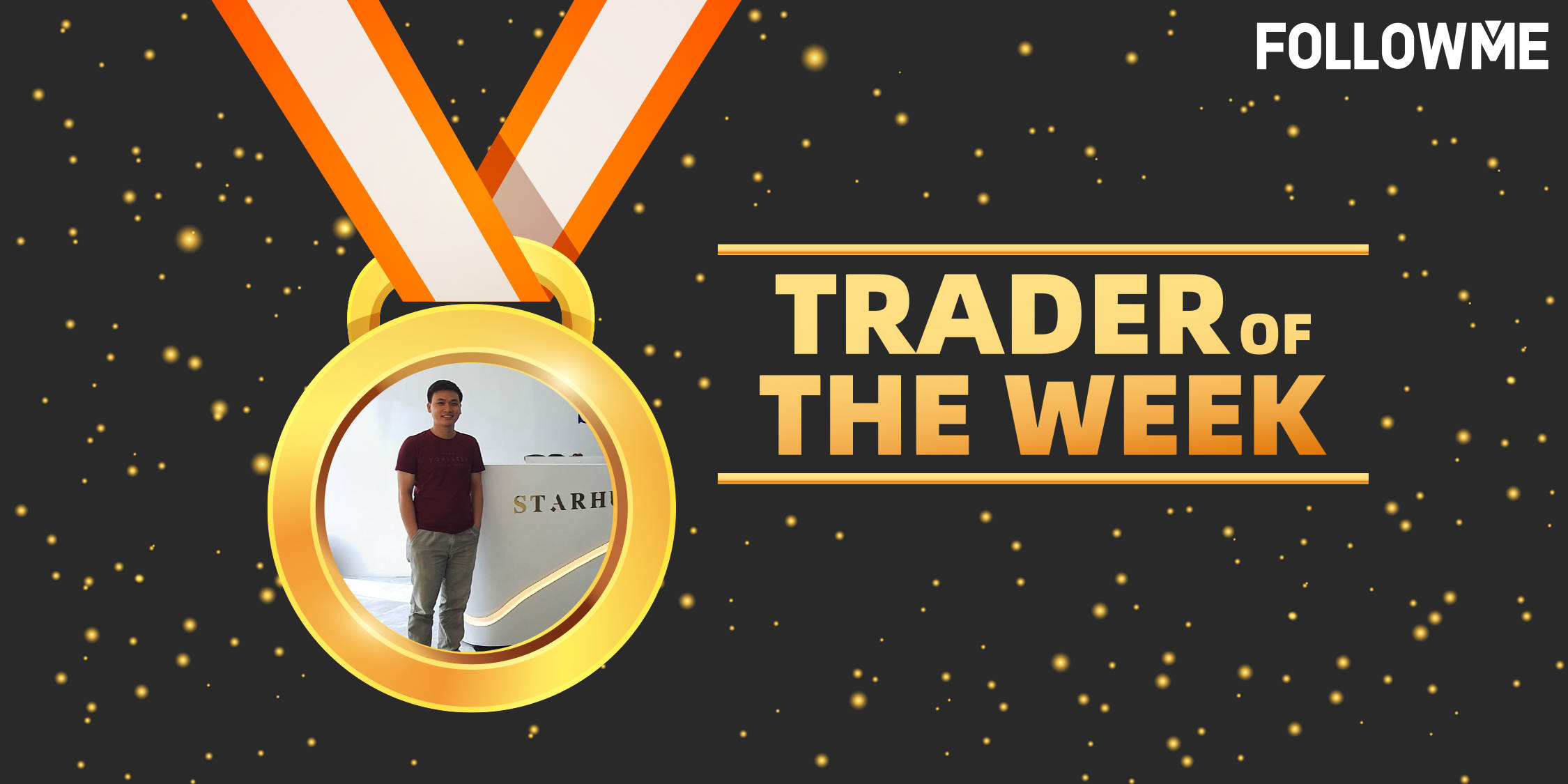 This week we will feature @MFI GROUP NgocDo from Vietnam. He has joined FOLLOWME on Nov 6, 2020. This trader is particularly good in fund management for his clients in a safe and risk-controlled environment.
He has been with FOLLOWME for almost three months and has demonstrated excellent skills in managing his trades. So, if you are looking for someone to manage your capital in the safest and optimal way, he might be the person for you.
Currently, he has two active accounts in FOLLOWME. However, our analysis today is based on his trading account #7 KVBPrimeLimited2-Live. You can check out his profile page for more information right here.
In this analysis, we will give you an overview of his performance, trading interests, income growth and his ranking status. It will help you to understand how he operates, where his confidence and skills are and how he is growing his profit.
As of Feb 4, 2020 - 1.14 a.m. (GMT+8), he has led with an average FOLLOWRANK of 4.2. He had a gradual increase in his ranking from the very beginning of joining this platform. His peak FOLLOWRANK was 5.5 on Jan 24, 2021. You may find his ranking average but he has been operating this account for less than three months. So, we would say that 4.2 is a very decent growth in such a short time.
Besides, if you observe the diagram below, you will see that he ranks highly when it comes to risk control and stability. He is a trader who looks for the optimal trading position with stability and risk control as his main focus.
If you are reading our 'Trader of the Week' segment for the first time, then let us tell you that FOLLOWRANK is a comprehensive score calculated based on factors such as stability, profitability, risk control ability, non-lucky profitability, and capital scale of the account trading performance in the past 13 weeks.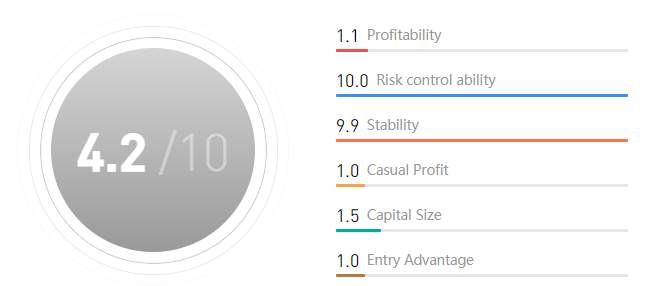 This trader did not waste time after joining the platform. He started trading with a bang, growing at a steady level. He has made 149 trades in the few months he has started the account and managed to get an impressive 71.14% win from his trades.
This shows he knows how to generate healthy income in a risk-controlled environment with a good turnout. The average profit of this trader is $7.10 and the average loss is $9.86. Though the trades show a less profit/loss (P/L) ratio, this may be because of the floating trades he is waiting to close at the right time.
With a holding period of 17.4 hours on average, this trader does not hold trades for too long. From his performance, we can say that he knows the best time and techniques to place his orders and manage trades for a profitable gain.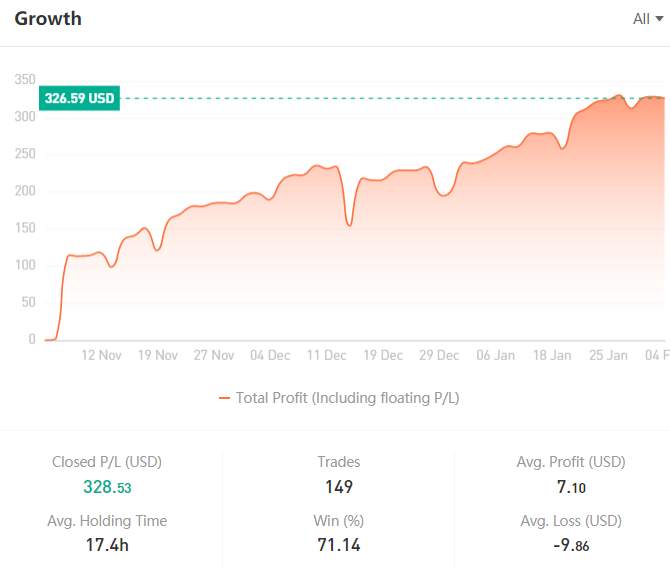 This trader's peak profit was Nov 14, 2020. He has a mix of floating and closed profit/loss (P/L), garnering good profit over the months. We are eager to know whether he can hold on to this growing performance in the coming years.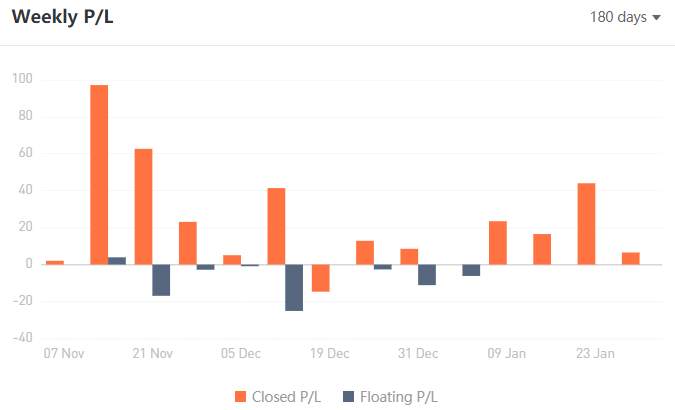 Now, let's talk about what this trader invests in to generate such good profit. From the chart below, you will see that more than half of his trades are invested in XAU/USD. Balanced between short and long positions, he has managed to be in a favourable position to gain from this particular pair. This shows that this trader has deep knowledge and expertise in trading gold.
This trader must also be very good at dealing with forex trading pairs as other than gold, he trades in 25 forex currency pairs. His interest in such a diverse set of trading symbols suggests that he knows his strategies and analysis well to navigate all these trades with favourable outcomes.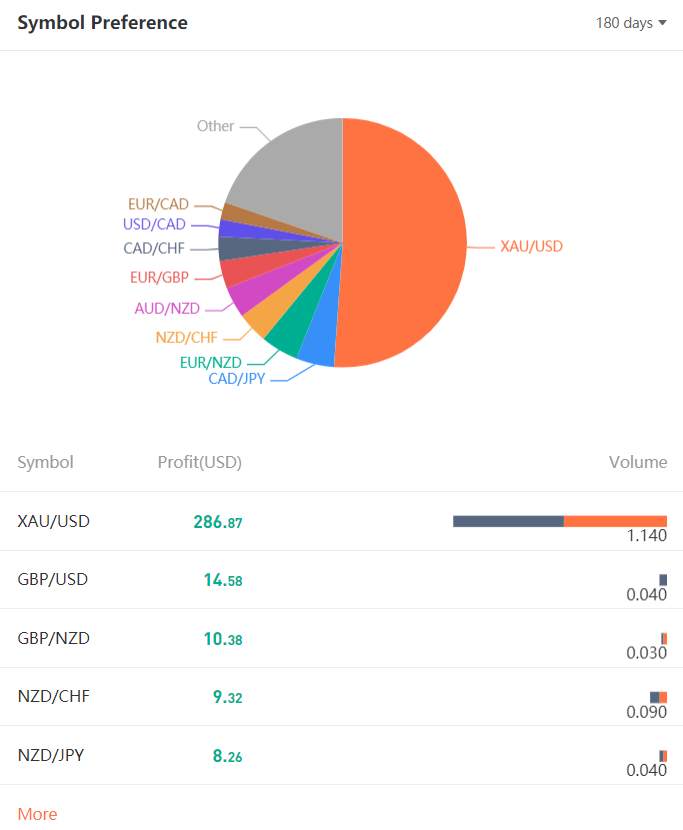 The trader's skilled performance seems to catch the eye of his fellow traders pretty quickly as we can see from his subscriptions. In the three months, he has been operating this account, his followers have grown to 139, which is a very quick climb in such a short period.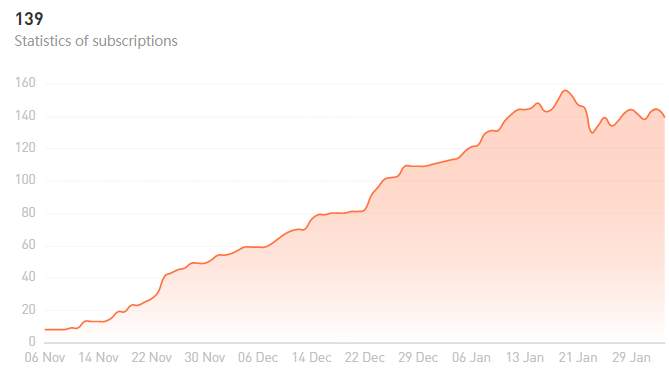 Followed by his growing subscriptions, the amount of this trader's following is also quite high at $551,343.50 which indicates that his followers have great confidence in his trading techniques to master their investment.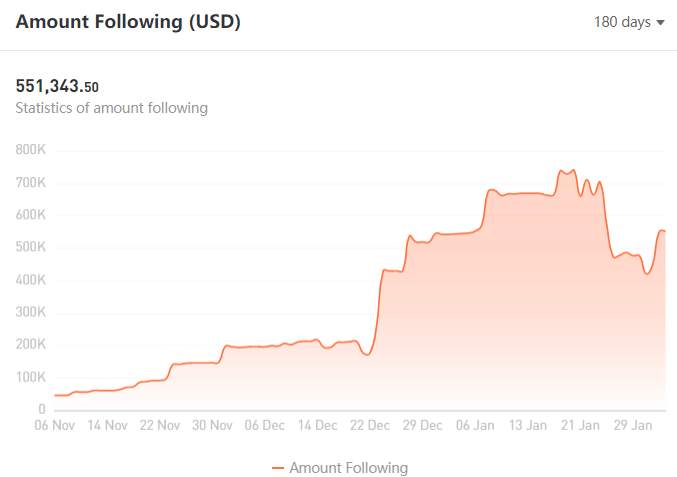 So, why do you think the confidence in this trader has increased so impressively? If you are one of @MFI GROUP NgocDo's subscribers, we want to hear from you.
Also, if you want to say something to our Trader of the Week here, please leave a message in the comment section below.
That's all for this week's trader of the week. Don't forget to check out our Signal tab for a Signal provider that suits you best!
Disclaimer: The data above should not be construed as investment advice. Any trades or hedges you make are taken at your own risk for your own account.
Disclaimer: The content above represents only the views of the author or guest. It does not represent any views or positions of FOLLOWME and does not mean that FOLLOWME agrees with its statement or description, nor does it constitute any investment advice. For all actions taken by visitors based on information provided by the FOLLOWME community, the community does not assume any form of liability unless otherwise expressly promised in writing.