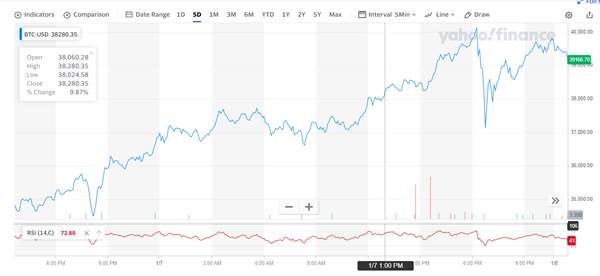 Source: Yahoo Finance
On Jan 7, the BTC/USD bulls achieved yet another milestone when it broke through $43,000. With that, all speculation whether BTC/USD might hit the $40,000 level mark has been answered. Bitcoin's 24-hour volume has recorded a new high of $82.4 billion. At the time of writing, BTC/USD is at $39, 166.70. The Relative Strength Index (RSI) is currently at 41.
The looming question would be if this trend upwards would continue or is a long-overdue correction on the way?Analyst Lorenzo Stroe from FX Street reported that the upside resistance is very weak, and there has not been a correction since December 2020.
Analyst Alexander Kuptsikevich from FXPro Financial Services Limited reports that the U.S. Democrats' victory would be the next mover for cryptocurrency market growth led by a generous economic stimulus. However, he interestingly cautions that the flow of capital into Bitcoin is merely a temporary parking lot for funds when there is increased liquidity in the market as well as inflated stock and bond prices.
Hence, while it can be tempting to ride on the 'Fear of Missing Out', or FOMO rally when it comes to the sparkling BTC/USD, it is wise to practice risk management that is backed up with sound analysis when it comes to trading. All that glitters is not (digital) gold.
A near-term market mover would be the nonfarm payrolls tonight, but could the results of the nonfarm payrolls be overshadowed by the hype from the U.S. Democrats triumph?
BTC/USD (as of Jan 8, 2021, 9.30 a.m., GMT +8) - $39,166.70
FOLLOWME BTC/USD User Sentiment (as of Jan 8, 2020 at 9.50 a.m.)
Short – 74.68%
Long – 25.32%