If you are looking to ace up your trading strategies or simply looking for the right copy trading signals, this is where you should keep your eyes on every week, starting today!
Here, we highlight ONE fantastic trader every week based on their trading performance and ranking. If you have been here before, you know the drill and if you are not, then you are about to find out. So, let's get going!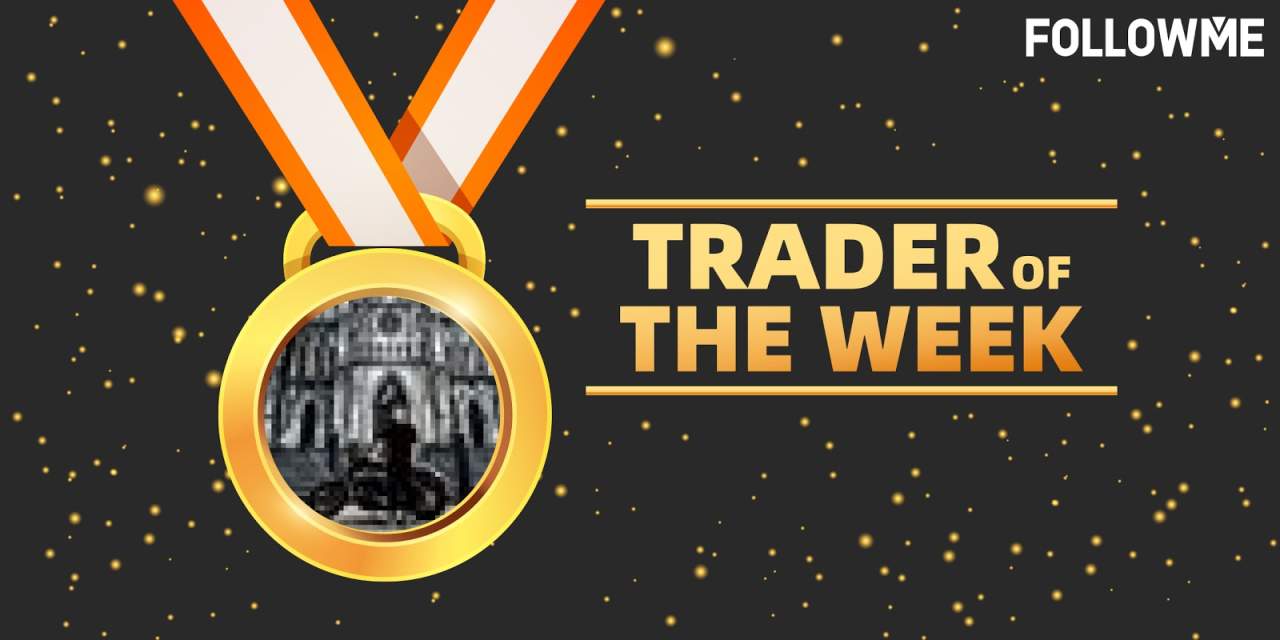 This week we will feature @LuxesTrading#Signal# from Vietnam who joined us on Nov 20, 2020. He is yet another master of forex currency trading and showing outstanding results in less than two months since he has joined our platform.
You can use his effective technique to learn the best signal or strategies of trading. And if you are looking for some copy trading service, he is the man! He can earn you a low-risk profit of 40% per month on average with a minimum fund of $5000.
LuxesTrading has one active account in FOLLOWME, #3 LiteForex-ECN.com and today, we will base our analysis on this trading account. If you wish, you can also check out his profile here for more details.
This analysis as usual will focus on how the trader is performing, what he is investing in and how much profit he has generated so far. We will also have a look at how his subscription and amount of following have reacted to his efficiency in forex trading.
As of Jan 6, 2020 - 8.41 a.m. (GMT+8), LuxesTrading has managed to make a mark in the FOLLOWME platform with an above-average ranking of 5.3. The trader seems to have wasted no time after he joined since his ranking has already surpassed the above-average level in less than two months. Today, he is at the peak of his ranking, promising only a hike up from here.
Forex trading demands quick decisions and great knowledge of the global economies and daily happenings. But what you need most is a cool head to gather all that intel into a profitable trade and LuxesTrading seems to have mastered that particularly well. He has 100% risk control in trading while maintaining high profit with constant stability. We give him a big thumbs up for these qualities.
If you are reading our 'Trader of the Week' segment for the first time, then let us tell you that FOLLOWRANK is a comprehensive score calculated based on factors such as stability, profitability, risk control ability, non-lucky profitability, and capital scale of the account trading performance in the past 13 weeks.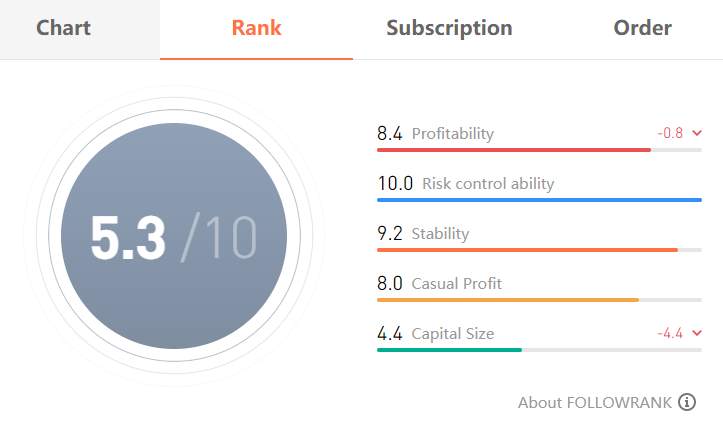 Now, let's talk about the growth that has brought up his ranking with such great succession. As you can see from the chart below, he started growing his profit right the moment he joined our platform.
In November and December, he was steeply growing his profit with a massive overall trade of 1,330. Take note that we do not come by a trader often who invests in so many trades in such a short time.
But LuxesTrading has achieved this feat with a 70.37% winning rate and a closing profit of $15487.67, as of the time this analysis was written. This indicates that he knows the time-sensitive manner of forex and was able to leverage on the right positions to generate profit with controlled risk.
On average, LuxesTrading's profit/loss (P/L) stands at $34.16/$41.86 respectively. Despite the relatively weaker ratio of P/L average, it remains a minor concern because the trader still has some floating trades so it will be interesting to see his performance over the next few weeks.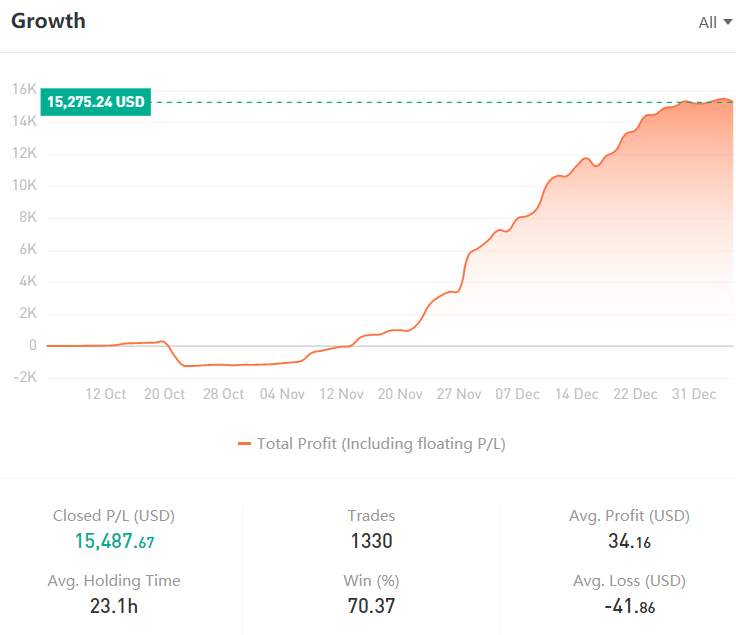 Upon analysing his growth, we also took a deeper look at LuxesTrading weekly trades. Interestingly, his average holding time stands at 23.1 hours, longer than average and this suggests that maybe he was waiting for the right time to take action for maximum output.
@LuxesTrading has slowly grown his profit in November to a greater amount in December with strong momentum continuing even today. He definitely knows his market and how to leverage the volatile situation such as the Covid vaccines, economic policy transitions and what the next year holds. The trader managed to achieve a 38.44% return rate so far based on the recent global headliners that triggered several market waves.
With such outstanding performance, we are hoping to see whether the trader will manage to retain such excellence in this new year.
Talking about this impressive profit, here is a snapshot of the forex currency pairs he invests in. We have observed that LuxesTrading's dominant forex pair is #EUR/USD# . He has nicely balanced between a short and long position to mint an appreciative $8,334.23 profit from there.
Actually, the lion's share of his profit is coming from this pair which suggests that he has considerable knowledge about it. The runner up pair is XAU/USD, which he has also managed quite well to garner good profit.
As for the other pairs, LuxesTrading has invested in more than 30 pairs in recent months churning stable low-risk profit. Of the long list of forex pairs, he has invested a little into GBP/NZD and CHF/JPY as well, the only two pairs which are hovering on the slightly negative side.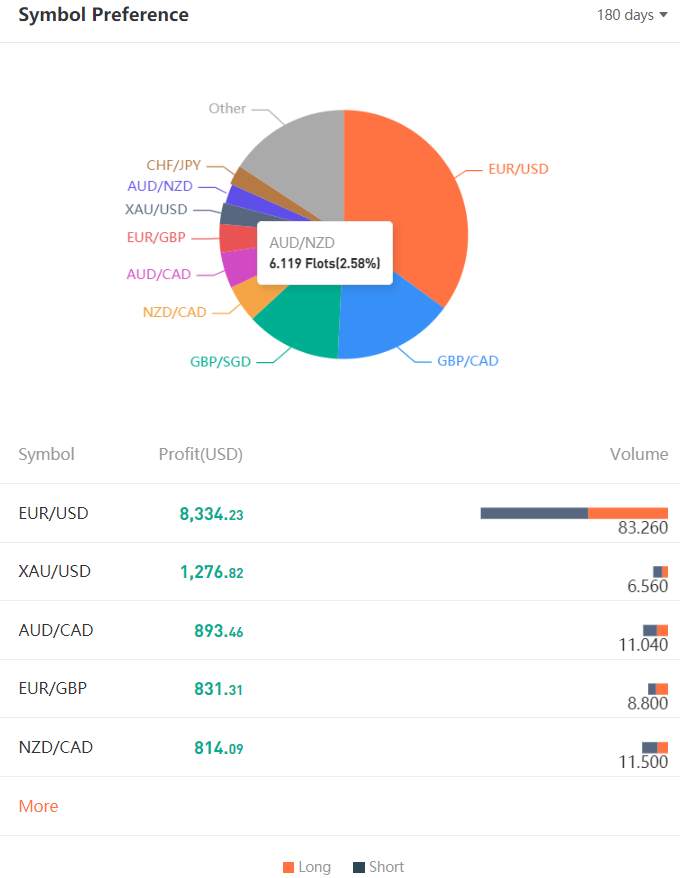 After a month of trading in FOLLOWME, @LuxesTrading got his first subscriber on Dec 23, 2020, which has now grown to a total number of ten. Compared to the trader's growth and profit, his subscriptions are yet to catch up. We are expecting it will do so once the fellow traders start noticing this underrated player.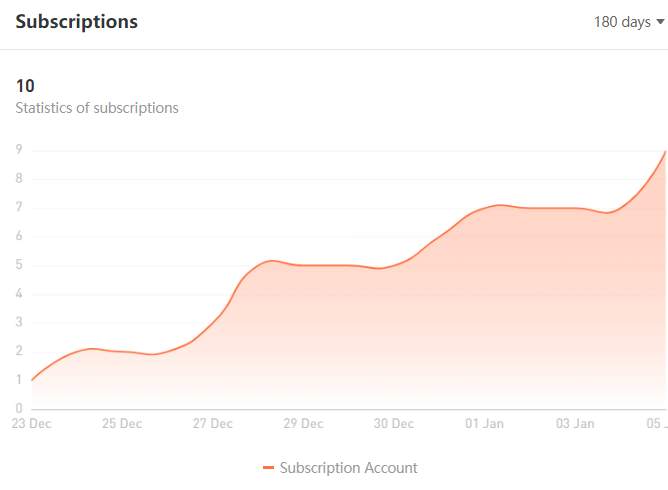 Following his growing subscriptions in the past month, we see that his amount of following has grown to $60,747.28, which shows that those who subscribed with him have solid confidence in his trading capabilities.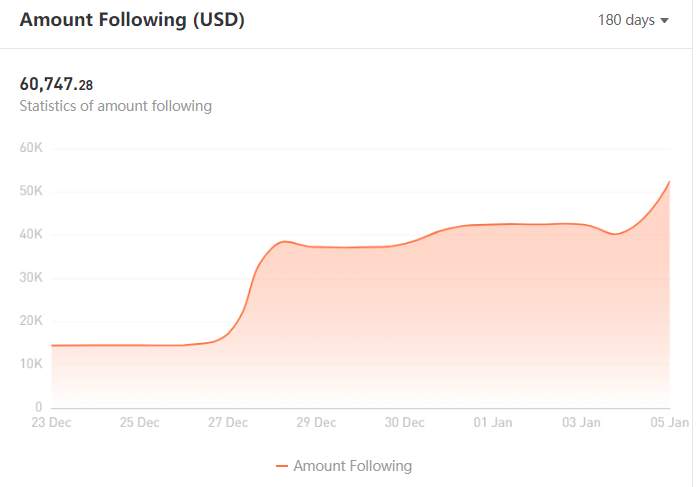 So, do you think that more subscribers will join him now that they are starting to take notice? If you are one of @LuxesTrading 's subscribers, we want to hear from you.
Also, if you want to say something to our Trader of the Week here, please leave a message in the comment section below.
That's all for this week's trader of the week. Don't forget to check out our Signal tab for a Signal provider that suits you best!
Disclaimer: The data above should not be construed as investment advice. Any trades or hedges you make are taken at your own risk for your own account.