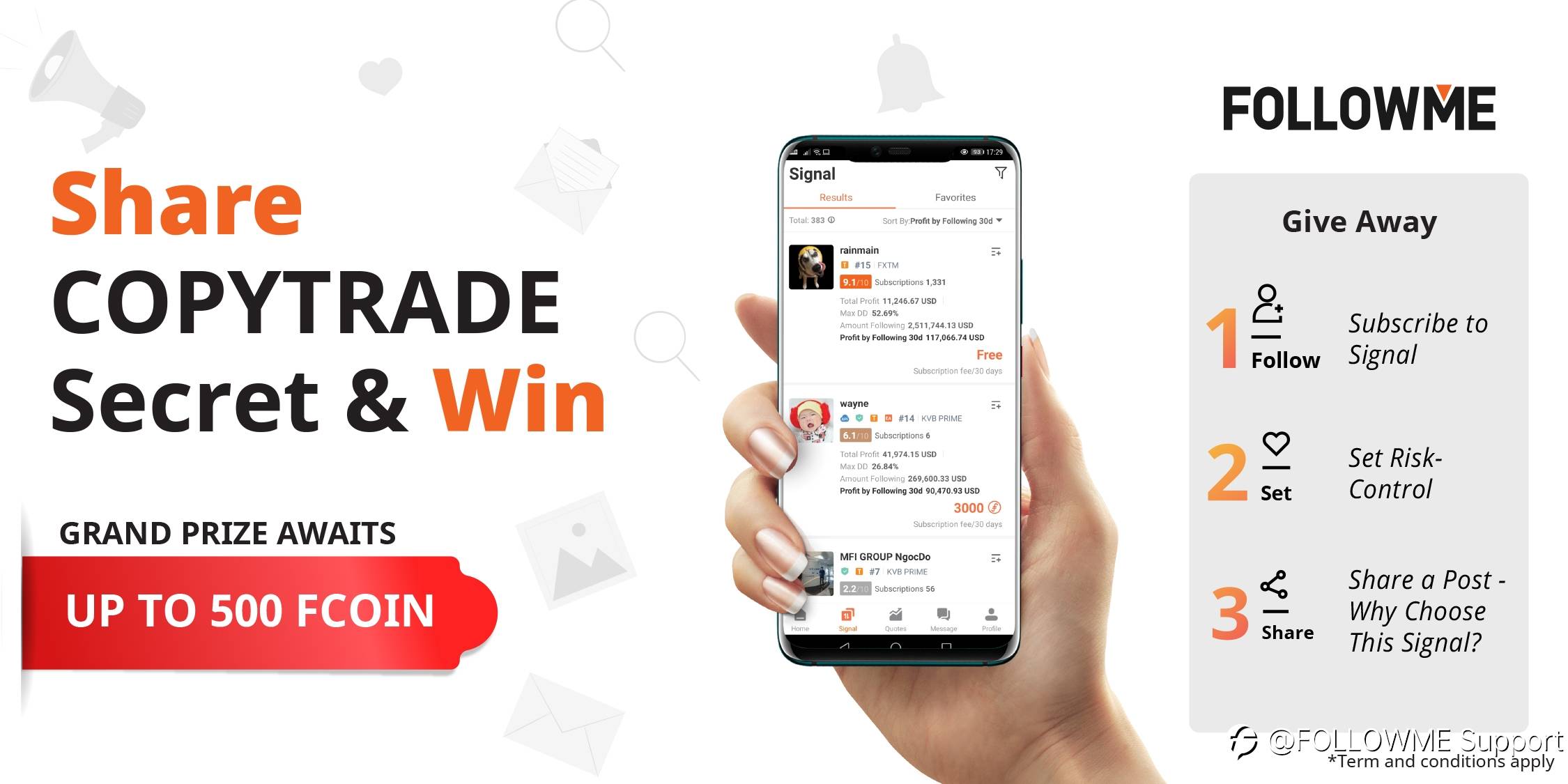 Before the year 2020 ends, we would like to show you our gratitude by hosting this special campaign in order to hear from each of you about your trading skills. But we won't be focusing on the symbols or technical analysis this round, instead, we want to hear from you about your tips and insights in choosing a Signal to make use of our unique feature, COPYTRADE!
From Dec 28, 2020 until Jan 26, 2021, we are offering 20 FCOIN for every copy trading secret you share with the topic: #COPYTRADENOW# and a grand prize of 500 FCOIN to the ONE POST with the most likes!
How to Win - THREE Simple Steps:
Step 1: Choose a Signal Provider on the Signal tab and subscribe to your preferred trader on FOLLOWME.
Step 2: Set the risk-control criteria accordingly before you initiate the COPYTRADE function.
Step 3: Write and share a post on FOLLOWME to tell us why you have chosen this Signal Provider to subscribe to (COPYTRADE)?
The length of each post must be at least 15 words and tagged with the topic: #COPYTRADENOW#
Terms & Conditions:
1. Each participant must not be a Signal Provider (Trader) to join this campaign.
2. It is COMPULSORY to put a risk-control setting in place for each Signal subscription (COPYTRADE).
3. Before publishing a post to participate, COPYTRADERS must currently be subscribing to at least one Signal and ensure the post is relevant to this Signal provider, otherwise, the post will not be considered for submission.
4. Default subscription period of 30 days applies. For example: If a user subscribes to a Signal on Jan 3, 2021, the subscription will end on Feb 1, 2021, unless the user ends the subscription by personal choice.
5. Each post is entitled to each unique subscription only. For example: If user A is currently subscribing to four Signal Providers (traders), he/she could only publish and submit four posts for each Signal during the whole campaign period. With a reward of 20 FCOIN per post, user A will be rewarded with a total of 80 FCOIN in this case.
6. Multiple posts under the same Signal Provider will only be counted as one submission.
To recap, this unique feature is designed so you can subscribe to any Signal on our platform. You can choose the ones that best suit your preference including risk rating, average profit/loss ratio and more.