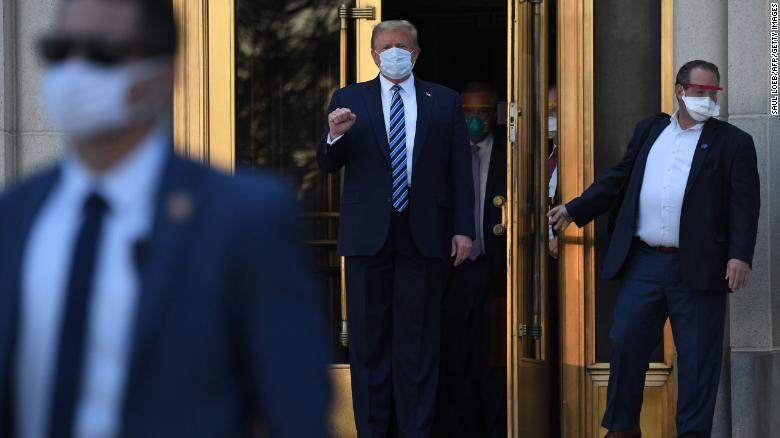 In a new memo released midday Wednesday, Trump's doctor relayed the President saying "I feel great!" and reported he had been symptom-free for 24 hours. But the memo declined again to provide critical information such as when Trump last tested negative, what his lung scans show, and whether he is still on the steroid dexamethasone or any other medications that could be masking his symptoms.
Trump's "schedule right now is fluid, we're looking at his prognosis," chief of staff Mark Meadows told reporters earlier at the White House. "If he decides to go to the Oval, we've got safety protocols there."
Indeed, preparations had been made for Trump's eventual return to the Oval Office, including positioning a so-called "isolation cart" stocked with yellow medical gowns, respirator masks, and plastic goggles required for visitors just outside the office doors near where Trump's assistants sit.
When he did return, Trump avoided other areas of the Wing Wing, entering the Oval Office directly from outside. Meadows and social media adviser Dan Scavino joined him there dressed in the protective gear. It wasn't clear who else he might have encountered along the way.
Trump made phone calls and spoke with aides mostly from his third-floor quarters on Tuesday and a taped a video -- never released -- from downstairs where offices were set up for him next to the medical suite.