An exclusive invitation to be FOLLOWME influencer if you are a person who loves sharing, why not just be a part of us? It's a great advantage to get brand endorsement and more exposures of your trading insight on finance, economics or even politics!
Join us and become FOLLOWME influencer no matter you are already a financial reporter, trader or you only have a sharing heart. FOLLOWME is the stage for you to shine and grow!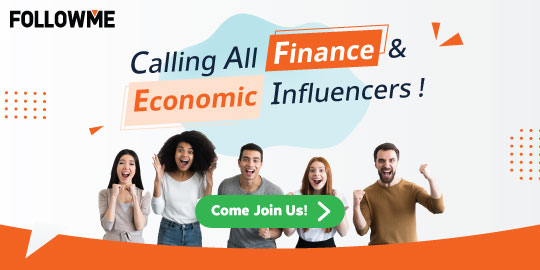 Join Us If You Are---
Investor who is interested in trading.
Traders/analysts who have unique insights on Forex and Financial markets.
Traders/ investors in general who love to record and share their own growth experience.
Blogger/coach who share high-quality market analysis or knowledge articles/videos/pictures.
You Will be Enjoying---
1. Traffic
More impression:
FOLLOWME will help increase more impression on your posts, supporting texts, posters, voices, videos and other forms, and promote your account in FOLLOWME's social medias.
Webinar/ Recording: 
A live or recorded version of professional traders sharing session. So that, you will get more exporsures and attract users' attention.
Exclusive IM Group & Topic: 
You can develop your fan base after creating an exclusive IM group and your customized topic.
2. Income
Sales channels for books/ reports/ chart analysis etc:
Your publications can be placed in the FCOIN Exchange Center, once the user redeems them, you will get FCOIN payment;
Subscription fee:
As an influencer, you could freely enjoy with the boosted exposure rate, users would subscribe your profile for your daily trading insight, whereby the subscriptions fees is freely setup by you and 100% belongs to you.
More to be expecting:
FOLLOWME is developing a content subscription system in which users will pay to read your content.
3. Brand Endorsement
Official verification:
Exclusive verification information and logo, plus V on the avatar to grow influence and enjoy higher impressions.
Interview:
FOLLOWME will provide the platform to promote brand endorsement to the public.
Guest of offline events:
Be invited as a Special Guest at offline events, to have opportunity communicating with global professional traders around the world in person and increase personal influence.
To be a Qualified Influencer on FOLLOWME, You'd Need to--
Every influencer who joins FOLLOWME community will automatically bind with the following requirements.
1) Have regular content output (quality and quantity)
2) Completed profile setting (avatar, nickname, bio …)
3) Had self intro as first post
4) Had articles, notes, videos, features: finance, trading, forex related/market and market analysis/popular science articles (at least one post a week)
How to Get More Impression Here?
join some community activity.
you can interact with users in IM group and reply users' question.
More to Come: Influencer Growth System
FOLLOWME influencer growth system empowers growth and helps influencer value manifestation. The complete system will be launched soon.
Personal bar:
More exhibition opportunities, support personal brands, and own creative spaces.
Homepage ads:
You can put your email address, YouTube channel, or other platform information displayed on your personal homepage;
Apply to Become an Influencer Now!
Please kindly PM @ FOLLOWME Official account to apply to become our influencer.
Make the move now! In FOLLOWME trading community, there are thousands of traders share their experiences and trading skills every day. Here is the platform to share your knowledge. Get involved and join us now!