Buying And Selling Currency Pairs Part 1
Forex trading is the simultaneous buying of one currency and selling another.
Currencies are traded through a broker or dealer and are traded in pairs. Currencies are quoted in relation to another currency.
For example, the euro and the U.S. dollar (EUR/USD) or the British pound and the Japanese yen (GBP/JPY).
When you trade in the forex market, you buy or sell in currency pairs.

Imagine each currency pair constantly in a "tug of war" with each currency on its own side of the rope.
An exchange rate is the relative price of two currencies from two different countries.
Exchange rates fluctuate based on which currency is stronger at the moment.
There are three categories of currency pairs:
The "majors"
The "crosses"
The "exotics"
The major currency pairs always include the U.S. dollar.
Cross-currency pairs do NOT include the U.S. dollar. Crosses that involve any of the major currencies are also known as " minors".
Exotic currency pairs consist of one major currency and one currency from an emerging market (EM).
Major Currency Pairs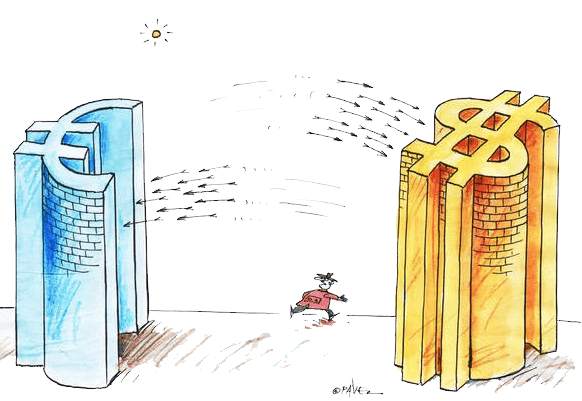 The currency pairs listed below are considered the "majors."
These pairs all contain the U.S. dollar (USD) on one side and are the most frequently traded.
Compared to the crosses and exotics, price moves more frequently with the majors, which provide more trading opportunities.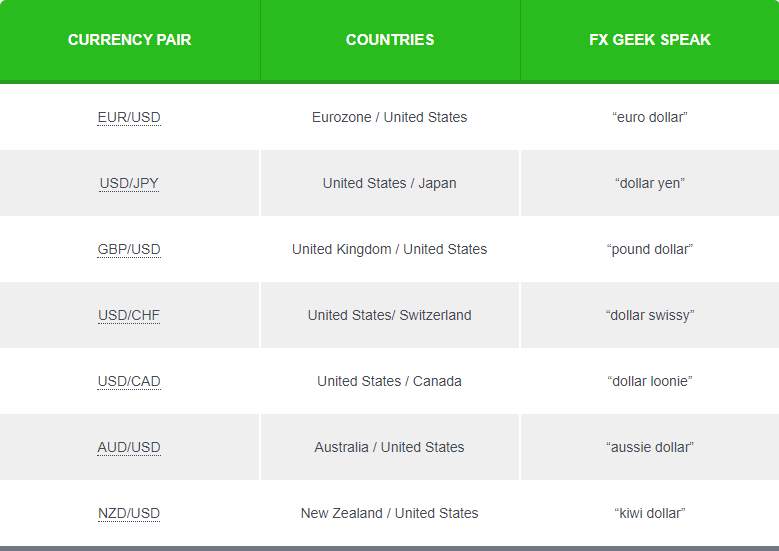 The majors are the most liquid in the world.
Liquidity is used to describe the level of activity in the financial market.
In forex, it's based on the number of active traders buying and selling a specific currency pair and the volume being traded.
The more frequently traded something is, the higher its liquidity.
For example, more people trade the EUR/USD currency pair and at higher volumes, than the AUD/USD currency pair.
This means that EUR/USD is more liquid than AUD/USD.
Major Cross-Currency Pairs or Minor Currency Pairs
Currency pairs that don't contain the U.S. dollar (USD) are known as cross-currency pairs or simply as the "crosses."
Major crosses are also known as "minors."
While not as frequently traded as the majors, the crosses are still pretty liquid and still provide plenty of trading opportunities.
The most actively traded crosses are derived from the three major non-USD currencies:
EUR
,
JPY
, and
GBP
.
Euro Crosses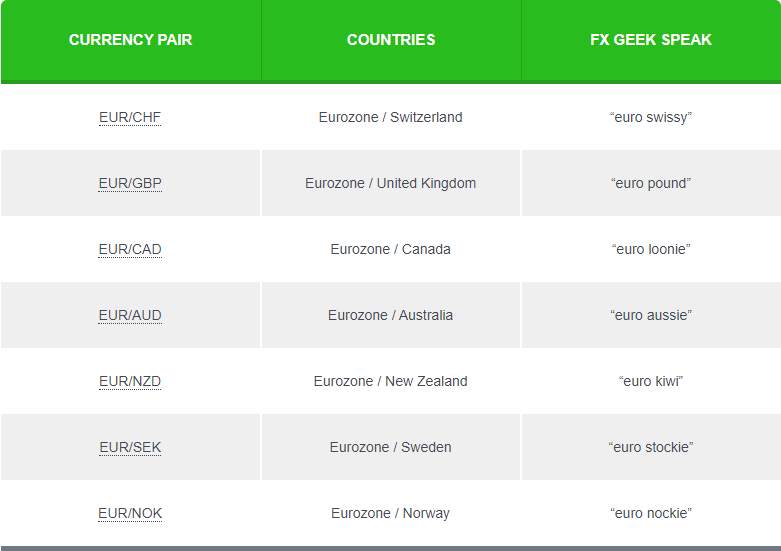 Yen Crosses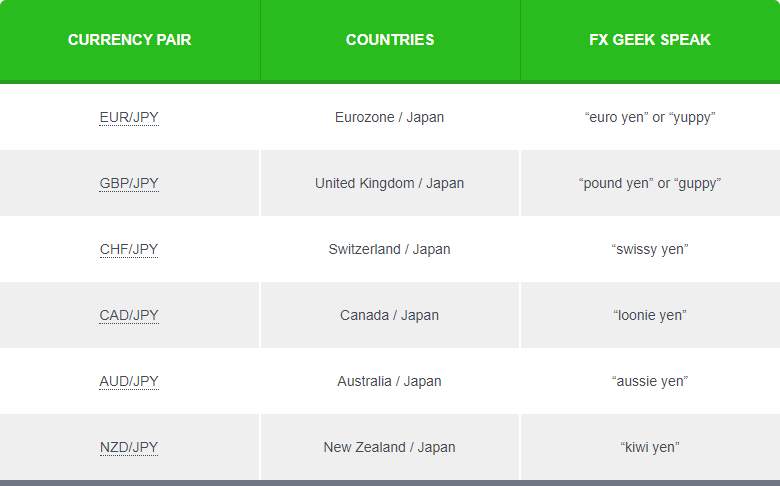 Pound Crosses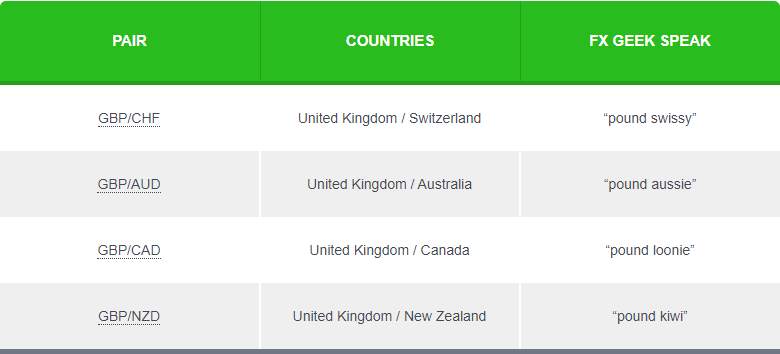 Other Crosses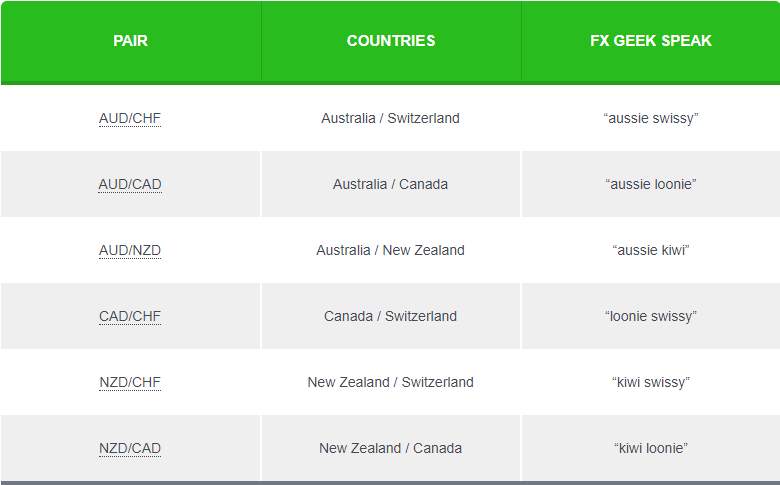 Exotic Currency Pairs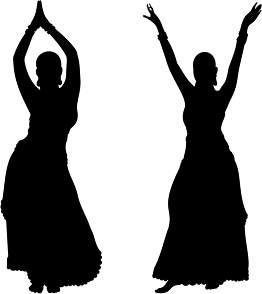 No, exotic pairs are not exotic belly dancers who happen to be twins.
Exotic currency pairs are made up of one major currency paired with the currency of an emerging economy, such as Brazil, Mexico, Chile, Turkey, or Hungary.
The chart below contains a few examples of exotic currency pairs.Wanna take a shot at guessing what those other currency symbols stand for?
Depending on your forex broker, you may see the following exotic currency pairs so it's good to know what they are.
Keep in mind that these pairs aren't as heavily traded as the "majors" or "crosses," so the transaction costs associated with trading these pairs are usually bigger.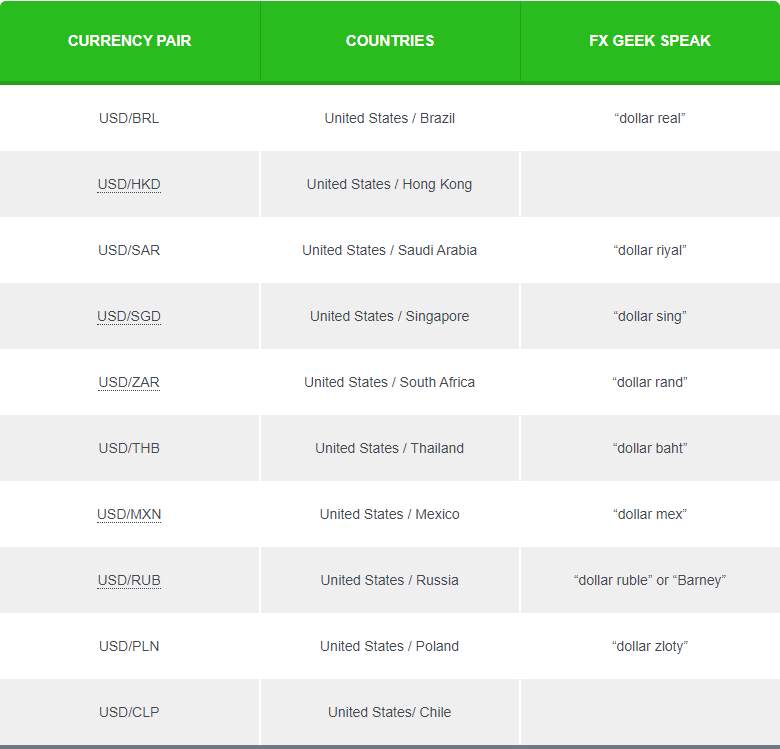 It's not unusual to see spreads that are two or three times bigger than that of EUR/USD or USD/JPY.
Due to the overall lower degree of liquidity, exotic currency pairs tend to be far more sensitive to economic and geopolitical events.
For example, a political scandal or unexpected election results can cause an exotic pair's exchange rate to swing violently.
So if you want to trade exotics currency pairs, remember to factor this in your decision.
For those of y'all who are really mesmerized by exotics, here's a more comprehensive list.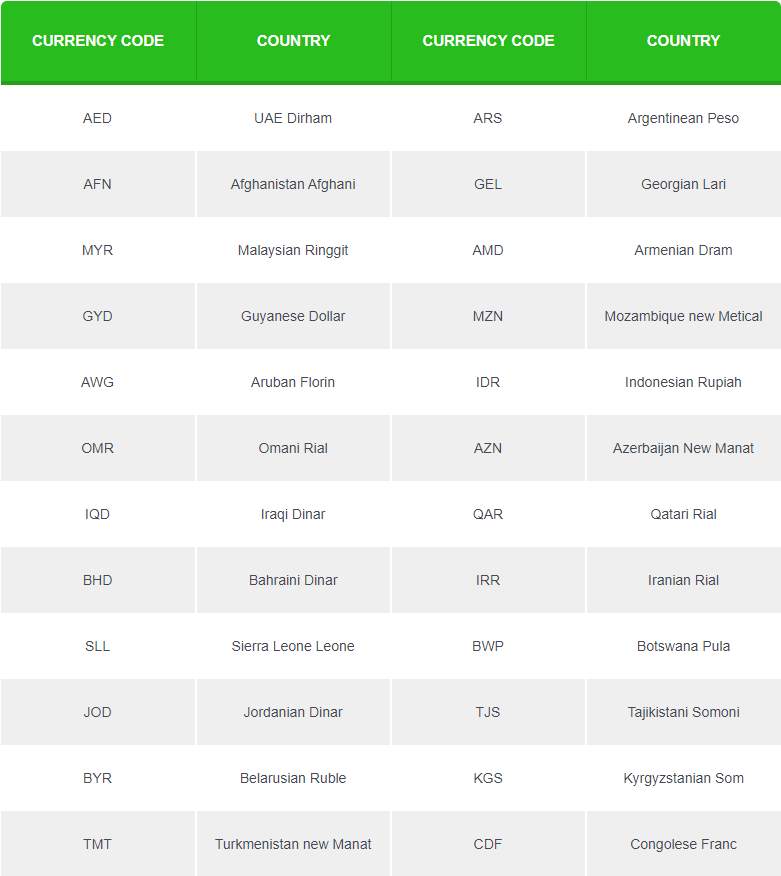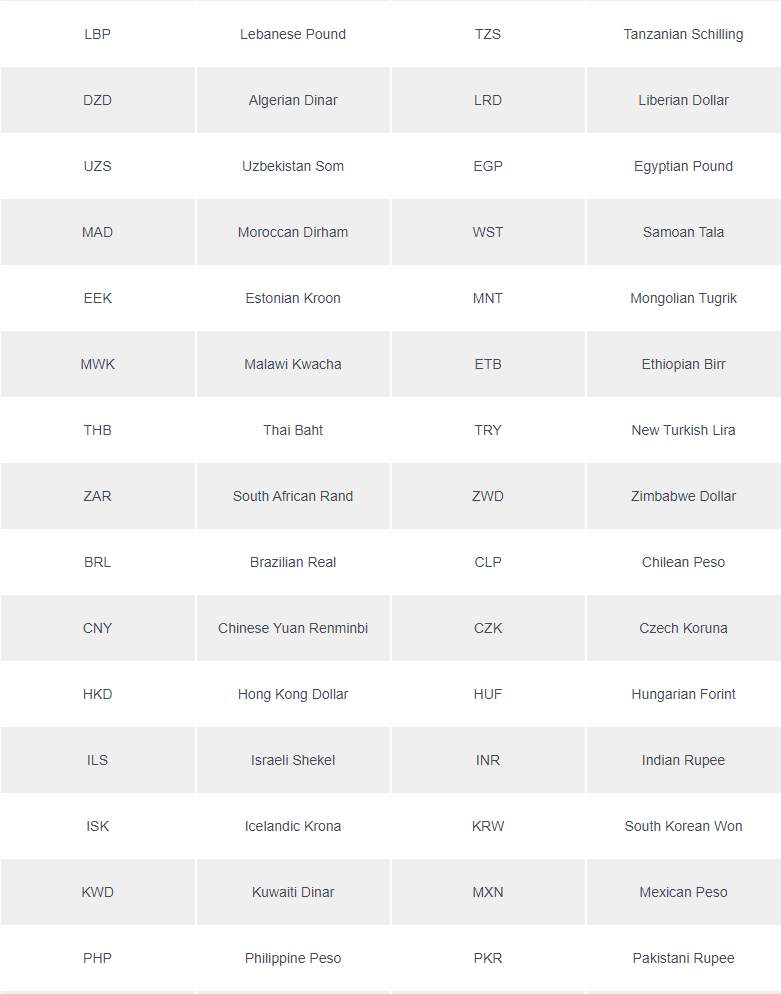 Aside from the three main categories of currency pairs, there are other "groups" of currencies that are thrown around in the FX world which you should be aware of.
Reprinted from babypips, the copyright all reserved by the original author.
Edited 18 Aug 2020, 10:07
Disclaimer: The content above represents only the views of the author or guest. It does not represent any views or positions of FOLLOWME and does not mean that FOLLOWME agrees with its statement or description, nor does it constitute any investment advice. For all actions taken by visitors based on information provided by the FOLLOWME community, the community does not assume any form of liability unless otherwise expressly promised in writing.
If you like, reward to support.