FOLLOWInterview | @nmkvijay - Trading is a MIRROR
"Trading is a MIRROR" is a sentence @nmkvijay keeps repeating, "If you stand in front of that, you will see only your image, not others," he said. To put it simply, if you treat trading as gambling, do not get educated, and also do not practice with a demo before trading with a live account, then you will end up ruined; if you treat trading as an investment, and keep learning on it, you will eventually gain. We strongly recommend all beginner traders read the following interview carefully, it will help you avoid mistakes and losses.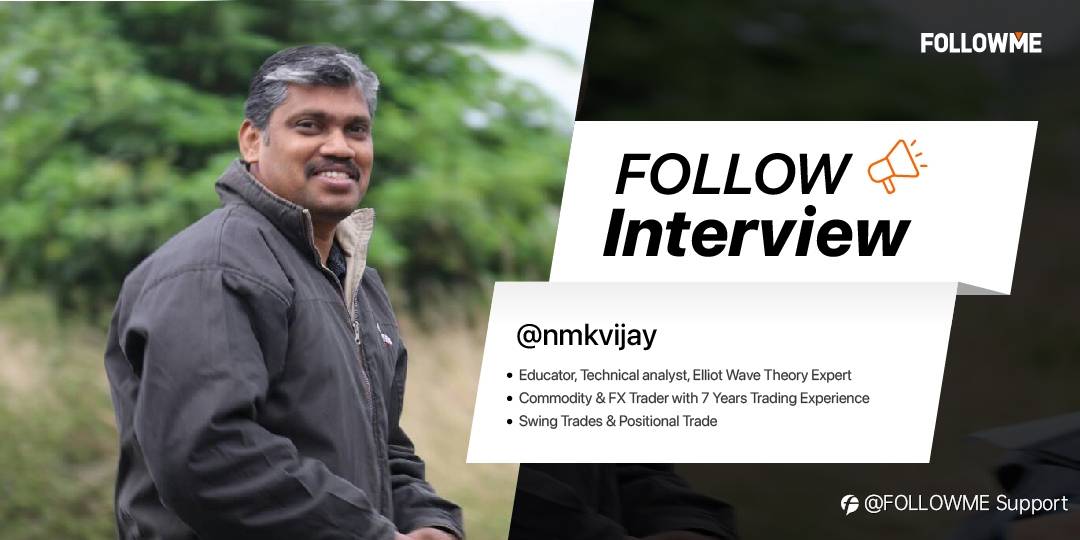 Check out our interview session with @nmkvijay:
1. Can you tell us about yourself and your experience in forex trading?
I worked in a textile shop as a salesman from 1993-2016 after my higher secondary school. Because of my family situation, I am not able to continue my studies and I joined as a salesman and worked till 2016. In the meantime, in 2012 I thought I needed to make some money from a second source through the commodity market. So, I used my savings to make myself rich in the commodity market in MCX (Indian market) and I lost 2 lakhs. Then one of my friends introduce and gave me a PDF file to read practice and then trade…so I start to educate myself from 2014 in my free time in my job and applying that in demo account for 1 yr. and I feel good to make some money through this EW…I decided to quit the job and to be a full-time trader from 2016 Nov. But I know it is not that easy to make money if you are a full-time trader.
I decided to back up my family for 2 yrs. Because I didn't know how this would work as a full-time trader. I keep analyzing the commodity market and keep sharing that in one of the forex forums. All community members encouraged me and please tell me your view on forex pairs. I never knew what forex meant in 2017 Jan when I joined there. So, I found out all the currency pairs and kept watching and listening to them, and shared my views in the trade idea section. Mentors and members appreciated my work and kept winning the prize every week like T-shirts, mugs, and prize money worth 500 USD by IC Markets twice. I have shared nearly 3,000 charts so far and in trading view 2,000 charts and the same in various websites groups as well. So, this practice only fine-tuned me in ELLIOTT WAVE theory.
Later onwards, investors gave me a fund and I am trading on our behalf. A lot of people till now are blaming the EW and kidding me like 1,2,3,4,5 a, b, c, w, x, y, z. So that makes me more interested to go deep in that and we have to prove that it's worth theory and people are not understanding them because they need fast cash and their view is in GAMBLE mood, not a pro trader view. In the middle, a lot of people learned my chart and a lot of people asked me to teach about EW and some techniques that I am using. So, I decided to do mentoring on the weekends and make weekly analyses in YOUTUBE from the past 20 months so that I can create awareness and what I learned in FREE. I need to give that for FREE using my charts.
2.   Do you remember when your first loss in trading forex was? Was it one of your memorable experiences?
My first loss and that is the last one too. Nearly 2 lakhs (2,500$) in the future commodity market in MCX (Indian market) in the period 2012-2013. After that, I decided to educate myself. What is meant by candlesticks then how to analyze and how to use the tools in investing.com, trading view and my searches begin in 2014. A lot of people helped me during that period with technical analysis. I didn't have the computer knowledge to handle the system. My broker office guy helped me on that day. Now also I don't know much better…what I know, what I need, and how it works and I can use what I need for my profession.
3.   What made you continue to trade in forex?
I need to win in this game and I need to survive NEVER EVER GIVE UP. But things happened in my education path in the RIGHT WAY. A lot of people traveled the wrong path using EA, BOT, Indicators, and mentoring in the name of strategy (cheating). I understand such people went in the wrong way to become RICH quickly and looking at this financial market as a GAMBLE. But, with GOD's grace, I took the right strategy and I didn't spend a single penny to learn this. But I spent nearly 2 years as a part-time, and 5 years as a full-time trader. That is the right way and I informed the secret of success to my students also. PATIENCE, RIGHT EDUCATION, HARD WORK, CONFIDENCE, and OPEN MIND (never tell lies) is the KEY to making a consistent profit in this financial market.
4.   What was the biggest lesson from that experience and how do you continue to improve?
Every trader needs to find what kind of personality you have and what kind of trader you are and which one suits your personality, like, intraday, swing, or positional. The market structure and wave patterns found in the charts to enter or exit in the trades and to find the trend are in long term bullish or bearish, and what is the short term. Without knowing your personality, you can't be a successful trader. I found that using BABYPIPS.COM and I finished full kindergarten to university and it took nearly 3 months-4 months to complete and I found my personality. Finally, I am an emotional person. So, intraday won't suit me. I try to find the swing trades and positional trade plans and it suits me well too. This is the most important to fine-tune your personality and it avoids the trader psychology.
5.   What are the strategies you hold principle to when it comes to forex trading?
I am a technical analyst based on the trend line, channel, fib retracements, expansion, stochastic for divergence, EMA's and MA's are finding the pullbacks and MAJOR IS ELLIOTT WAVES, those mentioned above are using as a TOOLS only. I am not a fundamental, sentimental trader, but only the fundamentals will boost my technical analysis to reach my target, or sometimes it will go against me and then I will manage the trade according to the Elliott waves alternate views. Each and every trade plan I am sharing here has an alternate view and I am sharing only the most probabilities (70-80%) here, sometimes the rest (20-30%) may be against the market. Then I will change the wave counts and labeling according to the price action.
6.   What advice do you have for the new traders or traders want-to-be?
Never enter in the live trading WITHOUT having a RIGHT EDUCATION and BACKTESTING that in DEMO ACCOUNT until you make the consistent profit for at least a minimum of 6 months. Use only one strategy. It depends on individual personality. To trade Intraday, swing, or positional trades. So, first, you have to find out what kind of traders you are and which one suits you. Then you have to pick one of the above to fit you. The above mentioned all theories and tools used all over the WORLD. Traders are trading and following according to their rules with discipline.
All the above-mentioned theories and tools will work in different perspectives of traders and that is why trades are happening in BUY and SELL. So, you have to go deep in one strategy and back-test that. Don't waste your valuable time in the name of BACKTEST i.e., don't keep changing your strategies that we called a CYCLE OF DOOM.
Trading is a SELF CONFIDENCE and BELIEVING in your strategy with your own rules (With proper Money management and Risk rewards). Trading is all about your positive mindset. That means when you are in the SELL side market won't immediately accept your way and same vice versa in BUY also. It will give some exhaustion and then it will come your way. Mind that, all the above I mentioned in the RIGHT way of EDUCATION and master it in one. Make it simple to understand the market.
Trading is a MIRROR if you look at the market as a SELL in your view market (chart) will show you the SELL trade plans and the same in BUY too, it all depends on your RIGHT EDUCATION only. One example and is the final to understand this financial market easily in learning.
In a World-famous school or college.... the same teacher, to all students and same lessons, in the same classroom, the teacher teaches but, in the exam, only one or two students get a distinction and others are behind, what makes this difference? It all depends on their understanding of the lessons, hard work, and how he loves his studies. In this financial market, we have a lot of lessons we have to study in the right way to understand and to get distinction in this FINANCIAL PROFESSION.
7.   Is forex trading as volatile or dangerous as described by the public? Is there a gap between the real scene and the perception?
Trading is a MIRROR. If you stand in front of that, you will see only your image, not others. Like that, if you look at this as a business and you have the RIGHT knowledge you can do this till your life. If you treat this business like a GAMBLE then it will give some in first and it will take all that you have. Like people sold their house and traded Bitcoin in the peak and lost everything and it came to 3k. But if you are an investor holding that now it is still in profit. So, if you are an investor, you never lose (in proper knowledge if you invested and know about them). But if you are a trader, they may lose though. If you stand in front of the hospital and can't think the whole world is full of patients. It is all from their perspective.
8.   Are you a Signal provider on FOLLOWME? Do you intend to help others to trade in forex?
I am not a signal provider, I am just teaching EW through my charts and my ambition is to create awareness to the traders in the RIGHT EDUCATION in RIGHT PATH. I am a trader in FX as well as in the Indian market NSE as an investor. A lot of people ask me to teach EW after seeing my charts on various websites and in social media and in trading views. So I am helping and fine-tuning them (only for EW traders who failed). I will take online classes for only experienced traders who are struggling in EW only ONE to ONE online class with a reasonable charge. No group classes. Because of this, a lot of learners are not able to learn in my chart. So, I created a video for the beginners and learners for free and I updated it in my channel to understand easily with 10 PARTS.
Finally, I need to inform here, only HARD WORK, PATIENCE, LOVE YOUR JOB, RIGHT EDUCATION, PROPER CAPITAL AND SCREEN TIME is the most important for traders to be a successful trader to make a consistent profit in this financial market
Want to be featured on our next FOLLOWINTERVIEW? Reach out to us by sending an instant message to the official account, FOLLOWME Support!
Disclaimer: The content above represents only the views of the author or guest. It does not represent any views or positions of FOLLOWME and does not mean that FOLLOWME agrees with its statement or description, nor does it constitute any investment advice. For all actions taken by visitors based on information provided by the FOLLOWME community, the community does not assume any form of liability unless otherwise expressly promised in writing.
If you like, reward to support.