TRADER OF THE WEEK | @JasonScott
If you are looking for a suitable trader to learn from or simply a right signal to copy trade from, this is definitely the place you should keep an eye on every week starting today!
Long story short, we are going to highlight ONE fantastic trader every week based on their trading performance, ranking and you know the drill. So, let's get started!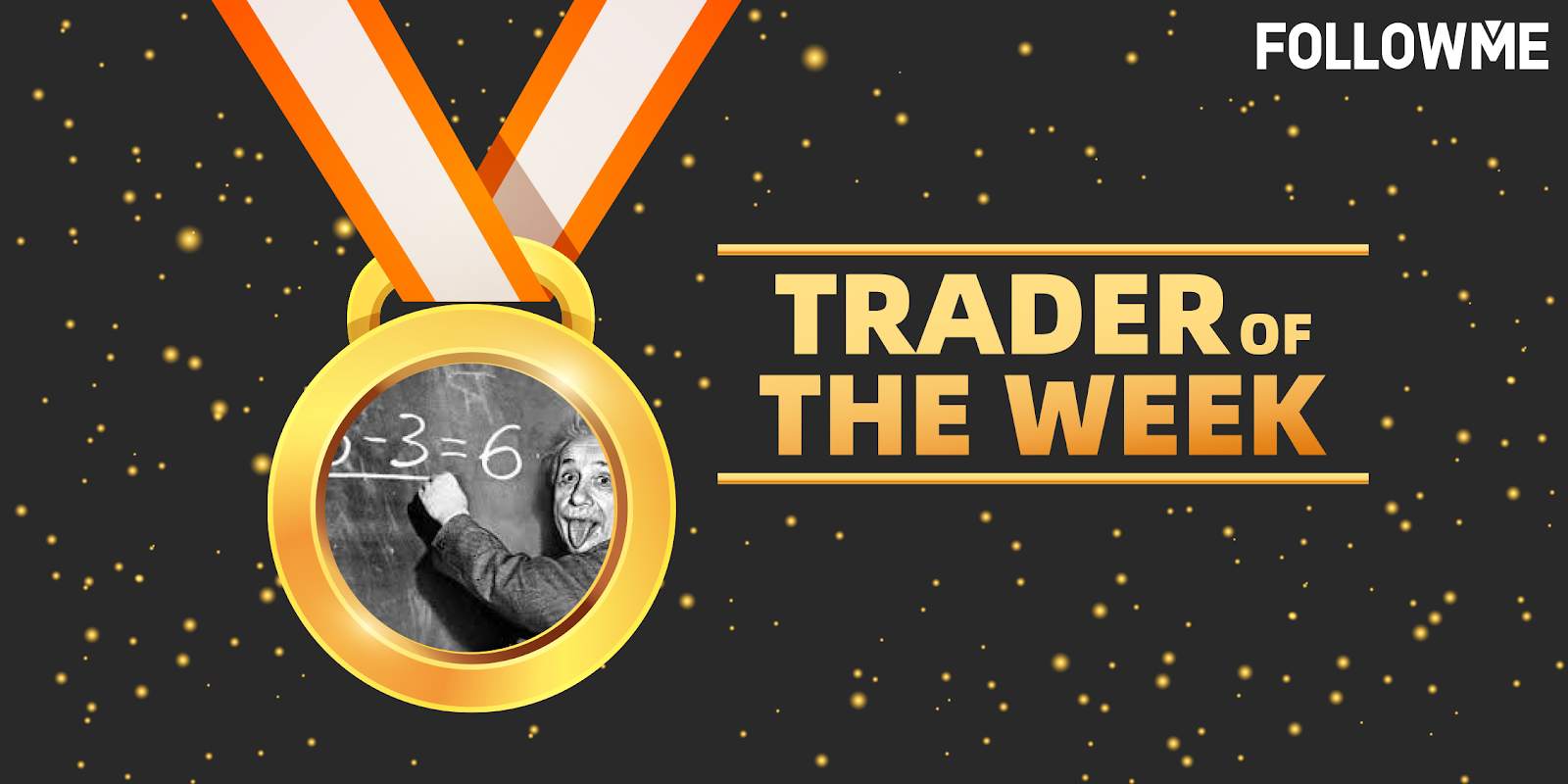 In this week's segment, we are going to feature @JasonScott from Malaysia. He joined FOLLOWME on Sep 29, 2020, and has made an impressive six-figure profit in less than five months.
The trader has two active accounts in FOLLOWME but today, our analysis is based on #2 FBS-Real-3 trading account. If you want to know more, you can check out his profile page right here for more details.
Our analysis explores the trader's investing technique, his performance over the months since he joined FOLLOWME, how he is ranking among other traders and what are his trading interests. This will particularly help you if you are looking for someone to guide you on your trading journey or copy trade from or to make your investments more profitable.
As of Feb 10, 2020 - 5.53 p.m. (GMT+8), JasonScott is leading with a decent FOLLOWRANK of 6.2. On Oct 11, 2020, the trader experienced a dive in his ranking, dipping to a mere 1.1 but since then his ranking has climbed rapidly, his peak being on Jan 24, 2021, at 9.3.
If you are reading our 'Trader of the Week' segment for the first time, then let us tell you that FOLLOWRANK is a comprehensive score calculated based on factors such as stability, profitability, risk control ability, non-lucky profitability, and capital scale of the account trading performance in the past 13 weeks.
He scores excellently when it comes to profitability and capital size. His stability level is also above average but he is a risk trader judging by the score in the graph below. He believes in a high risk, high return approach.
From his overall ranking, we believe he has proved his mettle in balancing the risk and rewards. It indeed shows that he is a confident trader who knows what he is doing.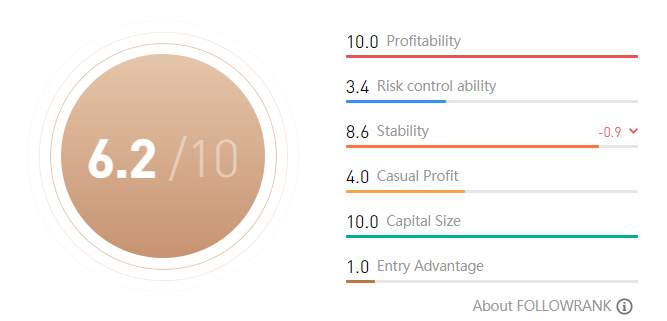 This part in particular highlights how swiftly the trader grew since his time in our platform. In less than five months, his closed profit stands at an impressive $407,769.70. His average profit is $1107.67 and average loss is $590.07.
He is one of those rare traders who has successfully managed to earn a higher profit to loss ratio by a wide margin. Completing 690 trades so far, this trader is showing great promise to be among the top ranking traders in FOLLOWME platform.
This trader's rapid growth suggests that he knows the time sensitivity of this volatile market and is an expert on placing trades with favourable positions to get the most out of it.
As you can see, the trader's holding time is 1.1 days which is longer than usual but this technique has garnered him profit with 69.56% of wins. This shows that he has the ability to take risks and come out with positive returns.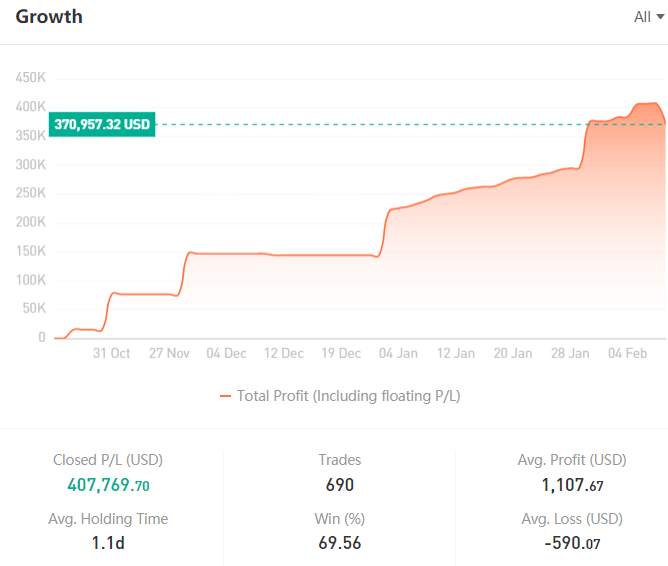 The trader has a combination of floating and closed profit/loss (P/L), his floating trades increasing in the recent months. In the three months, he operated in FOLLOWME platform in 2020, his returns were a whopping 125.39%. Since the start of 2021, he has already gathered a return of 26.12%.
Kicking in 2021 with positive returns, he is showing great potential to take his profit level even further. We are keen to see if he will continue to grow at this rate in the future and how his stellar performance will contribute to the FOLLOWME community in the upcoming days.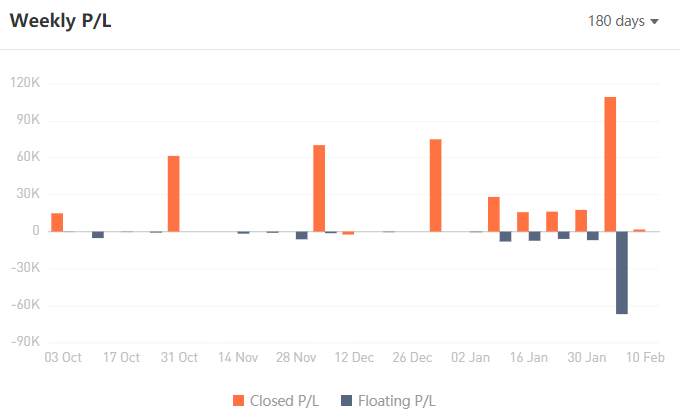 Followed by his profit analysis, we also had a peek on the trades he mostly invests on and it shows that he has a clean set of forex currency pairs. Currently, he trades on three pairs, EUR/USD, USD/JPY and XAU/USD, the common denominator being USD.
Most of his investment goes to EUR/USD, the latter sharing the minority of the profit. He favours mostly short positions to yield positive returns from the trades. This shows the trader does not explore too many trades. His plays to his strength to make maximum gains.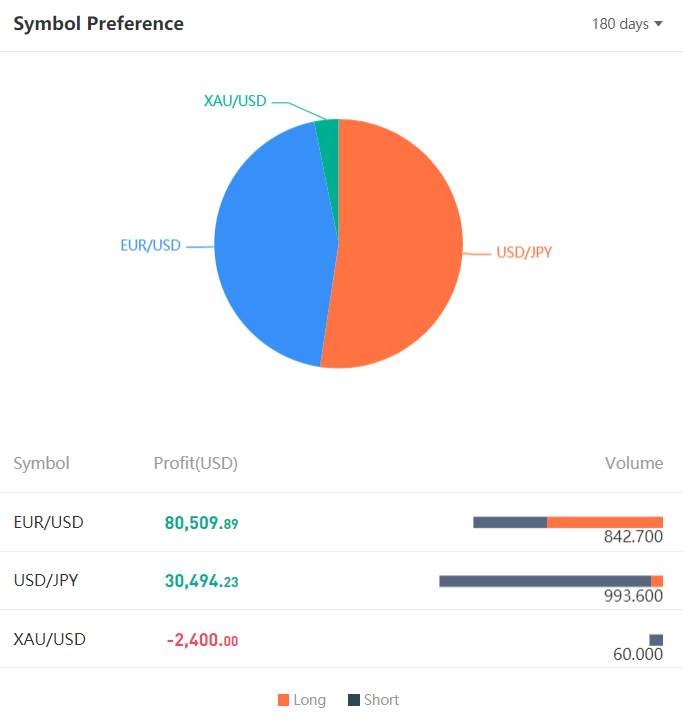 When we looked at the subscription of JasonScott, we saw it only at 16 followers. This suggests that many of the traders have not yet taken notice of this fantastic trader. We assume that in the next few months, he will be able to draw in a much larger crowd of followers considering his masterful trading skills.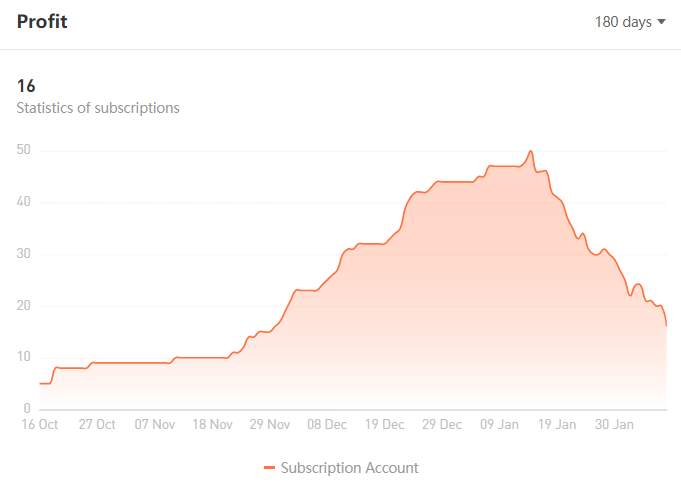 Compared to the number of his subscriptions, the trader's following amount seems to be decent at $86,938.40. This means those who decided to follow the trader have put good money showing they have confidence in the trader's skills. Now, it is left to see whether more followers will follow suit catching on to the trader's expertise and efficiency level.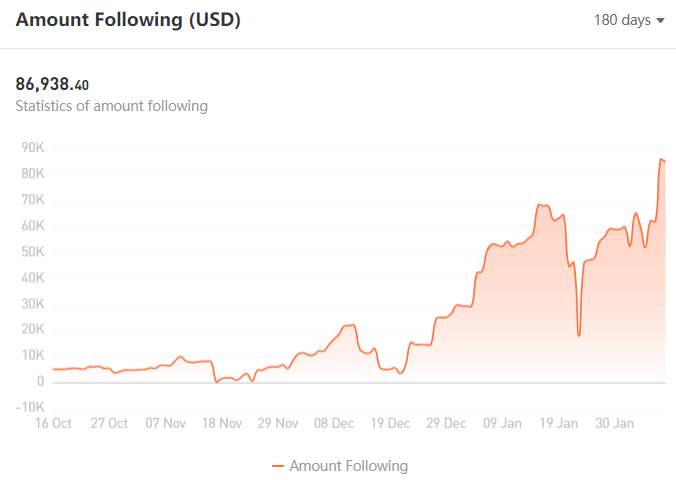 So, why do you think the confidence in this trader has not yet picked despite his outstanding performance? If you are one of @JasonScott's subscribers, we want to hear from you.
Also, if you want to say something to our Trader of the Week here, please leave a message in the comment section below.
That's all for this week's trader of the week. Don't forget to check out our Signal tab for a Signal provider that suits you best!
Disclaimer: The data above should not be construed as investment advice. Any trades or hedges you make are taken at your own risk for your own account.
Disclaimer: The content above represents only the views of the author or guest. It does not represent any views or positions of FOLLOWME and does not mean that FOLLOWME agrees with its statement or description, nor does it constitute any investment advice. For all actions taken by visitors based on information provided by the FOLLOWME community, the community does not assume any form of liability unless otherwise expressly promised in writing.
If you like, reward to support.