[FX168 Hong Kong] Tuesday (October 20) in Asian markets, the U.S. dollar index was basically stable and is now near 93.45; spot gold fell rapidly in the short-term, and the price of gold just fell below the $1,900 per ounce mark.
West limited the passage of the stimulus bill before the general election to Tuesday, but the argument still exists until the deadline, which makes the prospect of stimulus negotiations still uncertain and gold is under pressure.
This trading day, investors will focus on the progress of U.S. stimulus negotiations. If the agreement cannot be reached on Tuesday, the price of gold may face further downward pres0sure. Besides, from a technical perspective, if the price of gold continues to trade below $1,900 per ounce, the market outlook may face more selling.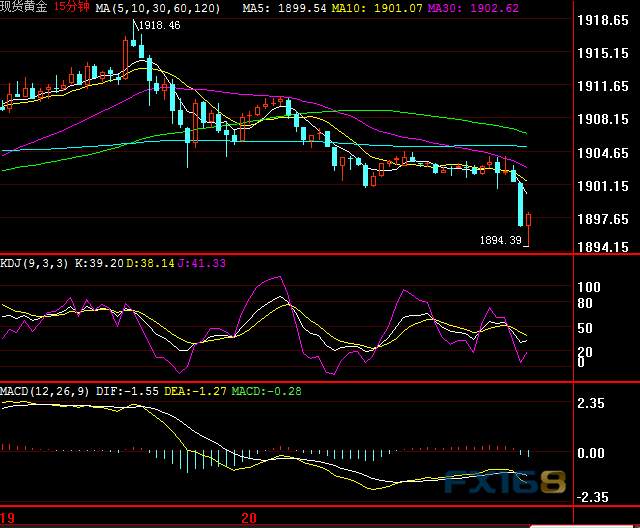 Photo: Gold Prices(15 minutes)
Gold prices closed moderately high on Monday, but due to the differences between the White House and the U.S. Congress on the terms of Stimulus, the closing price of gold fell significantly from its intraday high. Spot gold closed at $1,903.89 per ounce on Monday, rose $4.76 or 0.25%, and hit the highest $1918.21 per ounce during the session.
The well-known financial website Economies.com wrote an article that the price of gold stopped at around $1920.00 per ounce on Monday, and then the price of gold fell back and tested the level of $1,901.80 per ounce. According to Economies.com, the price of gold falls below $1,901.80 per ounce and stays below this level, the outlook for gold prices may turn bearish.
Translated and processed from the main article: https://www.24k99.com/2010/431...