Traders tutorial - master in 10 minutes
Walkthrough for www.followme.com - main features and functions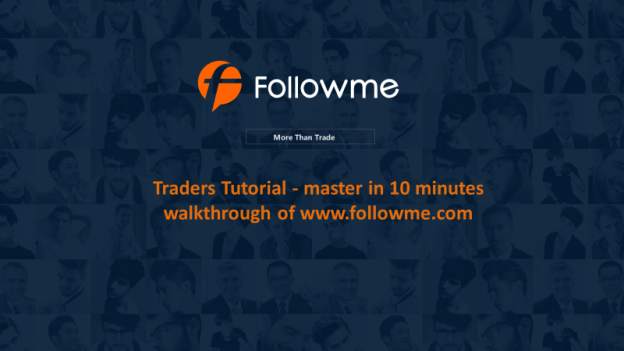 In our last tutorial, we have taught you how to set up a Follower account in the world's leading social trading network, Followme. As a follower, you have learnt how to find the ideal traders that you wish to link your live trading account with, and what are the major benefits that a follower role can take the advantages of.
Today, I am going to bring you another decent tutorial for Followme registered user. But this time it is for the TRADERS identity. After today's tutorial, you will be mastering the Followme network as a Trader's identity. Let's find out how a trader can take benefit in this pioneer social trading community.
We will cover the topics including:
Why register as a Trader identity

How to set up a Trader account

How to increase the popularity of a trader account
Now let's have fun!
Why register as a Trader identity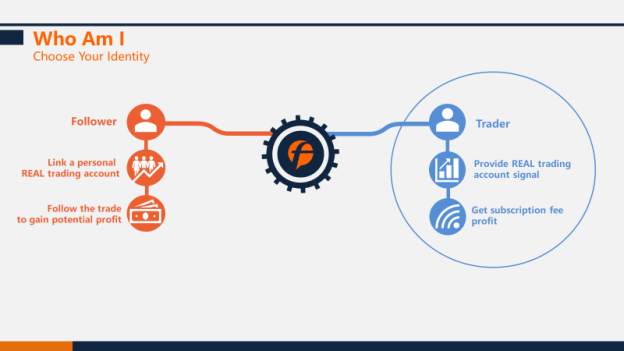 If you believe you are a good trader, you can register as a Trader identity so that you can provide REAL trading account signal and obtain subscription profit paid by the followers who linked the account with you. As we illustrated previously, to be a successful trader, you will need to focus on making good trading performance. Your live trading account will be ranked by 'Followme Trader Ranking System'. You must be a rally good trader to be successful! The better trading performance, the more attractive is your account. The financial benefit of being a trader is obvious. Let's have a quick example of what a trader can have simply from the subscription fee profit. Let's have a quick case study to see the figure in profit that one good trader can make. (note: The figure is only for demonstration purpose)
Case study: Trader earn revenue through subscription fee paid by the follower who links their own live trading account with the trader's
If Trader R set subscription fee as USD99.99/month*, and 1000 of his 3312 followers pay for the subscription fee, then Trader R has an unsplit subscription fee revenue* of:
$99.99 X 1000 people=$99,990/month

* Trader can determine the monthly subscription fee from 6 choices, including $0, $9.99, $29.99, $49.99, $79.99, and $99.99. Only after the payment has been made, the follower's live trading account can be linked to the trader's account.
**Followme and Trader distribute subscription fee proportionally
So, if you are a good trader and you have ample subscribers who pay you the monthly fee to link their own trading account with yours, you make great profit purely from subscription fee revenue. Therefore traders, let's focus on making good trading performance because it is the main reason the followers pay you.
How to set up a Trader account
2.1 If you don't have a Followme community account
If you don't have a Followme community account, you need to sign up one community account first before you can do anything. The procedure of signing up a Followme community account is quite simple as below.
(Note: If you have signed up and obtained a Followme community account, you can skip this step, and go directly to step 2)
Step 1: Sign up a Followme Community Account
Let's go to the www.Followme.com website. You can see 2 orange buttons on the top right corner. Click 'Sign up" button to register a community account first.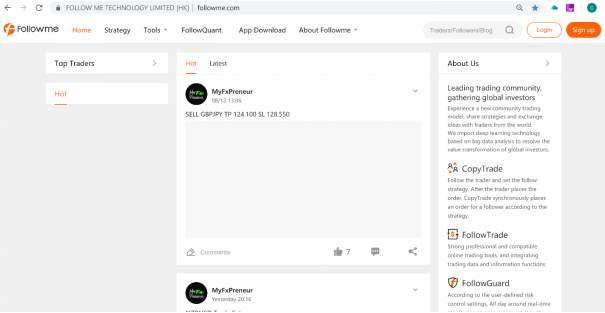 Once clicked, it diverts you to sign up the registration page. There are 2 ways to sign up. One is to use an email address and the other is to use your mobile number. It's all your choice and both are equivalently easy to do. Let's click Use Phone, so we use our mobile phone to register, just for demonstration purpose. You key in your mobile number and hit the get code button. You will have a verification code sent to your mobile, you can input your code received from your mobile phone. Then click the 'Sign up' button below.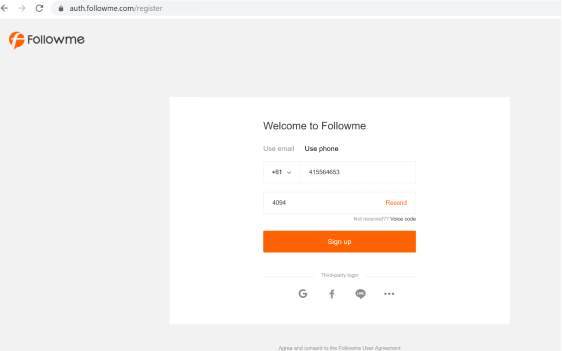 Now you are on the page to input your general information. It is the time you set up a username or nickname here. Once you finish it, click Submit. This username cannot be changed, so think of a good name seriously and make sure you stick with this name.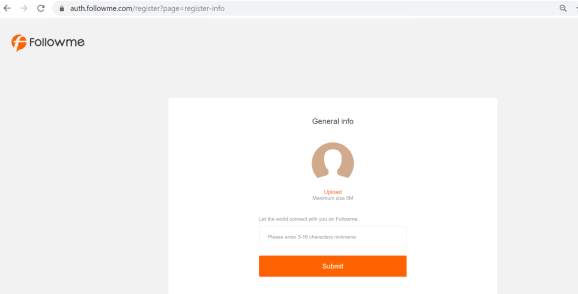 2.2 If you have a Followme community account
Step 2: Set up a Trader identity account
(1). Choose "Create/Bind" account:
After signing up and logging into your Followme community account, click the "Create/Bind" in the drop-down menu at the top right corner of your personal profile image.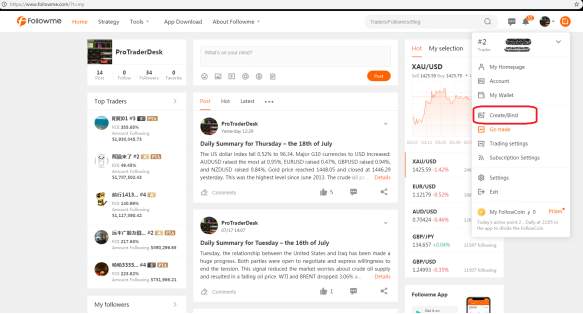 (2). Risk Disclaimer:
You will see the risk disclaimer details. You need to read it and click "I Agree" button at the bottom, before you can proceed to the next step.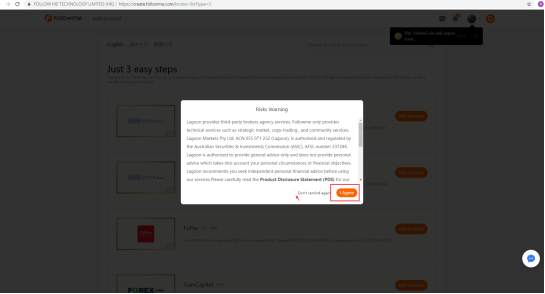 (3). Find the Broker:
This step is to select the 'broker'. The page shows a limited number of brokers. However, you can search the broker's name in the search bar to find your broker or click the "More" button at the bottom of the page. You can choose to be a Trader or a Follower role. There are about 30 brokers support the Trader role, and up to 2,000 brokers support the Follower role. (Note: if you can not find your broker, you can contact customer service for help)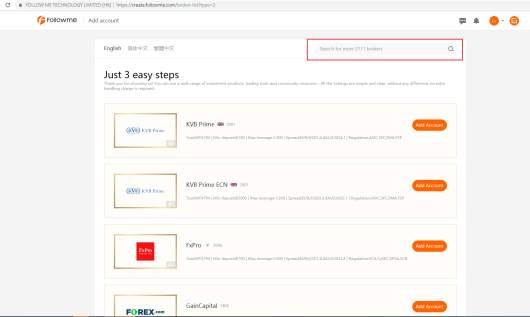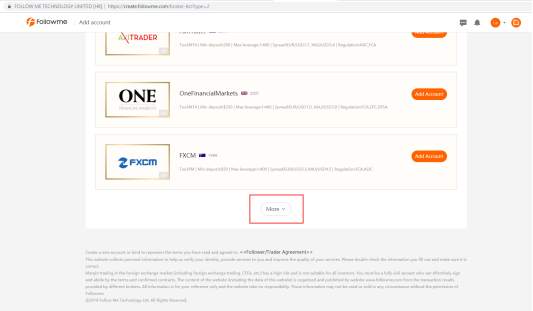 (4). Choose the Trader role:
Click the second choice to have a Trader role.
(Note: If your broker does not support trader role, then you cannot set up Trader Account with your broker here. You can contact customer service for more information)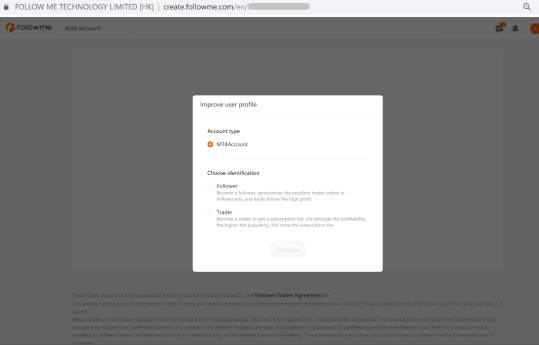 (5). Improve the trader account profile:
If you choose the trader role, you need to fill in the Maximum Drawdown Commitment and Trading Strategy. Please be careful, as once the Maximum Drawdown Commitment figure is confirmed, the trader cannot change it anymore!
(6.1) No existing trading account
If you don't have an existing live trading account and wish to open a new trading account with this broker, you need to click the 'Open New Account' button, in the first half page.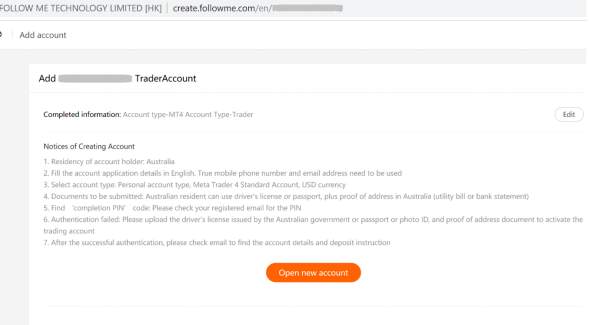 Continue to finish your personal information
You need to link the account with your real contact details including mobile phone number, email address, real name, personal ID type and number. You need to upload the required photocopies (front page and back page of photo ID/Driver License, or the front page of Passport).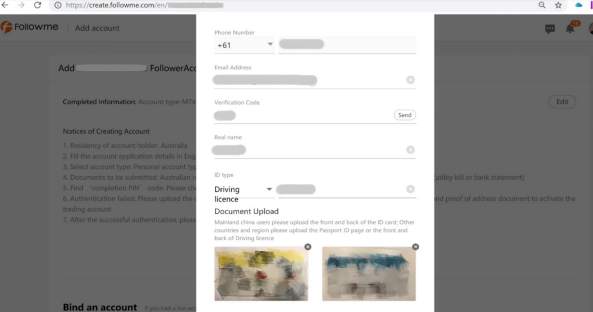 (6.2) Use existing trading account
If you have already got a live trading account with this broker, then you ONLY need to fill in trading account details of your existing trading account in the second part of this page where you see the word: Bind an account, as below. You input your trading account details including the server name, trading account number and password. Once all the information is input, click the orange button below called "Bind to become a trader".
(Tips: This password is used to link your live account for trading signals. If you need to change the password, you need to apply the change of password in the Followme account setup page here first, then go to your MT4 platform to modify the password.)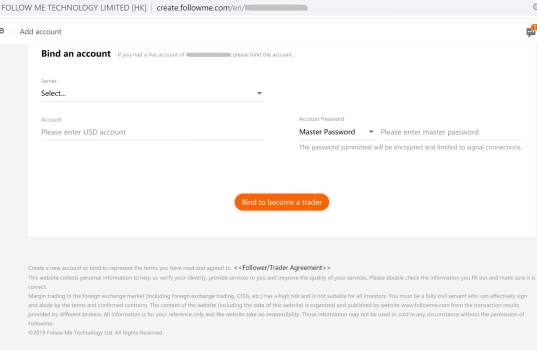 (7) Read the Followme Agreement
You need to read the service agreement. So, hover your mouse to the Followme Follower/Trader Agreement, to understand the rules and conditions of use of service in the agreement.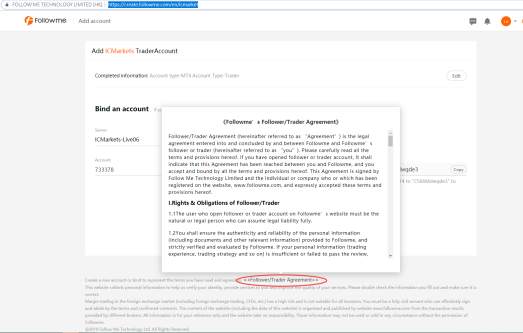 (8) Once the account set up is successful, go back to your personal homepage
Go back to the account menu. You will see a trader account under the account list on the left-hand side, as below. Click the Account with the Trader identity on the left under the account list, as below.
Being a Trader, you will need to fill in the Maximum Drawdown commitment, Trading Strategy, and monthly subscription fee and personal information.
1)

Fill trading

(Max DD)

commitment

–

cannot

be changed

.
Remember to choose the Max DD commitment figure seriously and wisely, as once it is chosen, it cannot be changed. If the trader's performance breaches the committed max DD figure, it will be recorded by the system and it will be shown to the followers and they can see it.
2)

Trading Strategy

– share

your trading strategy, philosophy or even the suggested method to follow your account

with followers

(

Note: only one

strategy

modification is allowed

each

week

)

. It is a good opportunity for the follower to know you more.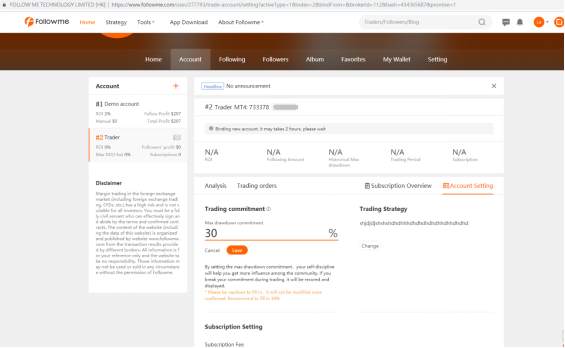 3)

Monthly subscription fee charge

–

only

one change

is

allowed each week
The trader has rights to determine the monthly subscription fee charged to the follower from 6 choices, including $0, $9.99, $29.99, $49.99, $79.99, and $99.99. Once all information is chosen, click the Save button on the top.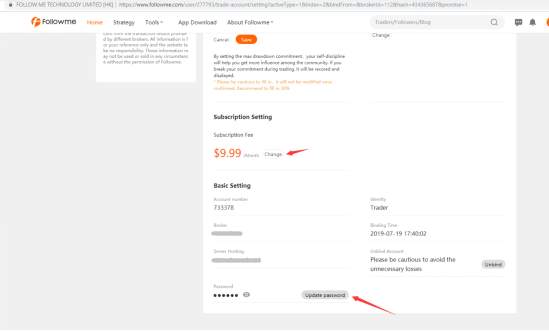 How to increase the popularity of a trader account
Obviously, more followers linked your account, more subscription fee revenue for traders. How to increase the popularity of a trader account? This is a very important question that we suggest any trader who want to be successful in the Followme social trading network have serious consideration. There are lots of methods about how to increase the popularity of your trader account. Let's share some of them.
1. To provide better trading performance
As we illustrated previously, to be a successful trader, you will need to focus on a good performance. All trading accounts are ranked by Followme Trader Ranking System. You must be a really good trader to be successful! The better trading performance, the more attractive your account is. The financial benefit of being a trader is obvious that we have mentioned quite a few times.
2. Separate trading accounts with different trading strategies.
You may consider separating your strategies into different traders' accounts. Some traders' account has aggressive trading strategies, while some have more conservative trading strategies. It is always the fact that some conservative strategies are more welcomed by conservative followers, but on the contrary, some aggressive strategies will be keened by other aggressive followers. As the trader, it is hard to design or tailor your strategy for followers, as you don't know what the follower's appetites are. For example, some followers are only looking for 20% annual return with less than 10% drawdown, while others wish to chase more than 100% ROI and are willing to accept more risk. Therefore, in order to attract more followers, traders may consider having different trading strategies with different performance types. However, with that being said, traders still need to be good at the strategies you are using. If you lose money with an aggressive strategy, you will not be able to attract any followers.
3. Be more communicative to the followers
In most of the time, a trader who likes to share his strategies and be actively communicate with the followers will be more popular than the traders who do not do this. Most of the followers choose a trader who has good communication skills and willingness to have a positive conversation. So, a good tip for the trader is to spend more time on the activities in this social network, including posting market commentary; sharing your trading ideas, strategies, and philosophy; answering questions more frequently and promptly from the followers. This is a great opportunity to get the followers to know you more and have the followers' trust in return. So, traders, don't underestimate the power of communication.
4. Be frank and responsible for the trading performance if it is not quite well sometimes
Trading performance has an upside and downside. It is very important for the trader to be frank and more responsible for their own performance. If you are not doing well in some period, please still be proactive and communicative with the followers who trust you. Review and explain the issue directly to the followers. By doing this, it may win you more trust from the followers during a tough time. Shirking responsibilities is not a mature and trustable trader should do.
More tutorials to come
Due to time constraints for this tutorial today, we have finished a quick walkthrough of Followme.com from a Trader account angle. Hope you enjoy today's section. Wish you enjoy and see you next time!
Disclaimer: The content above represents only the views of the author or guest. It does not represent any views or positions of FOLLOWME and does not mean that FOLLOWME agrees with its statement or description, nor does it constitute any investment advice. For all actions taken by visitors based on information provided by the FOLLOWME community, the community does not assume any form of liability unless otherwise expressly promised in writing.
FOLLOWME Trading Community Website: https://www.followme.com
If you like, reward to support.