US policy on China will fail, Germany's policy failed long ago
The US has too many conflicting goals, Germany is too beholden to exports.
COCSO image from Tweet Below
China's Cosco Stake in Hamburg Port Unleashes Protest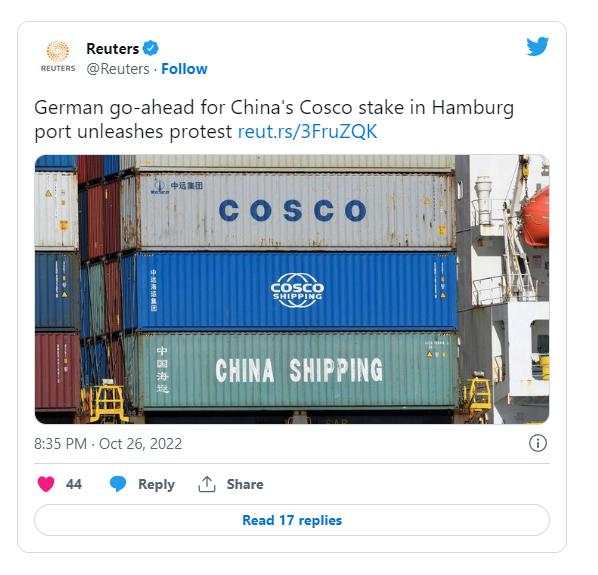 On October 26, Reuters reported China's Cosco Stake in Hamburg Port Unleashes Protest
The German cabinet allowed China's Cosco to buy a stake in a terminal in the country's largest port on Wednesday in a decision pushed through by Chancellor Olaf Scholz that triggered unprecedented protest within the governing coalition.

With the support of Scholz's Social Democrat-led ministries, the cabinet approved a 24.9% stake investment by Cosco in one of logistics firm HHLA's (HHFGn.DE) three terminals in the Hamburg port.

But the painful experience of being too dependent on Russian gas has changed many politicians' attitude towards strategic foreign investment. The foreign ministry was so upset over the approval that it drew up a note on the cabinet meeting documenting its rejection.

The investment "disproportionately expands China's strategic influence on German and European transport infrastructure as well as Germany's dependence on China", the document, seen by Reuters, says. It points to "considerable risks that arise when elements of the European transport infrastructure are influenced and controlled by China - while China itself does not allow Germany to participate in Chinese ports".
How Not to Live With China
Eurointelligence has an interesting foreign policy article on How to Live With China, I added the word "not".
Today the German cabinet is due to vote on the Cosco purchase of a stake in the Hamburg port. Bild made a last-minute appeal to the government to stop this, but reported that the Green and FDP ministers all folded, except for Annalena Baerbock, the foreign minister. 

Olaf Scholz has learned nothing from the Nord Stream 2 disaster, but in the country there is now some fledgling recognition of the national security implications of trade.

US policy towards China is also mistaken in our view. It is based on the futile attempt to stop China from getting access to the latest generation of semiconductors, and catching up with US defence technologies. It is naive to think that we can keep any technology private for any length of time, and secure our leading position through export restrictions. The Chinese will find a way. They always have.

Yesterday, we noted a comment by John Kerry, President Joe Biden's climate envoy. Kerry noted that China constitutes 30% of all greenhouse gas emissions. There can be no effective global climate change agenda without the active co-operation of China, he said. Kerry is calling on both the US and China to start a dialogue. Obviously, this is not going to happen for as long as the US imposes sanctions on China.

The problem with western foreign policy is that it is overloaded with conflicting objectives: supporting Ukraine, climate change, human rights, and technological Mercantilism. On China, neither Germany, nor the US have it right. The EU is probably better placed to agree a more nuanced stance, a policy more assertive than Germany's but more constructive than that of the Biden administration's, if only because the EU does not itself have a need to protect technological leadership that it does not possess.

Kerry made an astute reference to the rather naïve US idea of keeping the climate change agenda in a separate bubble from geopolitical concerns, as he put it. This is not working. What happened is that China and the US have essentially broken off any meaningful dialogue on climate change. US policy towards China will fail. The German policy has failed a long time ago, but they still keep doubling down. Something new is needed.
Evolving Strategy
Germany's new strategy is to cozy up to China instead of Russia. 
The US does not have much of a strategy at all other than to escalate Trump's trade wars. 
Now Kerry wants to separate climate change from the rest of the issues while blocking access to China and meddling in its internal affairs, co-opting Canada in the process.
Biden Launches a Full-Blown Economic War on China, It Will Backfire
I discussed US-China mess on October 28 in Biden Launches a Full-Blown Economic War on China, It Will Backfire
The US thinks it can block microchip technology from China. It won't and blowbacks are everywhere.
Now Kerry wants to get China more involved on climate change while marching on a meaningless path without it. 
The US can make no meaningful progress without China and is not remotely prepared for the path President Biden and the State of California has us on.
UN Seeks $4 to 6 Trillion Per Year to Address Climate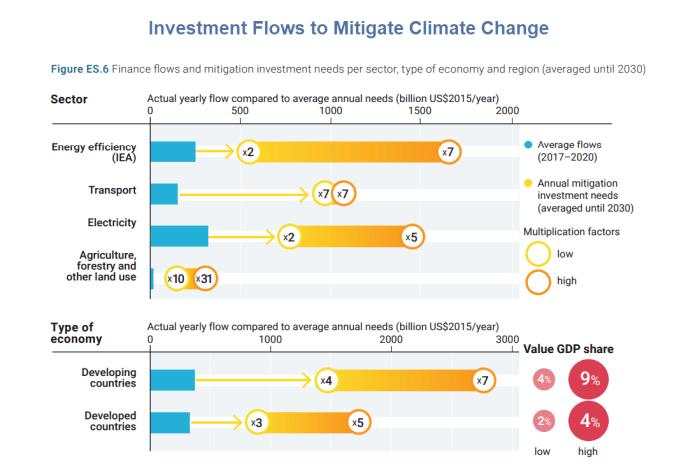 Finance Flows from UN Report
Meanwhile, the UN Seeks $4 to 6 Trillion Per Year to Address Climate.
What Would It Cost?
Hooray! Only $4 trillion to 6 trillion per year.
"A global transformation from a heavily fossil fuel- and unsustainable land use-dependent economy to a low-carbon economy is expected to require investments of at least US$4–6 trillion a year," stated the UN report (page 26 of 132).
Q: US$4–6 trillion a year for how many years?
A: Based on figure ES.6 (lead chart) least eight years.
Q: What Percent of GDP?
A: 4 to 9 percent for developing countries, and 2 to 4 percent for developed countries.
And developing countries will gladly fork over up to 9 percent of GDP every year for eight years.
Yeah, right. 
Reprinted from FXStreet,the copyright all reserved by the original author.
Disclaimer: The content above represents only the views of the author or guest. It does not represent any views or positions of FOLLOWME and does not mean that FOLLOWME agrees with its statement or description, nor does it constitute any investment advice. For all actions taken by visitors based on information provided by the FOLLOWME community, the community does not assume any form of liability unless otherwise expressly promised in writing.
FOLLOWME Trading Community Website: https://www.followme.com
If you like, reward to support.