Partner Center
Find a Broker
A lot of big moves in currencies this Monday but not where most probably expected. 🌊
While the news headlines focused more on the British pound (GBP) due to Prime Minister Liz Truss reversing plans to scrap the top rate of income tax and the Japanese yen (JPY) when Finance Minister Shunichi Suzuki warned that Japan is ready to take "decisive" steps in the FX market if excessive yen moves persist, these two currencies weren't the biggest movers today.
Let's review what happened in the FX market today…
Currency Market Movers
Let's see which currency pairs were the biggest winners and losers.
Which currency pairs gained the most today?
NZD/CHF was the clear winner, gaining a whopping 2.89% or 159 pips! 🏆
As shown by our FX Market Movers page, the top 5 gainers all moved over 2%!
That's huge in FX! Two percent moves are not the norm.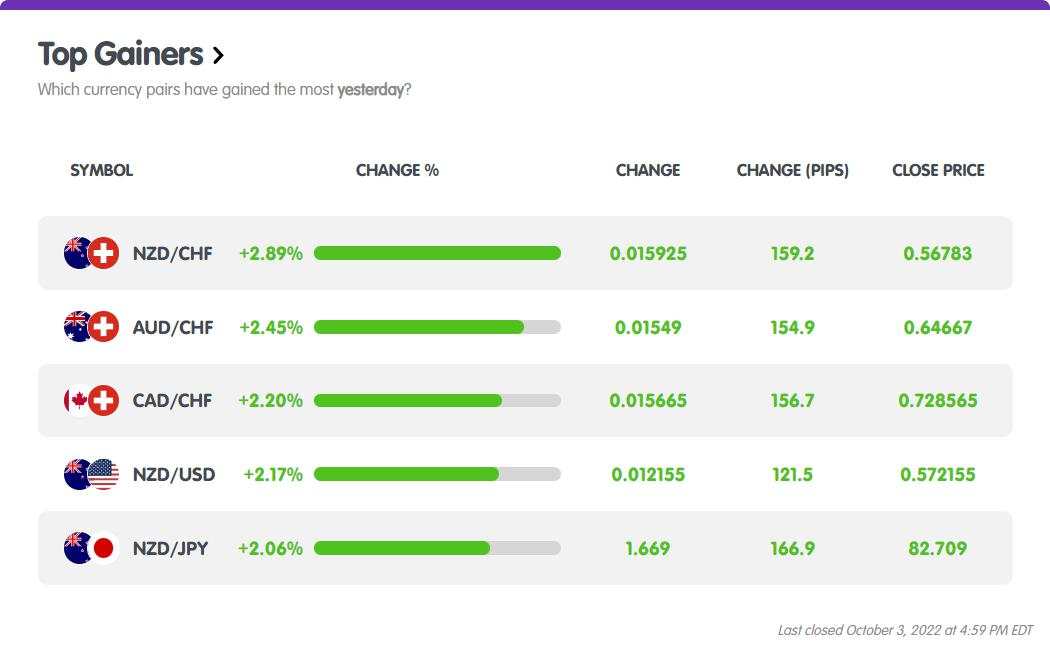 Which currency pairs lost the most today?
EUR/NZD was the biggest loser, falling 1.98% or 332 pips! 😢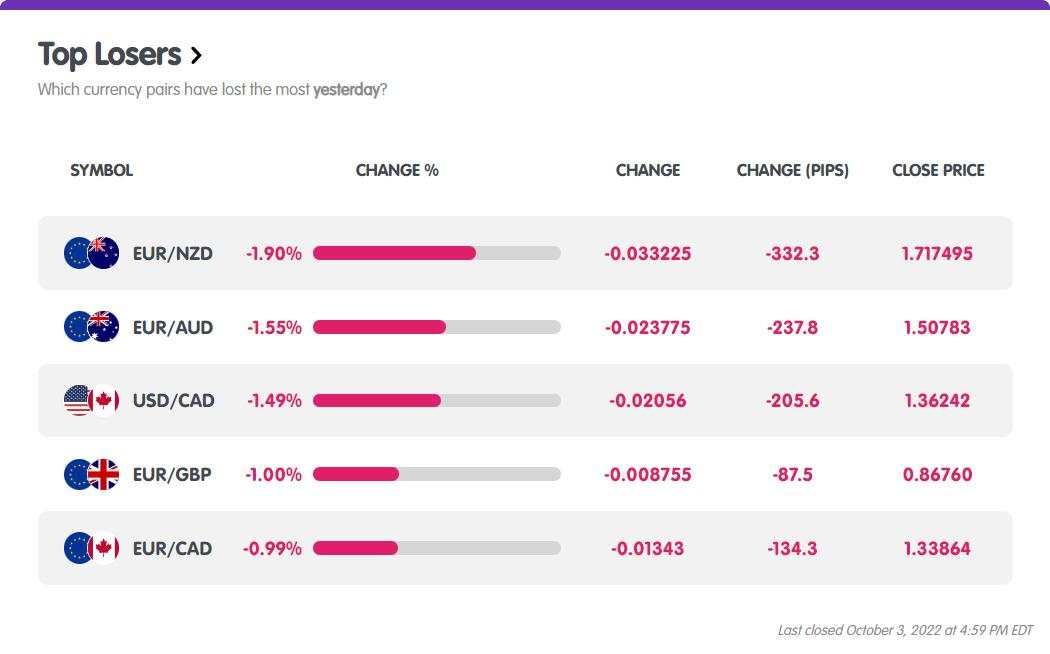 Currency Strength
What was the overall strength or weakness of individual major currencies today?
Based on the Currency Strength Meter on MarketMilk™, NZD was the strongest currency, while CHF was the weakest currency. 💪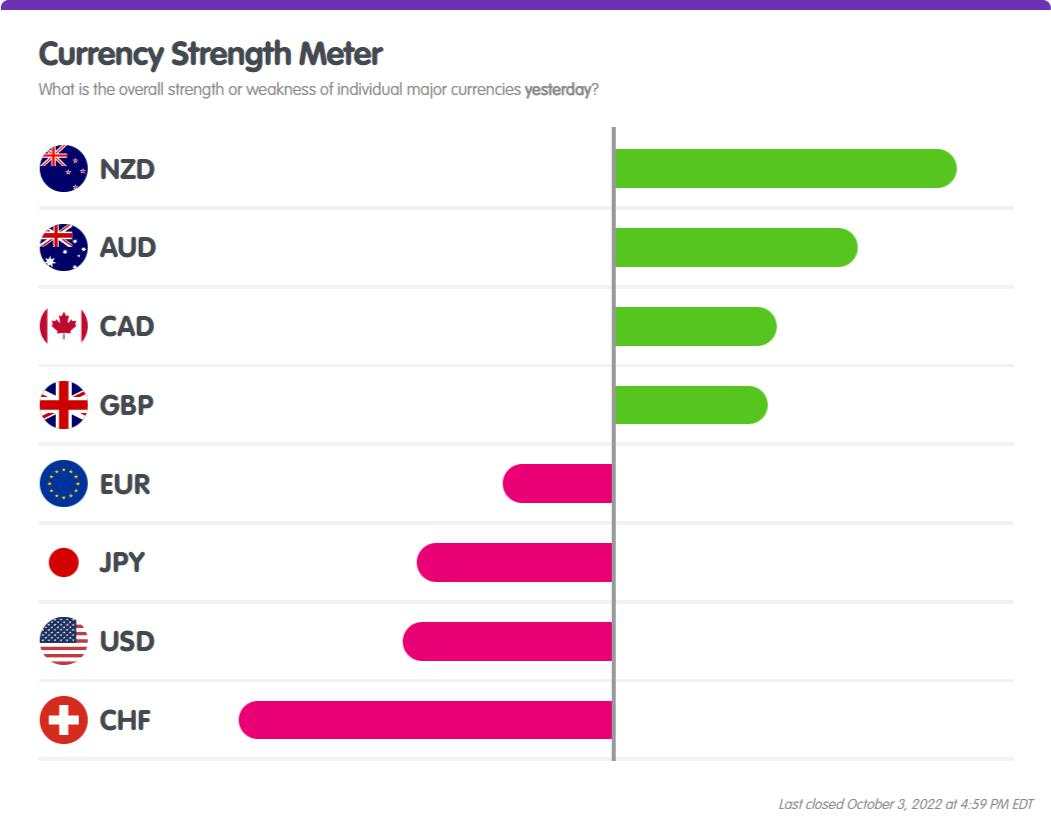 If we dive a little deeper and look at all the NZD pairs, we can clearly see that NZD was "green" against all currencies today.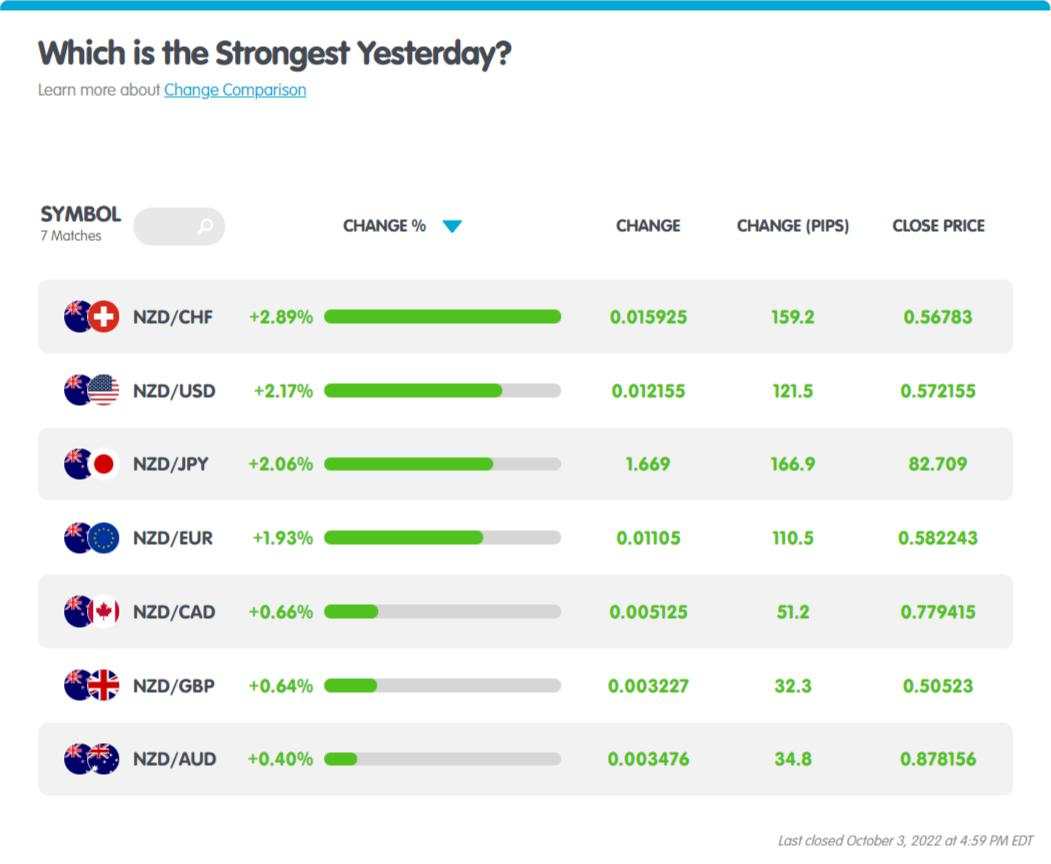 Currency Short-Term Trends
While the New Zealand dollar (NZD) was the strongest currency today, its short-term trend is still bearish! 🐻
When it comes to short-term trend strength, the British pound continues to show the most bullish strength, while the Swiss franc (CHF) shows the most bearish strength.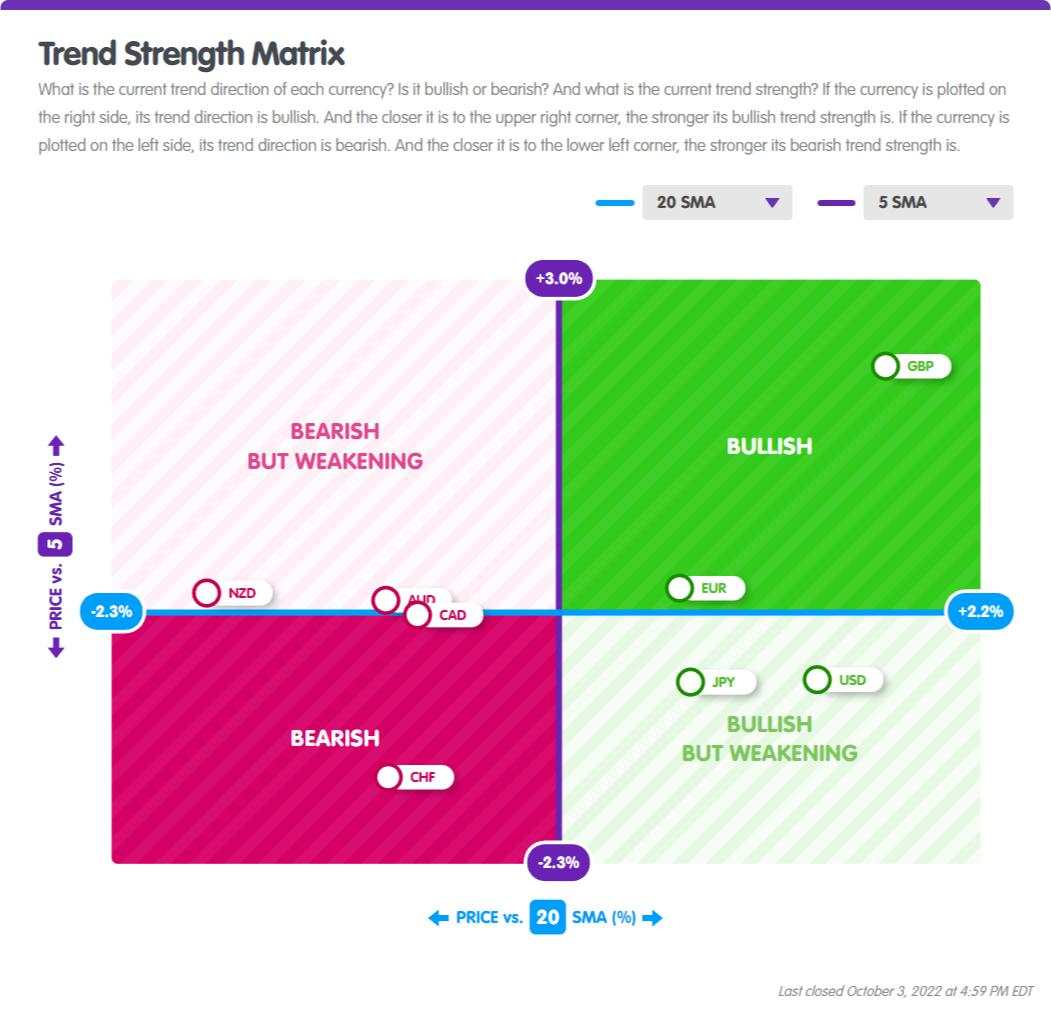 Currency Volatility
Which currency was the most volatile today?
Based on our Currency Volatility Meter, it's the Swiss Franc (CHF).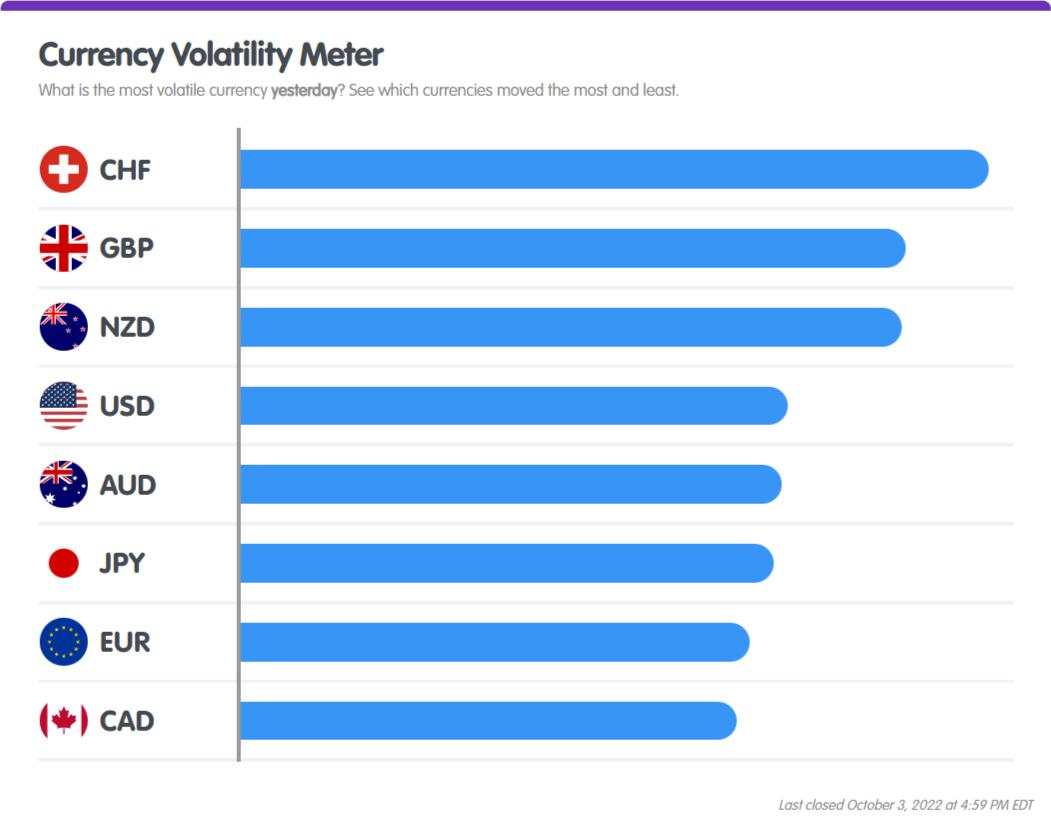 Which currency PAIR was the most volatile today?
Given CHF was the most volatile currency, it has to be a CHF pair. But which one?
NZD/CHF. It moved more than 3%!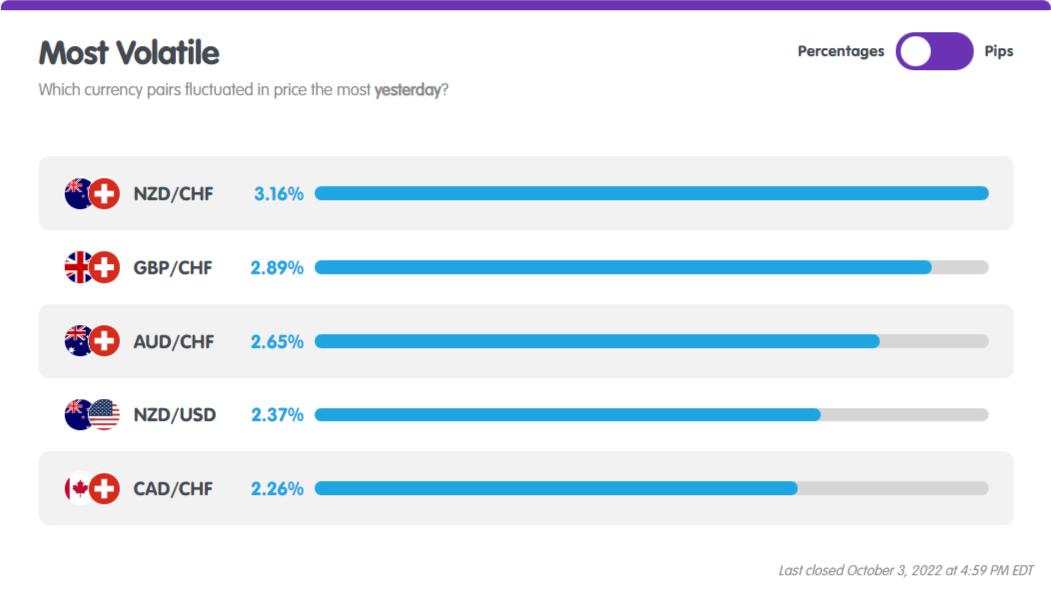 Look at how big today's candle was on the chart: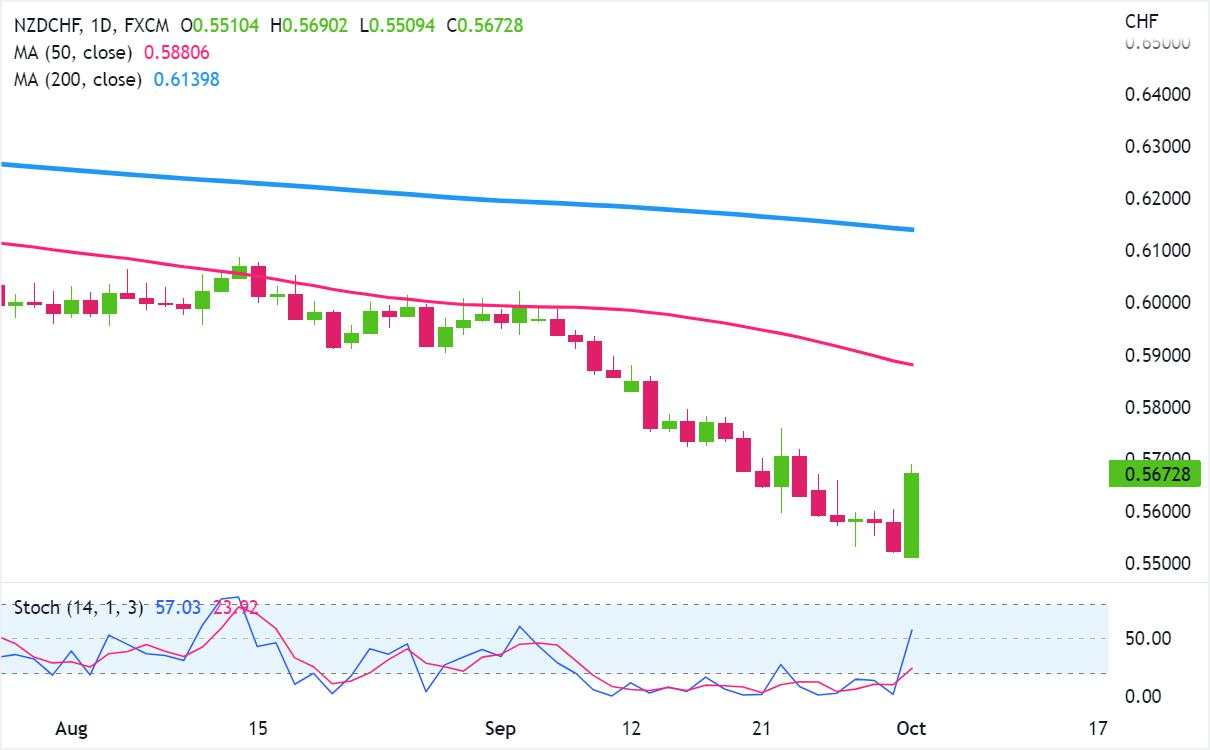 Compare the size of that tall candle to the previous candles. 😲
To put this volatility into perspective, let's take a look a how volatile NZD/CHF normally is…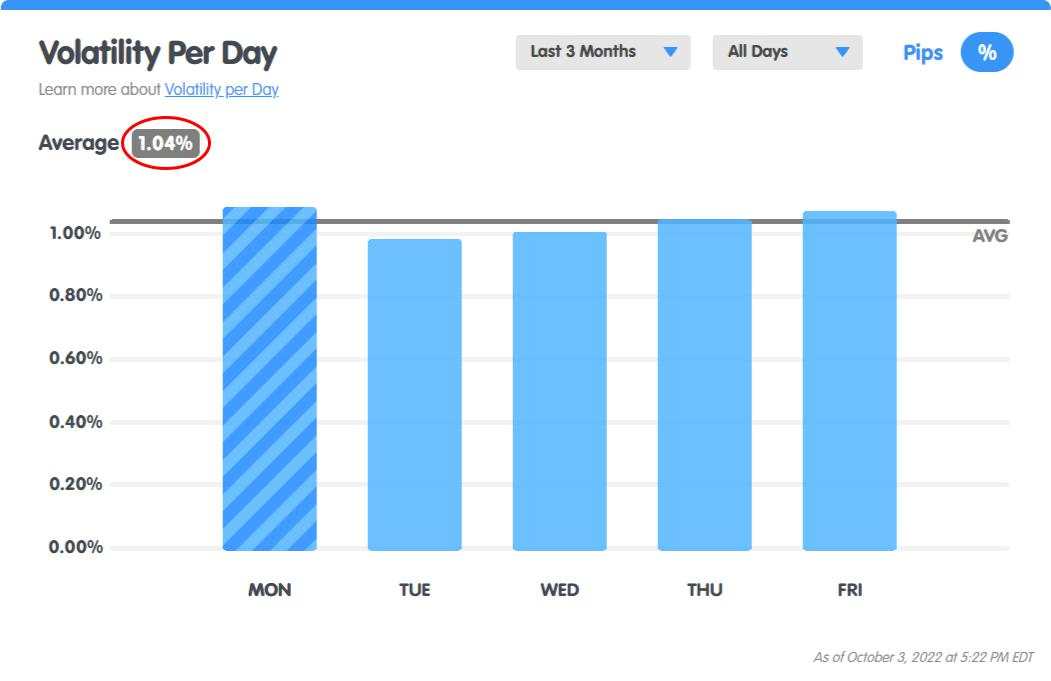 As you can see, when looking at NZD/CHF's Volatility Analysis. over the last 3 months, its daily volatility averages 1.04% 
On Mondays, it's a tad higher at
1.08% 
But today, its volatility was 3.16%. That's 3x more than usual!
And it's not just NZD/CHF where this type of volatility is happening.
Will we continue to see such huge moves throughout this week?