Phân tích Vàng 20/09 - Cơ hội bán
- Phân tích cơ bản:
Hôm qua Vàng đã nhúng xuống hỗ trợ 1660 thêm một lần nữa trước khi bật tăng trở lại do sự suy giảm của đồng USD.
Hôm nay thị trường không có tin tức kinh tế quan trọng được công bố. Thị trường đang tiêu hóa kì vọng FED sẽ tăng 0.75% lãi suất và chờ đợi quyết định được công bố vào đêm mai. Cuộc họp của Fed về cơ bản được xác định là sẽ nâng lãi suất thêm 75 điểm cơ bản, hiện tại chỉ số DXY đô la Mỹ đã giảm nhẹ. Nhưng thị trường vẫn cho rằng Powell sẽ đưa ra một nhận xét "diều hâu" khác. Vì vậy trước cuộc họp lãi suất, DXY sẽ tiếp tục củng cố ở mức cao. Vàng sẽ tiếp tục chịu áp lực gần $ 1,780. Hiện tại, động lực tiếp tục giảm giá của vàng đã dần suy giảm.
SPDR hôm qua tiếp tục xả 2.9 tấn Vàng, mức nắm giữ hiện tại chỉ còn 957.95 tấn. Cá mập này vẫn đang đặt cược vào một tương lai không tươi sáng dành cho Vàng
- Phân tích kĩ thuật:
Vàng đang di chuyển trong range 1660 - 1680 chờ đời chất xúc tác mới. Nếu kháng cự 1680 bị phá vỡ thì mục tiêu sẽ là 1690 - 1700.
Bán Vàng quanh 1680, SL - 1685, TP - 1668
Good luck!
Nếu thấy bài phân tích này hay và hữu ích thì đừng quên LIKE + COMMENT để ủng hộ trang nhiều hơn nhé!
#HantecMarkets##XAU/USD##ChươngTrìnhThủLĩnhÝTưởng##PhanTichKyThuat##PhanTichCoBan#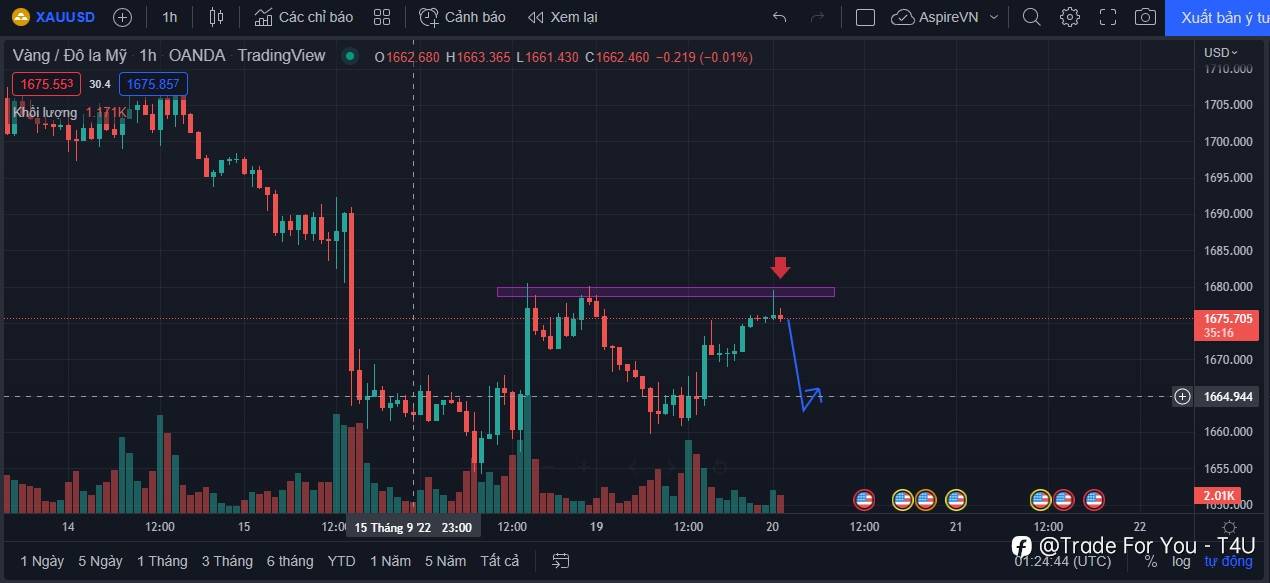 Disclaimer: The content above represents only the views of the author or guest. It does not represent any views or positions of FOLLOWME and does not mean that FOLLOWME agrees with its statement or description, nor does it constitute any investment advice. For all actions taken by visitors based on information provided by the FOLLOWME community, the community does not assume any form of liability unless otherwise expressly promised in writing.
FOLLOWME Trading Community Website: https://www.followme.com
If you like, reward to support.