FOLLOWME Community Top Trading Report - Third Week of October
2020/10/19-2020/10/23 Total Trading Order
315,070
Compared with the previous week's 289,805, the total trading order has grown by 8.7% or 25,265 for the latest week.
For this week, the total profit of the Top 10 Traders was $230,000. Among them, one of our top traders, @黄金小散户 solely traded XAU/USD with most of his/her trading lot per order ranges between 5 - 10. With that being said, this trader could lose $8,000 or make a profit of $15,000 in a trade, making his/her profit-loss ratio 2:1. This trader successfully achieved a weekly profit of $53,976.50 and showed him/herself worthy.
Here are the details of our latest weekly ranking: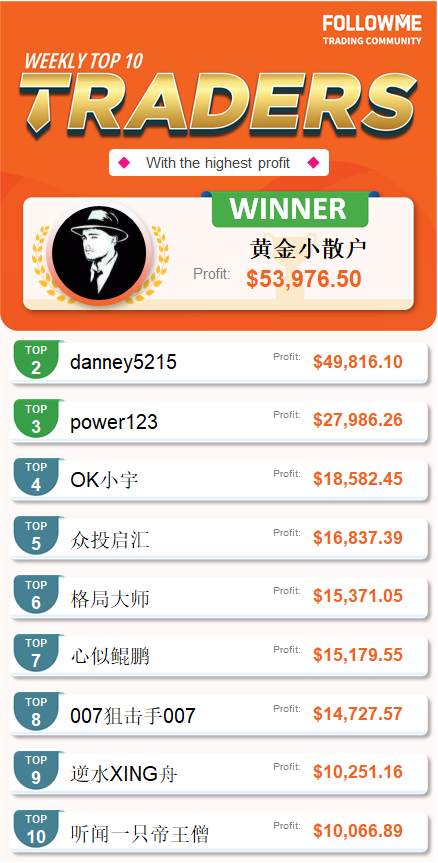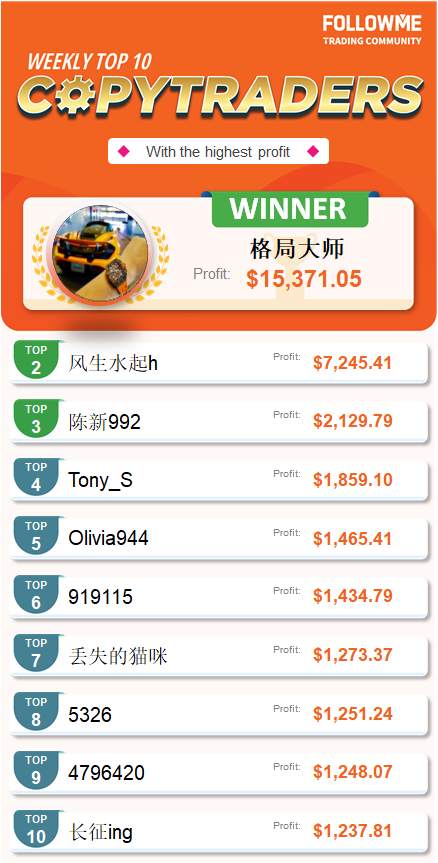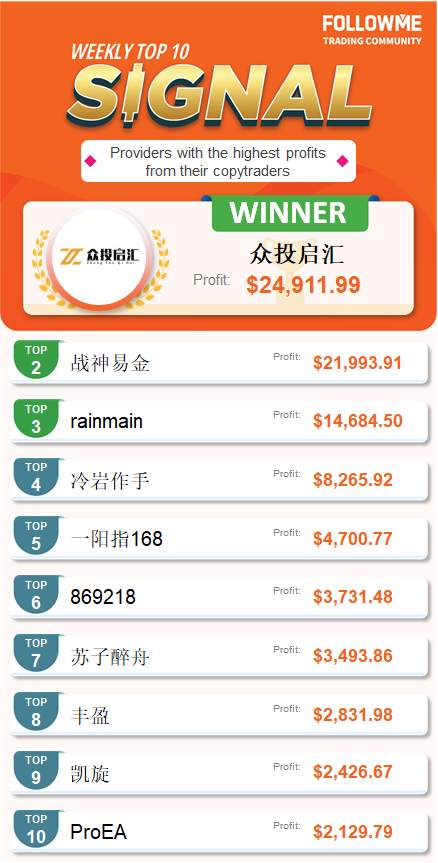 @众投启汇 #3 is the latest week's Top 10 Signal Providers champion with a followers' fund of $230,000, a net value of $238,198, a winning rate of 68.46% and a position-closing profit of $380,000 in the latest year. The trader tends to trade high volatility products involving gold and Sterling, making him an overnight swing trader. 
This trader recorded a profit of $100,000 in a single day, but also experienced a $100,000 wave retracement with a maximum drawdown of 76.10% since the day he/she created his/her account. Well, every trader has his/her journey in trading, experiencing both joy and sorrow from each victory and defeat. 
@战神易金 #8 is the first runner-up in our Top 10 Signal Providers with a total followers' fund of $160,000. This "trading expert" has 8 years of trading experience and he/she is a strong believer of "free from gambling" and "wise investment"principles. 
During early October, this trader deposited $6,000 and has successfully doubled the amount to a profit of $7,000 in only half a month's time. However, from the perspective of the order-holding time there is a significant level of risk given that the profit order time / loss order time is 59.2 minutes / 5 hours.
@rainmain #15 took the second runner-up spot in the Top 10 Signal Providers with a followers' fund of $680,000. The trader has a score of 9.0 on Follow Rank, making this account relatively superb. This trader mainly focused on Australian dollar, Sterling and Euro by using hedging trading strategy. 
This trader's yield curve has been on a steady rise and registered a relatively low drawdown since April this year. During the same period, he/she also managed to turn a deposit of $7,000 into a profit of $6,000 in only half a year. However, the trader was recently dragged by a drawdown of $1,021.19 and we hope he/she will make a rebound soon.
Based on the growing amount of order, it is noticeable that the community traders are gearing up for the championship of FOLLOWME trading competition season 7 (China only) in both low cap and high cap categories. Nonetheless, as pointed out by most traders in the community, controlling the drawdown is the key to win the game. Hence, traders who wish to win the championship must strengthen their risk control strategy.
Kindly stay tuned and follow #WeeklyReport# for our latest update!
Disclaimer: The data above should not be construed as investment advice.
Any trades or hedges you make are taken at your own risk for your own account.
Disclaimer: The content above represents only the views of the author or guest. It does not represent any views or positions of FOLLOWME and does not mean that FOLLOWME agrees with its statement or description, nor does it constitute any investment advice. For all actions taken by visitors based on information provided by the FOLLOWME community, the community does not assume any form of liability unless otherwise expressly promised in writing.
FOLLOWME Trading Community Website: https://www.followme.com
If you like, reward to support.