Dow Jones futures rose modestly Sunday evening, along with S&P 500 futures and Nasdaq futures, with stimulus deal hopes fading again. The stock market rally had a powerful advance week. With the major indexes making a big move higher and leading stocks continuing to jump, it's the best of both worlds.
The technical picture for the stock market rally looks excellent right now with many buying opportunities. You don't want to wait 'til tomorrow. You've got to hit the ground running when the market is hot. But this is a headline-driven market.
Apple, Amazon Events Due
Earnings season kicks off this week, with Taiwan Semiconductor (TSM), ASML (ASML) and UnitedHealth (UNH) on tap, along with major banks and more. Apple (AAPL) unveils its 5G iPhone, while Amazon.com (AMZN) holds its delayed Prime Day event.
Other wild cards include a possible Advanced Micro Devices (AMD) acquisition of Xilinx (XLNX).
Stimulus Talks
All of that may take a back seat to stimulus deal talks. House Speaker Nancy Pelosi and Treasury Secretary Steven Mnuchin continued negotiations over the weekend after President Donald Trump on Friday raised the size of the stimulus deal he's willing to accept to $1.8 trillion.
But Speaker Pelosi said Sunday that talks are at impasse. She said in a letter to House Democrats that Trump's proposal is "wholly insufficient" on funding for coronavirus track and tracing. Trump said on Fox News that Republicans are "having a hard time with Nancy Pelosi."
But several GOP senators have voiced their objections to the total and key provisions of Trump's proposal.
With broad stimulus talks faltering, the White House proposed using leftover funds from an expired small business loan program from the first coronavirus aid package
Meanwhile, the 2020 Election is just over three weeks away.
Stock Market Gains Steam
The major indexes had been stuck around their 50-day moving averages and short-term highs. But in the past two days, they moved decisively to one-month peaks with the next logical resistance point the early September all-time highs.
A big reason for that bounce was that the sleeping giants of Apple stock, Amazon and Microsoft (MSFT) finally awoke on Friday. All three trillion-dollar stocks have a little space above their 50-day lines and have cleared short-term highs. All are major components of the S&P 500 index and Nasdaq composite, with Apple and Microsoft stock also on the Dow Jones Industrial Average.
UnitedHealth stock, also a Dow Jones component, moved into a buy zone Friday. Taiwan Semiconductor stock is at a new high, arguably in buy range. Chip-gear giant ASML is moving toward a breakout.
Microsoft and Taiwan Semiconductor are on IBD Leaderboard. Apple and Amazon stock are on SwingTrader. Microsoft and UnitedHealth stock are on IBD Long-Term Leaders. Amazon, AMD and ASML stock are on the IBD 50.
Dow Jones Futures Today
Dow Jones futures rose 0.2% vs. fair value, while S&P 500 futures advanced 0.2%. Nasdaq 100 futures climbed 0.4%.
China's offshore yuan fell vs. the dollar as Beijing acted to curb its currency's strength but removing rules that make it costly to bet against it.
Remember that overnight action in Dow futures and elsewhere doesn't necessarily translate into actual trading in the next regular stock market session.
---
Coronavirus News
Coronavirus cases worldwide reached 37.74 million. Covid-19 deaths topped 1.08 million.
Coronavirus cases in the U.S. have hit 7.99 million, with deaths above 219,000.
The U.S. and Europe are seeing significant-to-major increases in new coronavirus cases, but deaths remain low.
India has now passed seven million coronavirus cases. On a per capita basis, the world's second-most populous nation has far fewer Covid-19 infections than the U.S.
Stock Market Rally Last Week
U.S. Stock Market Today Overview
IndexSymbolPriceGain/Loss% ChangeDow Jones(0DJIA)28560.58+135.07+0.48S&P 500(0S&P5)3474.33+27.50+0.80Nasdaq(0NDQC )11572.61+151.63+1.33Russell 2000(IWM)162.63+0.77+0.48IBD 50(FFTY)39.30+0.56+1.45Last Update: 4:02 PM ET 10/9/2020
The stock market rally had another impressive week. The Dow Jones and other major indexes rebounded Monday as President Trump said he was returning to the White House as recovered from the coronavirus.
Stocks sold off Tuesday as Trump said he was calling off talks on a broad stimulus deal, but hours later said he was open to airline aid and other standalone aid. By the end of the week, talks for a "big deal" were back on.
Ultimately, the Dow Jones Industrial Average rallied 3.3% in last week's stock market trading. The S&P 500 index climbed 3.8%. The Nasdaq composite jumped 4.6%. All closed essentially at weekly highs.
Apple stock rose 3.5% last week, back to a $2 trillion market valuation. Amazon rallied 5.2% and Microsoft 4.7%, both above $1.6 trillion.
Among the best ETFs, the Innovator IBD 50 ETF (FFTY) popped 5.9%. The iShares Expanded Tech-Software Sector ETF (IGV) advanced 5.1%.
The VanEck Vectors Semiconductor ETF (SMH) leapt 7.9% to a record high, with Taiwan Semiconductor stock spiking 10%. ASML climbed 5.1% AMD rose just 1.6%, slipping 1.9% Friday on AMD-Xilinx buzz.
---
Apple iPhone Event
The Apple iPhone event on Tuesday will showcase the tech giant's first-ever 5G handset. Supplies may be somewhat limited in 2020 due to coronavirus impacts on the supply chain, but the 5G iPhone is expected to be a big seller.
The Apple iPhone is not only crucial to Dow megacap, but also to chipmakers such as Taiwan Semiconductor, Qualcomm (QCOM), Qorvo (QRVO), Skyworks (SWKS) and more.
<iframe class="ql-video" frameborder="0" allowfullscreen="true" src="
https://research.investors.com...
"></iframe>
Amazon Prime Day
The e-commerce giant delayed Amazon Prime Day from the summer due to coronavirus concerns, so the Oct. 13-14 event will act as a de facto holiday shopping promotion. Typically, Amazon Prime Day doesn't offer the best deals, but it's a good for Amazon-branded products and a driver of Amazon Prime memberships.
<iframe class="ql-video" frameborder="0" allowfullscreen="true" src="
https://research.investors.com...
"></iframe>
Earnings Season
While earnings season will just be getting underway, the first reports are important because they signal how results for their group or sector. ASML earnings on April 14 will offer some indication for semiconductor equipment makers. Oct. 15 results for Taiwan Semiconductor, the world's largest chip foundry, will provide some indication of earnings for customers including Apple, AMD, Nvidia, Qualcomm and more.
---
UnitedHealth earnings on Oct. 14 will kick off results for health insurers. UnitedHealth stock moved into a buy zone Friday. Health insurers and hospitals have been rebounding in recent days, perhaps in anticipation that Joe Biden will win the presidency, making the Affordable Care Act, including Medicaid expansion, more secure.
Other notable earnings next week including banking giants such as JPMorgan Chase (JPM), Citigroup (C), Goldman Sachs (GS) and Bank of America (BAC). While bank stocks haven't been leaders, they can still move markets, especially the Dow and S&P 500 index.
Delta Air Lines (DAL) and United Airlines (UAL) kick off results for carriers. Much of the attention may be on cash burn rates and furlough plans with a stimulus deal on hold.
J.B. Hunt (JBHT) and Kansas City Southern (KSU) will provide some insight into trucking and rail operators.
Stock Market Analysis: Might As Well Jump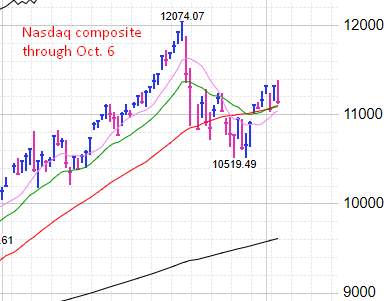 For much of the still-fresh stock market rally, it's been a two-tier affair. The Dow Jones staged a follow-through day on Sept. 30 and the major averages moved higher, but there was some back-and-forth around the 50-day line and recent short-term highs. Notably, the Nasdaq 100, dominated by Apple, Amazon, Microsoft, seemed locked into a tight range.
So while the major indexes weren't the worst that you've seen by any means, they were still hitting resistance. It wouldn't have been surprising to see the indexes head lower — especially after Tuesday's negative reversal — putting the market rally in doubt. But while the major indexes were doing OK, the leading stocks were standouts, with a steady of stream of successful breakouts from a variety of sectors. That raised confidence that the stock market rally did have legs.
In the past couple of sessions, the major indexes have all decisively moved above their 50-day lines and recent short-term highs. There looks like open daylight to the early September peaks. At the same time, leading stocks have continued to pour on the gas.
Suddenly, it's the best of both worlds, what dreams are made of.
Of course, that doesn't mean stocks will get higher and higher without trouble.
Just because a running back has broken through the lines doesn't mean he can't twist an ankle in the open field. (Or, for most of us, we might be feeling fine, but then suddenly throw out our backs putting on a sock.
Stocks could reverse lower on any number of headlines, earnings news, coronavirus setbacks or just because there are more sellers than buyers.
<iframe class="ql-video" frameborder="0" allowfullscreen="true" src="
https://research.investors.com...
"></iframe>
Magic Moment For Stock Market Rally
Still, right now the market is saying this is a magic moment. Investors should have been letting the stock market rally pull them in, buying breakouts and building positions from the 10-week line or other early entries.
Yes, buying growth stocks is a bit like runnin' with the devil. You know the stocks are likely to have a nasty ending, the key is to run with them for the bulk of their big runs.
If you want to be a successful investor you need to study. But homework was never quite like this.
Definitely update your watchlists. Some stocks from your watchlist a week ago may already be extended. Some may be actionable now while a new crop of stocks may have moved into position.
<iframe class="ql-video" frameborder="0" allowfullscreen="true" src="
https://research.investors.com...
"></iframe>
Evaluate your current holdings. Which ones are looking strong and which ones might you consider paring back? Remember, every stock was bought to be sold. We ain't talkin' 'bout love here.
If you've already built up a hefty portfolio, you may not want to increase your exposure. So if you want to buy a new breakout, you might have to cut some other holdings. Also consider the makeup of your portfolio. Are you heavily exposed to a cloud software, data-center chips or solar stocks? That could put you at risk for a big portfolio loss.
The good news is that leadership is broad-based, including those groups but also many transports, payment stocks, Chinese e-commerce giants, new IPOs as well as homebuilders and the broader housing sector. So spread your wings.
Just remember. The stock market is all about change. Nothing stays the same.
Know that golden rule: If you're down 7%-8% from the buy point, run, run, run away.
Reprinted from yahoofinance, the copyright all reserved by the original author.