Gold rallies on higher bankruptcies
Gold prices continued to rally as the dollar eased and US yields moved lower. Gold prices moved higher as yields declined and riskier assets eased. Gold prices for the first time in a while moved in the opposite direction of stock prices. Concerns of addition COVID spread in conjunction with higher bankruptcies have helped buoy the gold market.
Technical analysis
Gold prices moved higher after bouncing near support near the 100-day moving average at 1,849. Resistance is seen near the 10-day moving average at 1,903. The 10-day moving average crossed through the 50-day moving average which means a short-term downtrend is in place. Medium-term momentum is negative but consolidating as the MACD (moving average convergence divergence) histogram is printing in the red with a rising trajectory that points to consolidation. Short-term momentum has turned positive as the fast stochastic recently generated a crossover buy signal. The current reading on the fast stochastic is 24, rebound from the oversold trigger level of 20 which could foreshadow a correction.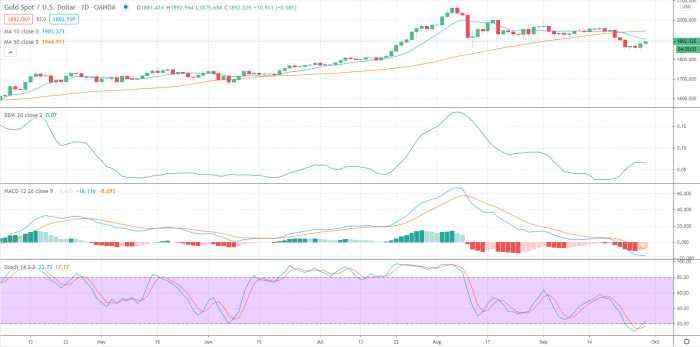 Bankruptcies in New York Rise
Bankruptcies in the New York City region have surged 40% during the coronavirus pandemic. From March 16 to Sept. 27, 610 businesses filed for bankruptcy in the Southern and Eastern Districts of New York. The two districts include some counties in the city's neighboring suburbs.
Reprinted from FXempire, the copyright all reserved by the original author.