Learning how to read stock charts helps you get in early on stocks like Nvidia (NVDA), Netflix (NFLX), DocuSign (DOCU), Veeva Systems (VEEV) and Datadog (DDOG) in the early stages of a big move.
Stock charts also help you spot the right time to sell and take your profits. The action of stocks like Veeva, Nvidia, Datadog and Netflix around their key moving averages provides objective insight into their health. Understanding behavior around the 21-day, 50-day and 10-week lines is crucial in helping investors decide whether to buy, sell or hold.
In part 1 of this series on chart reading for beginners, we answered two basic questions: Why use charts? What's in a stock chart?
In this second installment, we go over three telltale clues to look for in a stock chart to help you know when it's time to buy, sell or hold. Once you know how to spot these signals and understand the concepts behind them, you'll be ready to capture solid gains with the three most profitable chart patterns.
With the coronavirus stock market now correcting after a remarkable rebound from the original crash, these three clues provide key insights into the behavior and potential of leading stocks, such as Netflix and Nvidia, as well as newer IPO stocks like Datadog and DocuSign. Take a moment to see how these factors apply to these stocks.
TIP: Find breakout stocks with the IBD Breakout Stocks Index.
Chart-Reading For Beginners: Keep It Simple
It's easy to overcomplicate chart reading. But as we saw in part 1 of this series, charts simply tell you a story. And to understand what tale is being told, you really just need to answer the three basic questions discussed below.
So keep it simple. You'll be surprised by how much you can learn about the health and potential of a stock just from these three clues.
Editor's Note: If you come across terms or concepts you're not familiar with, check out part 1 of this series for more details.
1. How To Read Stock Charts: What's The Trend?
The first question to ask when looking at a stock chart is, "What's the trend?" There are basically three possibilities: uptrend, sideways, downtrend.
As simple as that concept may sound, it's also quite important. You want to buy stocks when they're going in the right direction — up.
Take a moment using IBD Charts to identify the trends for Nvidia, Netflix, Datadog, Veeva and DocuSign.

Why buy a stock that is clearly heading south? Yes, it may eventually find a bottom and reverse that trend. But why jump in when it's headed the wrong way? Wait until it shows clear signs of renewed strength and begins moving in the right direction.
When a stock is moving sideways, there's no clearly defined trend. You don't know if the stock will jump higher or take a nose-dive. Again, why take the risk at this stage? You're better off waiting for the stock to show signs of a new uptrend.
Understanding if we're trending up, down or sideways is especially important as we look to see how the coronavirus stock market is playing out.
2. What "Story" Is The Stock Chart Telling?
Stock charts tell a story. They show you if a stock is being heavily bought or aggressively sold by large investors. But the only way to decipher that story is to look at the changes in share price together with the changes in volume (i.e., the number of shares traded that day or week).
Share prices fluctuate daily, up or down. To see if the buying or selling is serious — and to see if the underlying trend is changing — you need to check the volume.
For example, say a stock normally trades 1 million shares a day. If the share price rises or falls a bit one day and volume is around 1 million shares, that's nothing unusual. But if the stock suddenly trades 3 million shares one day as it gains 5%, you know something is up. You want to pay particular attention to those kinds of unusually heavy-volume days or weeks.
Let's look at some different scenarios and what they mean.
Price GAIN In Unusually Heavy Volume: Look at the weekly chart for Netflix below. Until the coronavirus crash, the video streaming giant's share price had been rising sharply since the end of 2016. And as indicated by the arrows in the chart, there were several weeks where Netflix's share price rose sharply and volume also spiked. Demand for streaming services has helped Netflix stock has continue to show resilience in the face of the current market volatility.
What story does such behavior reveal? That mutual fund managers and other large investors are aggressively scooping up shares. This so-called "institutional demand" is exactly what you want to see, since it's these large investors that provide the fuel a stock needs to make a sustained climb.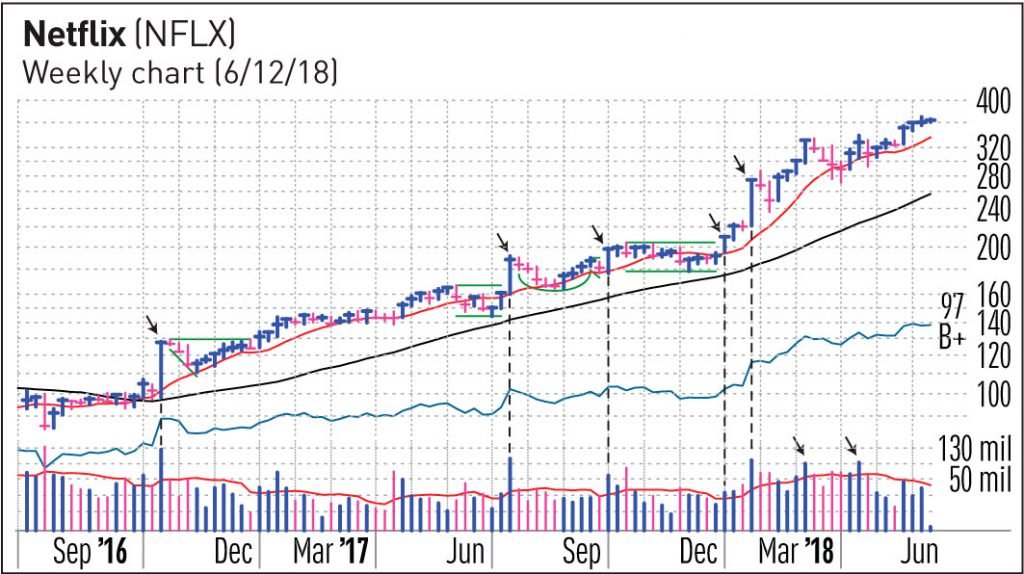 Nvidia, which rose 750% after being highlighted in the IBD 50, offers another example of strong institutional demand. In the daily chart below, look how the stock was trading in a tight range right along its 50-day line in April and May of 2017 (1). The stock then gapped up on May 10 in volume 268% higher than normal (2). And note how volume continued to come in well above average as the stock moved higher in the days that followed (3). Large investors were clearly in buying mode. The stock spiked again in heavy volume on June (4).
Price DROP In Unusually Heavy Volume: This is the exact opposite of the scenario above. A large drop in price accompanied by a big spike in volume shows large investors are aggressively dumping shares. In other words, the selling is serious. As the example of 3D printing stock 3D Systems (DDD) shows below, it's especially worrisome if the stock is crashing below the 50-day or 10-week moving average line when that happens.
Look how volume rose sharply as the stock crashed right through its 50-day line (1). And the same thing happened as the stock failed to find support at the 200-day line (2). These were both signs that after a big run prior to 2014, 3D Systems' trend had changed.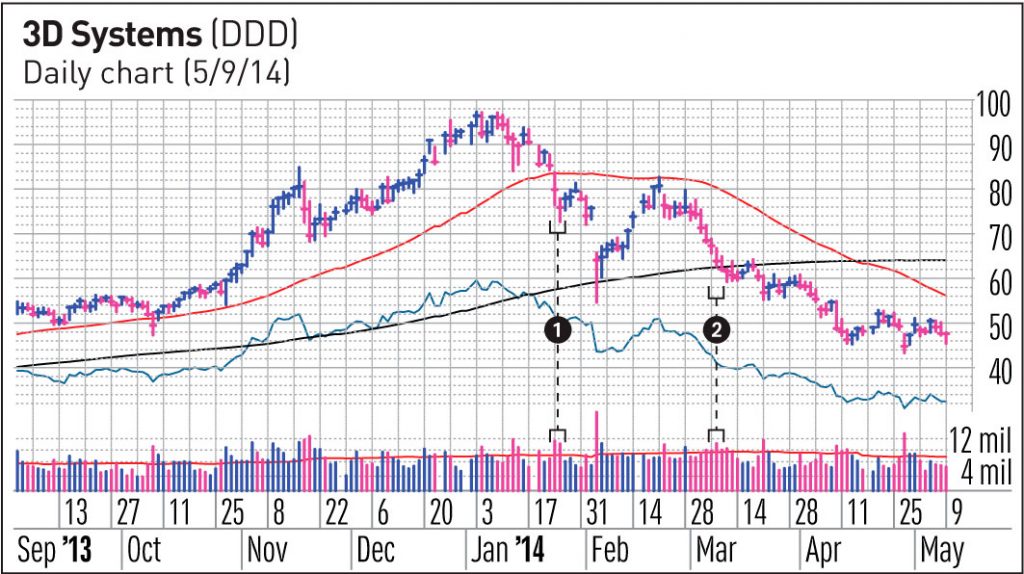 Price GAIN In Unusually Light Volume: If the share price is rising significantly, but volume is normal or below average, what does that tell you? That, at least for now, large investors are not buying aggressively. In other words, there's not a lot of conviction for the move.
Such moves can turn out to be a head fake, which was the case for Old Dominion Freight Line (ODFL) in the chart below. The stock broke out from a base, but volume was well below average (1). On the day of a breakout, you want to see a 40% or larger spike in volume to show strong demand. Old Dominion fell well short of that.
In the days that followed, note how volume rose sharply as the stock fell (2, 3). So a light-volume breakout attempt turned into a heavy-volume sell-off. Such behavior is a clear sign that large investors are in selling, not buying, mode.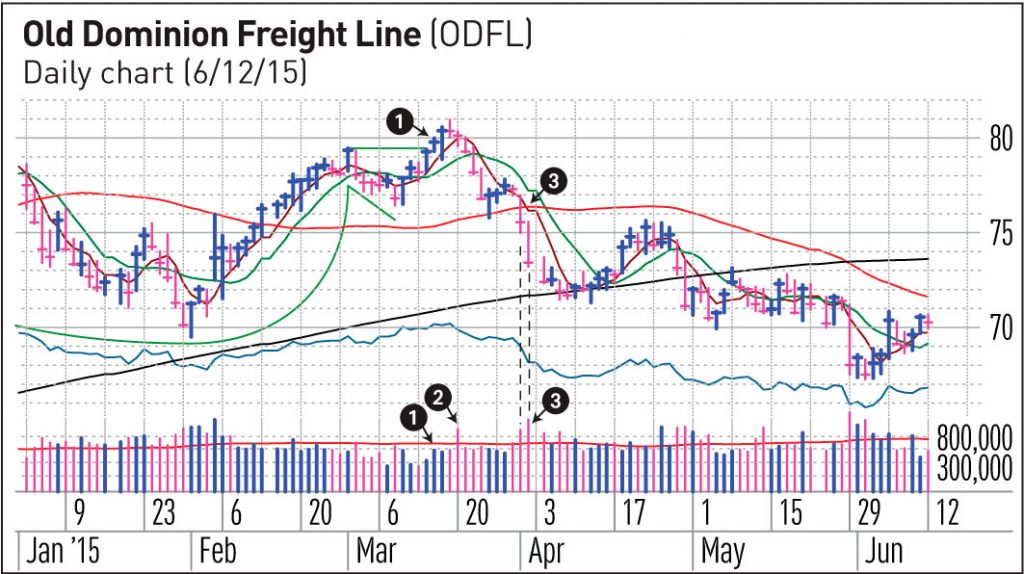 Price DROP In Unusually Light Volume: When a stock falls but the number of shares traded is much lower than normal, it tells you large investors are not selling aggressively. This is an important clue that can help you sit tight and hold on for bigger gains down the road.
The example of Ollie's Bargain Outlet (OLLI) below proves that point. While Ollie's was building a new flat base, note how volume on down weeks was below average (1). It was also finding support at the 10-week line. As the arrows in the chart indicate, the stock broke out of that base in heavy volume and showed several heavy-volume up weeks as the stock climbed higher for months. It's a clear example of how you can see what fund managers are up to by looking for unusual spikes in price and volume in a stock chart.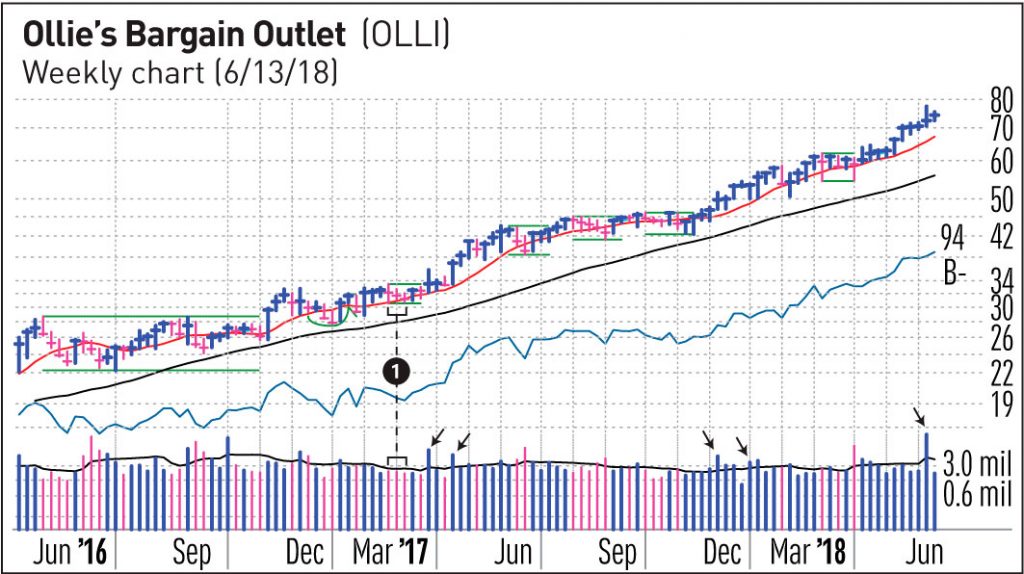 In addition to reviewing Ollie's, take a look at Nvidia, Veeva, Netflix, DocuSign, Datadog and other stocks to watch. The names constantly change, but the chart patterns do not. Year after year, decade after decade, these same patterns repeat themselves — the same stories, told by different storytellers.
3. Is The Stock Finding Support Or Hitting Resistance?
Last but not least, see if your stock is finding support or running into resistance at key lines like the 50-day and 10-week moving averages. Also look for support or resistance at important price areas, such as new or recent buy points in a chart pattern.
How your stock performs at these testing grounds reveals a great deal about its strength. Why? Because many fund managers and other large investors closely follow these benchmarks.
If these big players still favor the stock, they'll often step in to pick up more shares and protect their positions when it pulls back to the 50-day or 10-week line. Their buying will keep the stock above those benchmarks. But if the stock crashes below the moving average in heavy volume, it's a sign that large investors have shifted into selling mode.
Take Alarm.com (ALRM) as an example. As it was making a nice run in 2017, the stock consistently found support at its 10-week moving average (1, 2, 3). It was in a clear uptrend, and there were several heavy-volume up weeks — a sign of institutional demand.
But note how that trend changed toward the end of that year. The stock failed to find support at the 10-week line and crashed below it in heavy volume (4). After that, note how the 10-week moving average changed from an area of support to a line of resistance (5, 6).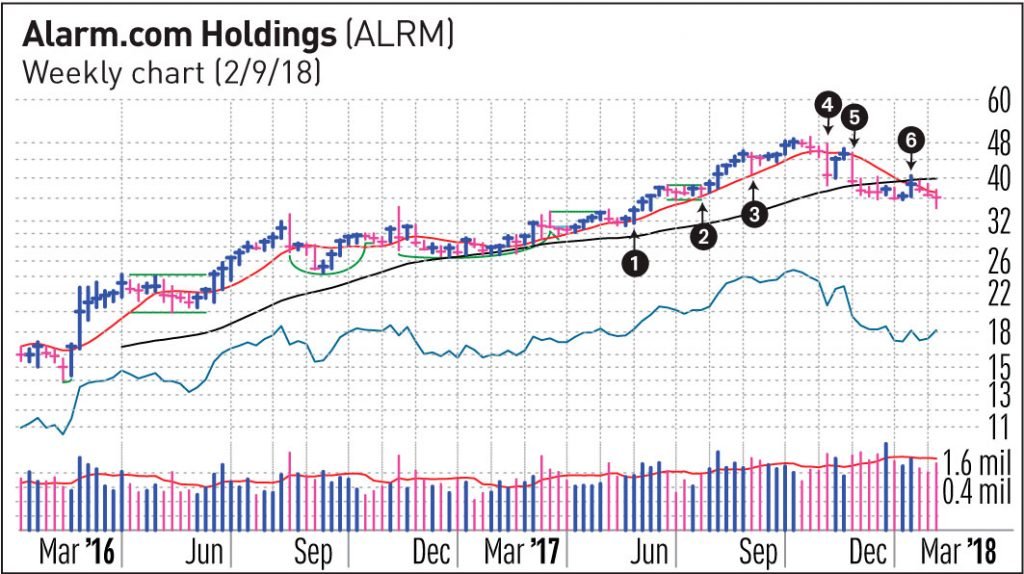 Lines Of Defense: You can think of the 50-day and 200-day moving average lines as a stock's first and second lines of defense. (On a weekly chart, the equivalents are the 10-week and 40-week moving averages.) If a stock fails to find support at the 50-day line, see if it can at least hold its ground at the 200-day moving average. In the case of 3D Systems discussed earlier, you can see how the stock failed to find support at either benchmark, and crashed below both of them in heavy volume (1 and 2, above).
Steppingstones: E-Trade Financial (ETFC) shows how stocks will often form steppingstones as they climb higher. This happens as the stock hits resistance (1) and pulls back, then finds support (2) and rises again. It's very healthy action to see a stock turn a former ceiling of resistance into a new floor of support.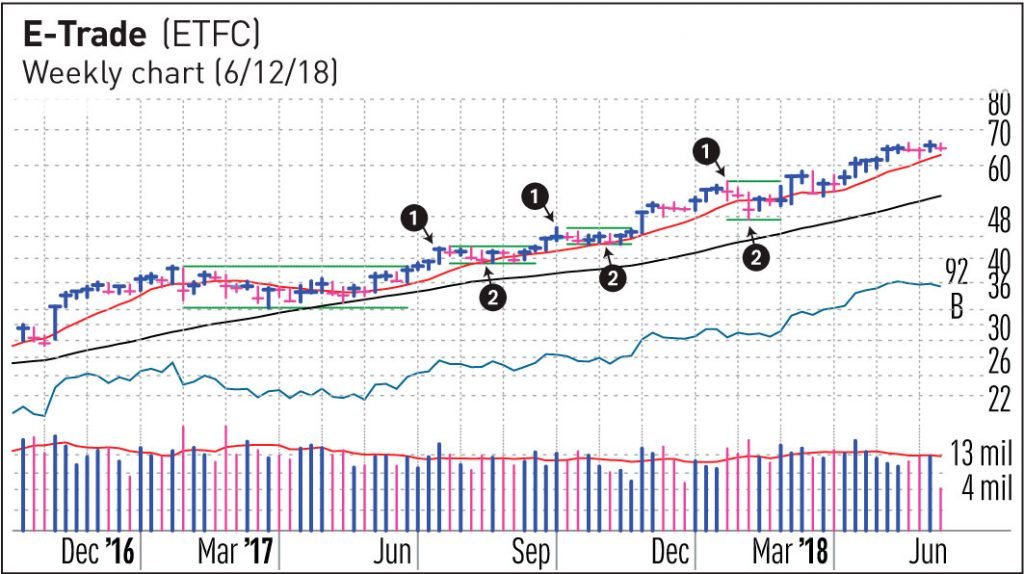 Bases, Buy Points And Breakouts
In the next installment of this series on chart reading for beginners, we'll go over the three most profitable chart patterns: cup with handle, double bottom and flat base.
As we do that, you'll see how each of the three telltale clues discussed above come into play:
Each chart pattern or base must be proceeded by a prior uptrend.
The bottom of the base is an area of support, and the buy point is based on a former area of resistance.
Breakouts happen when the stock punches through that area of resistance in unusually heavy volume.
Reprinted from yahoofinance, the copyright all reserved by the original author.