U.S. West Texas Intermediate crude oil futures are trading lower shortly after the regular session opening on Friday after giving back earlier gains. The two-sided price action suggests a rangebound trade. This makes sense since demand worries are helping to cap gains, while the OPEC+ production cuts are underpinning prices.
At 11:56 GMT, December WTI crude oil futures are trading $40.23, down $0.35 or -0.86%. This is down from a high of $40.89. U.S. crude is on track for a weekly decline of nearly 3%. It's also headed for a monthly loss.
Rising coronavirus infections, renewed lockdowns, slowing economic recovery and stalled stimulus talks are all valid reasons to be bearish on crude prices. These factors may lean on prices until the virus can be contained or a successful vaccine is developed. Meanwhile, preventing a complete washout will be the OPEC+ production cuts.
Additionally, further talk of a fiscal stimulus vote next week in the U.S. House of Representatives could provide some support today.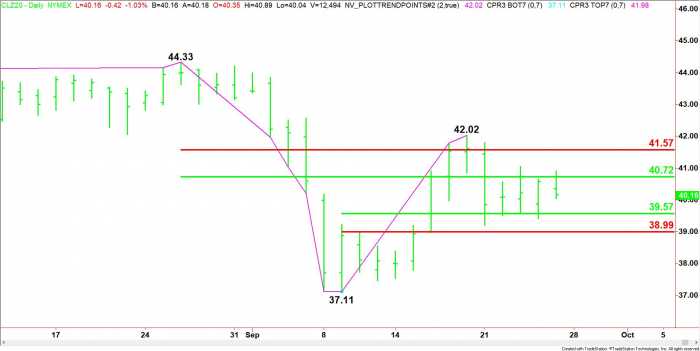 Daily December WTI Crude Oil
Daily Swing Chart Technical Analysis
The main trend is down according to the daily swing chart. However, momentum is trending higher due to the formation of a closing price reversal bottom at $37.11 on September 9 and its subsequent confirmation.
A move through $37.11 will negate the closing price reversal bottom and signal a resumption of the downtrend. The main trend will change to up on a trade through the last swing top at $44.33.
The minor trend is also down. A trade through $42.02 will change the minor trend to up. This will confirm the shift in momentum.
The short-term range is $44.33 to $37.11. Its retracement zone at $40.72 to $41.57 is resistance.
The minor range is $37.11 to $42.02. Its retracement zone is support. The upper or 50% level of this zone stopped the selling all week.
Daily Swing Chart Technical Analysis
The early price action suggests traders are doing what they should do during a rangebound trade. They are selling rallies. Based on this price action, the direction of the December WTI crude oil futures contract on Friday is likely to be determined by trader reaction to the 50% level at $40.72.
Bearish Scenario
A sustained move under $40.72 will indicate the presence of sellers. If this move creates enough downside momentum then look for the selling to possibly extend into the minor 50% level at $39.57. We could see a technical bounce on the first test of this level. If it fails then look for the selling to possible extend into the Fibonacci level at $38.99.
Bullish Scenario
Given the rangebound trade, watch for counter-trend buyers on a test of $39.37 to $38.99. Otherwise, watch for possible buying on a surge through $40.72. If that is strong enough then look for the buying to possibly extend into the Fibonacci level at $41.57. This is the last potential resistance level before the $42.02 minor top. #CrudeOil#
Reprinted from Fxempire,the copyright all reserved by the original author.