Deteriorating risk sentiment and a dovish central bank outlook are weighing on the Australian Dollar on Thursday. Economists at Westpac changed their view and are now expecting the RBA to lower interest rates to 0.10% from 0.25% at its next policy meeting on October 6. Earlier in the week, the tone for the Aussie was weakened after a senior central banker on Tuesday flagged the prospect of currency market intervention and negative interest rates.
At 08:31 GMT, the AUD/USD is trading .7045, down 0.0027 or -0.39%.
Daily Swing Chart Technical Analysis
The main trend is down according to the daily swing chart. The downtrend was reaffirmed early Thursday when sellers took out the July 24 main bottom at .7064. A trade through .7345 will change the main trend to up.
The AUD/USD is down six sessions from its last main top at .7345, which means we have to start watching for a potentially bullish closing price reversal bottom.
The short-term range is .6777 to .7414. Its retracement zone at .7096 to .7020 is currently being tested. Trader reaction to this area should determine the near-term direction of the Aussie pair.
The main range is .5510 to .7414. If .6777 fails then traders should brace for an eventual break into its retracement zone at .6462 to .6237.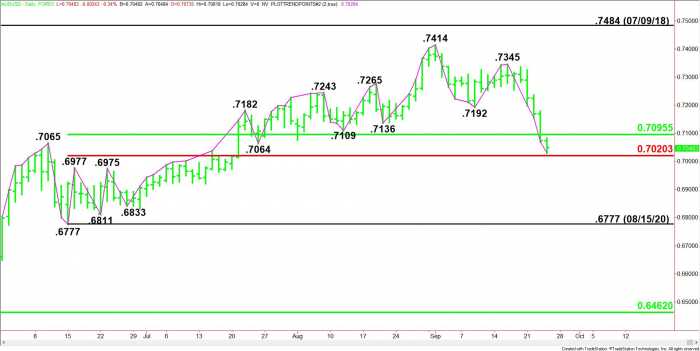 Daily Swing Chart Technical Forecast
Based on the early price action, the direction of the AUD/USD on Thursday is likely to be determined by trader reaction to the short-term Fibonacci level at .7020.
Bearish Scenario
A sustained move under .7020 will indicate the presence of sellers. The daily chart indicates there is plenty of room to the downside so we're likely to see an acceleration to the downside with the next target the main 50% level at .6462.
Bullish Scenario
A sustained move over .7020 will signal the presence of buyers. The first upside target is the short-term 50% level at .7096. This is a potential trigger point for an acceleration to the upside. #AUD/USD##FX#
Reprinted from Fxempire, the copyright all reserved by the original author.