The gold futures contract lost 2.05% on Wednesday, as it extended its short-term downtrend following breaking below the price level of $1,900. The market is the lowest since late July. Gold keeps retracing its rally from around $1,800 to August 7 record high of $2,089.20 in reaction to U.S. dollar rally, among other factors. Gold also broke below its mid-August local low, as we can see on the daily chart: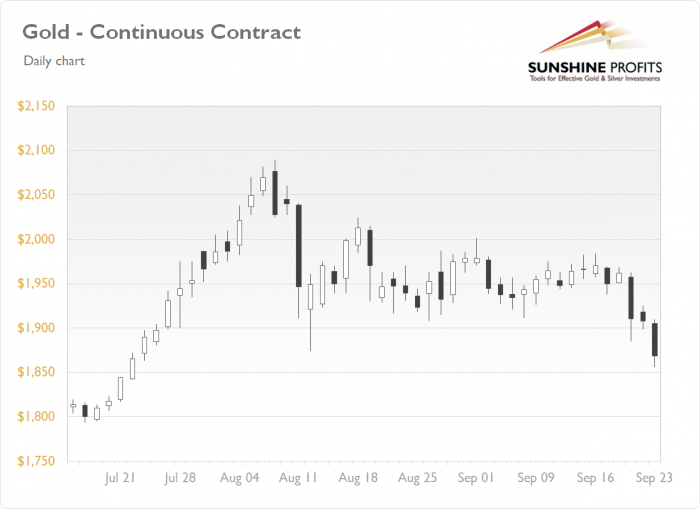 Gold is 0.6% lower this morning, as it is trading along yesterday's low. What about the other precious metals? Silver lost 5.78% on Wednesday and today it is 2.8% lower. Platinum lost 1.7% and today it is 0.2% lower. Palladium gained 1.29% yesterday and today it's 0.5% lower. So precious metals are mixed this morning.
Yesterday's Flash Manufacturing/ Services PMI releases have been overall better than expected. But markets continued going risk-off as stocks extended their short-term downtrend.
Today we will have a Testimony from the Fed Chair Powell at 10:00 a.m. and a speech from Treasury Secretary Mnuchin. We will also get the Unemployment Claims release at 8:30 a.m. and New Home Sales number at 10:00 a.m.
Below you will find our Gold, Silver, and Mining Stocks economic news schedule for the next two trading days:
Thursday, September 24
8:30 a.m. U.S. – Unemployment Claims
10:00 a.m. U.S. – Fed Chair Powell Testimony, Treasury Secretary Mnuchin Speech, New Home Sales
2:00 p.m. U.S. – FOMC Member Williams Speech
Friday, September 25
8:30 a.m. U.S. – Durable Goods Orders m/m, Core Durable Goods Orders m/m
3:10 p.m. U.S. – FOMC Member Williams Speech
Reprinted from Fxempire, the copyright all reserved by the original author.